SmackDown kicked off to an empty arena at the Performance Center before Michael Cole and Mojo Rawly introduced us to the host of WrestleMania, Rob Gronkowski. Gronk said he was ready for anything. Mojo claimed that he's here to watch his back because WWE is full of people looking to get their moment in the spotlight.
Baron Corbin was out and talked about how you don't wear excessive protection or weird gear in WWE before Elias was there and started to sing a song, hyping up a fight between Gronk and Corbin. Mojo and Gronk tripped up the King who was tossed to the floor by Gronk who pitched the idea of a match between Elias and Corbin at Mania.
Next up was a tag team match with Daniel Bryan and his new coach Drew Gulak taking on Cesaro and Shinsuke Nakamura.
---
Daniel Bryan & Drew Gulak vs. Cesaro & Shinsuke Nakamura
Bryan sent Nakamura to the floor and hit a suicide dive early, just before the Artist tagged Cesaro. The Swiss Cyborg catches Bryan coming off the top with a backbreaker before sending Gulak to the floor.
Nakamura countered a Gu-Lock with an armbar before Gulak responded by rolling him up for a pin. Nakamura kicked out and rocked him with a windmill kick. Cesaro tagged in and popped Gulak up for a European uppercut.
Gulak fought off Cesaro and tagged in Bryan. They rolled up Cesaro while Gulak fended off Nakamura for the win.
Result: Daniel Bryan & Drew Gulak def. Cesaro & Shinsuke Nakamura
Match rating: B
---
Backstage, Zayn and the Artist Collective came in and trashed on Gulak's teachings. Bryan challenged Zayn for the IC Title at Mania, claiming he's barely a champion. Zayn said if Gulak can defeat Nakamura next week, he'll give Bryan the match. Bryan immediately agreed, and he and Gulak looked pretty confident.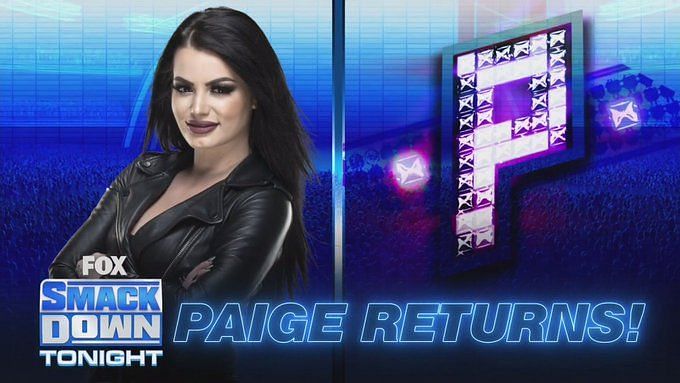 Paige was back and being interviewed on the Titantron by Michael Cole before Bayley and Sasha Banks came out. Bayley said she has beaten everyone, and nobody can say otherwise. She then challenged Paige before remembering that she can't wrestle anymore.
Paige said she may not be able to compete anymore, but she, thanks to FOX, will be announcing Bayley's challenger. At WrestleMania, she'll be defending the belt against Lacey Evans, Dana Brooke, Tamina, Naomi and Sasha Banks in a six-pack elimination match.
---
We got a recap of the Wyatt-Cena match from WrestleMania 30 before we saw the promo Wyatt cut last week, explaining hoe Cena ruined his life and career.
---
Backstage, Alexa Bliss challenged Asuka to a match on next week's SmackDown.
Miz & Morrison were out next for the Dirt Sheets and were trying to decide who they should face at WrestleMania. The two of them were acting as their own opponents, dressed up as The New Day, The Usos and Heavy Machinery (or rather just plain bacon) for a very entertaining promo before the real Heavy Machinery walked out.
---
Miz & Morrison vs. Heavy Machinery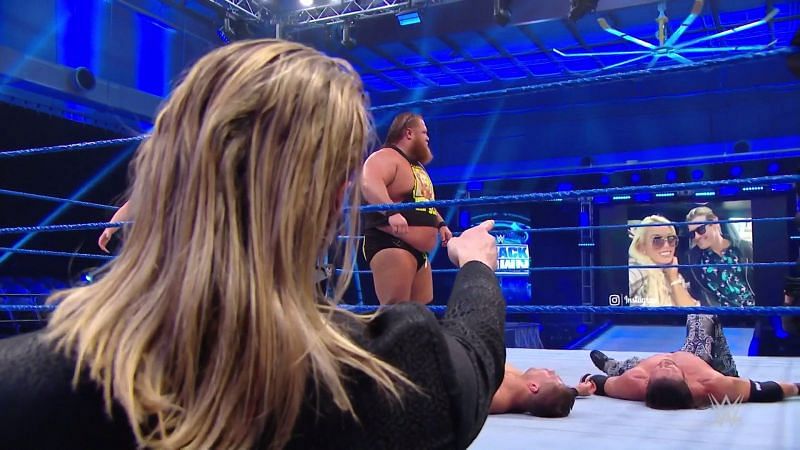 Dolph Ziggler interrupted the match right as Otis was about to finish it and showed Otis some pictures of him and Mandy on a few dates. Otis had had enough and chased Ziggler, bringing him back over the barricade. Miz & Morrison prevented a chair shot but were mauled by Otis, who took his anger out on the champs.
Dolph ran away but Otis sent Miz and Morrison through the barricades before reaching for a steel chair. Tucker tried to stop him but Otis used the chair on the champs before being disqualified.
Result: Miz & Morrison def. Heavy Machinery via DQ
Match rating: B-
---
Roman Reigns and Goldberg were out for the WrestleMania contract signing. Cole told them both to take a seat before both men threw their chairs out of the ring. Goldberg said he thought Reigns didn't have the 'balls' to challenge him before Roman reminded us that he has defeated Cena, Taker and other legends.
Goldberg said he had been destroying steel doors for years with his headbutt and Reigns would feel it too.
---
Episode rating: B-
Again, a slow episode but in the face of the pandemic, it's more than we can hope for. The ending promo and Otis' flipout took the spotlight.
Braun Strowman reveals the greatest talker in history here