Jujutsu Kaisen chapter 216 is set to be released on March 12, at 12 am JST. The spoilers were leaked this morning, leaving the readers more conflicted than any recent chapters. the chapter features a location shift and focuses entirely on Sukuna. A character, who was previously presumed to be dead, is revealed to be alive.
Jujutsu Kaisen chapter 216 spoilers revolve around the ritual mentioned in the previous chapter. it also marks the first meeting between Kenjaku and Sukuna in the modern era. Megumi's suffering is likely to be continued with the chances of him being saved at the end of it growing increasingly slimmer.
Disclaimer: This article contains spoilers for Jujutsu Kaisen chapter 216.
---
Jujutsu Kaisen chapter 216 spoilers and raw scans reveal the purpose of the "bath" and Tsumiki and Megumi face off against each other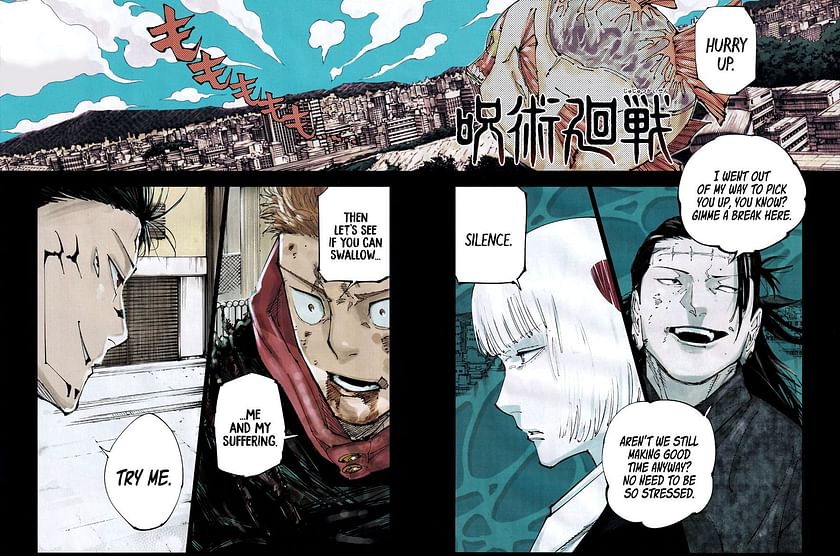 In the previous chapter, Yuji and Maki tried to stop Sukuna, but he was rescued by Uraume. They took off towards the Zen'in compound in order to complete a ritual that would grant Sukuna better control. Yuji broke free of Uraume's ice and watched as they flew off with Megumi's body.
According to the spoilers and raw scans, Jujutsu Kaisen chapter 216 is titled Bath.
---
Jujutsu Kaisen chapter 216: The Bath
Jujutsu Kaisen chapter 216 begins as Uraume and Kenjaku both wait near the Zen'in underground chambers in traditional ceremonial robes. Uraume asks why kenjaku is dragging out the Culling game, and he replies that he placed a binding vow on himself to "forcefully end the Culling game" by merging Tengen with the rest of humanity, but he got distracted by the "bath."
The "bath" was a ritual originally created to indoctrinate a precious vessel by submerging it in a concoction of Cursed Energy obtained by "Crushing and straining carefully selected creatures with inhuman poisons. Originally the ritual took 10 months and 10 days to complete. Uraume explains that they are trying to bring about the "Demon" by repressing Megumi's soul further into his body.
Sukuna emerges from the bath and Jujutsu Kaisen chapter 216 spoilers inform readers that he has completed the ritual. Kenjaku remarks that he thought Sukuna would go off to meet Yorozu as soon as possible given that they had a one-sided love affair in the past. Sukuna replies that he cares nothing for her but would love to kill Tsumiki Fushiguro in order to completely break Megumi's spirit.
---
Jujutsu Kaisen chapter 216 spoilers: A return to the Sendai colony
According to the spoilers, the chapter then returns to the Sendai colony and it is revealed that Uro Takako is alive. She and Ryu Ishigori both sense the presence of Sukuna before the King of Curses appears directly before them. Sukuna tries to slash Ryu but finds that his attack was too weak for the man. He then adjusts it and remarks that he won't underestimate his opponent again.
As Ryu tries to react with a Granite Blast, Sukuna effortlessly slices through his head, seemingly killing him. After he presumably dispatches Uro as well, he goes to another compound of an unknown locale and confronts Yorozu.
---
Observations
According to the Jujutsu Kaisen chapter 216 spoilers, the ritual should take 10 months and 10 days. However, Sukuna finishes the "bath" in what appears to be days, if not hours. If they had taken longer, then Megumi's allies would have come to rescue him. So, they either used a modified version of the ritual to shorten its duration or Megumi has ceased to be a priority for his allies.
Uro Takako was presumed dead by many fans, but it appears that Yuta did not kill her. Sukuna is yet to encounter Yuta in Sendai, implying that the student has left the colony, presumably taken by Maki. It is unclear what Yorozu has been doing in Sendai, but she is originally from the Aizu area and it is strongly suggested that she was the one with one-sided feelings for Sukuna.
---
Final thoughts
If the spoilers are correct, then Jujutsu Kaisen chapter 216 is the first chapter in the last few months that has failed to meet universal approval from the fandom. Many feel that whatever Akutami is trying to do with the Fushiguro siblings is a recipe for disaster, while others believe it brings out a contrast between Megumi and Tsumiki's familial love, and Yorozu and Sukuna's one-sided, romantic, and most likely unhealthy love.
Sportskeeda Anime is now on Twitter! Follow us here for latest news & updates.
Edited by Aratrika Baidya