Episode 1061 of the One Piece anime, titled "The Strike of an Ifrit! Sanji vs. Queen" features the climax of the battle between Queen, the third strongest member of the Beasts Pirates, and Sanji Vinsmoke.
A great cook, Sanji joined the Straw Hat Pirates to find the All Blue, a legendary place where all the seas merge in a single one. He is the third strongest member of the crew, only below Luffy, the captain, and Zoro, the latter's right-hand man.
Queen was the toughest enemy Sanji ever fought by himself, and the fight only became more complex as it turned into a personal matter. Follow this thread to learn everything about this battle set during the raid on Onigashima.
---
The struggle between Sanji and Queen comes to an end in episode 1061 of the One Piece anime
How Sanji vs Queen began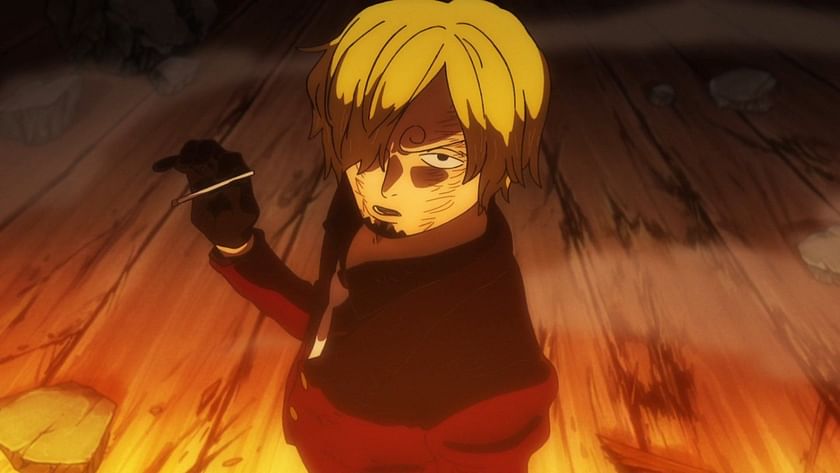 Once Robin and Brook freed him from Black Maria's trap, Sanji rushed to help Chopper, who, after managing to hold Queen for a while, was about to succumb to him. After being hit by Sanji's Diable Jambe: Rotisserie Strike, Queen immediately recovered.
He then identified Sanji as the son of Judge Vinsmoke, his former colleague in the MADS group, and claimed that Sanji's flaming kicks were the result of some genetic enhancement done by Judge, who was known for having performed body modifications on his children.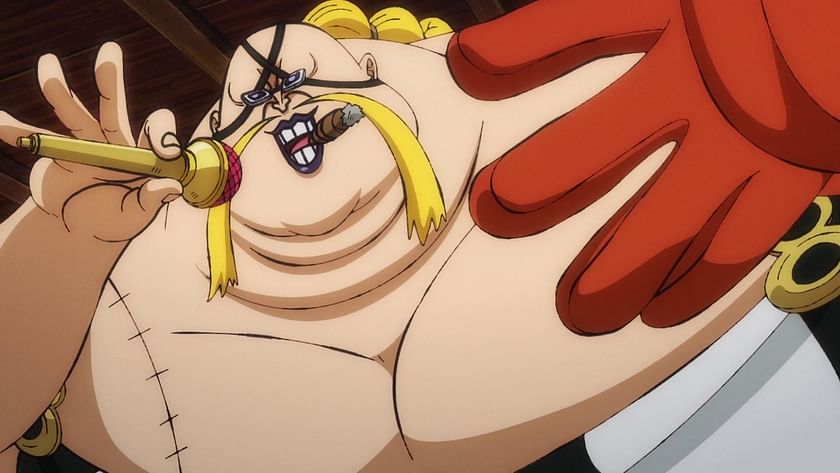 Meanwhile, King managed to corner Marco, who had already consumed a lot of energy. King then ordered all the henchmen to search for Roronoa Zoro, who, after partaking in the furios fought against Kaido and Big Mom, was receiving medical treatment.
King instructed the others to kill Zoro before he could recover. Sanji tried to stop King and Queen, but the former quickly slammed him on the ground. King then went into attacking Zoro, who was still being treated, but Marco managed to block the strike.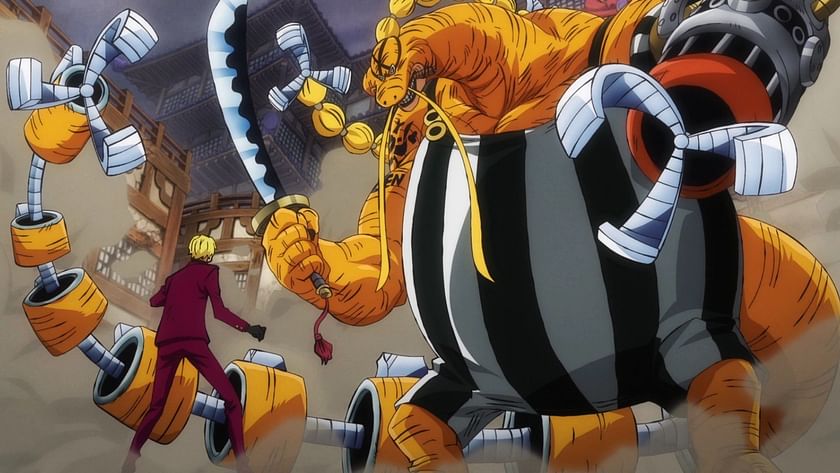 The very next second, Zoro recovered and struck King with Three Sword Style: Purgatory Oni Giri, while Sanji hit Queen with Diable Jambe: Mouton Mallet. As such, Zoro started fighting against King, while Sanji continued his battle with Queen.
Considering Sanji the product of Judge's science, Queen wanted to prove his superiority over the latter by beating the former. As the fight continued, Sanji became increasingly annoyed, noticing that after having used the Raid Suit, his body was awakening the same traits of his brothers.
---
As Sanji found himself in trouble, his genetical features awakened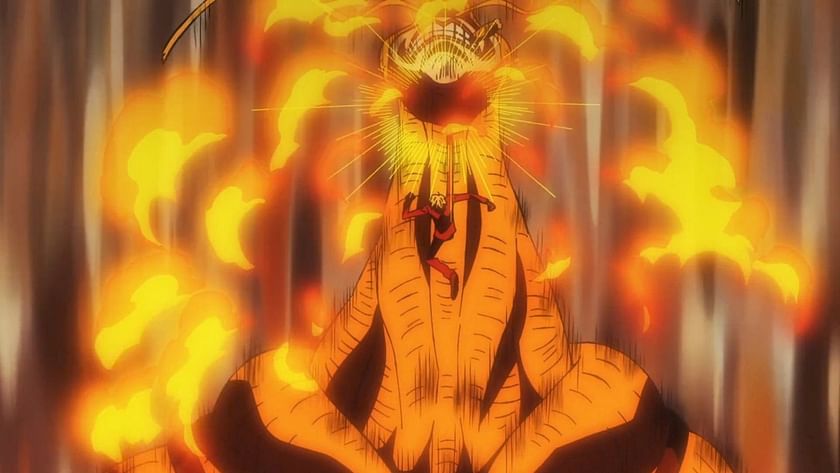 Queen continued to talk about the technology of Germa 66, but Sanji replied that his ability to perform Diable Jambe is a result of his heated passion, and not a product of his father's genetic modification, which he despised.
After dodging Queen's lasers, Sanji struck him back with Diable Janbe Bien Cuit Grill Shot, but he failed to inflict him any meaningful damage. As such, Sanji started wondering how could he overcame Queen's Ancient Zoan-enhanced durability.
Queen then used his attack Brachiosnakeus to capture Sanji and strangle him, aiming to break his bones and inner organs. Sanji was helpless but was somewhat freed from the grip as Queen unintentionally hit himself with missiles.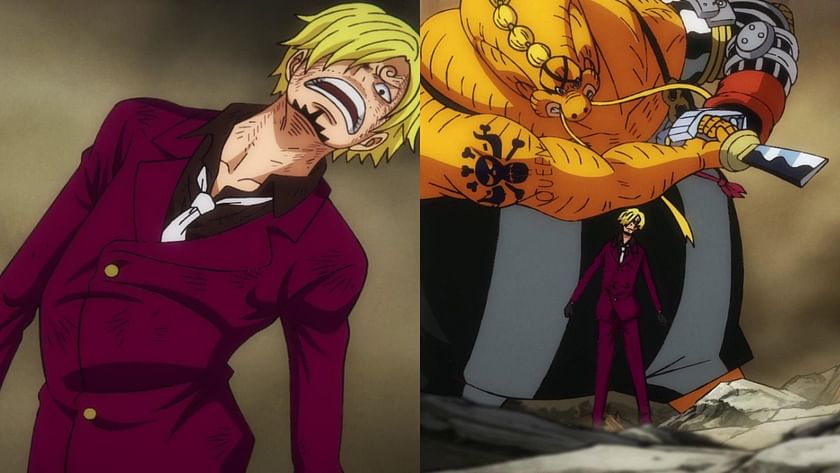 However, Queen's technique left the bones in Sanji's torso completely broken. To everyone's shock, including his own, Sanji bent his body back into place. Moments after, Queen struck his neck with a sword, but the weapon shattered, and he remained completely unharmed.
Understanding that his body unlocked the same traits his brothers, Sanji got worried about becoming emotionless like them. He tried to flee, but Queen pursued him, still demanding him to use the Raid Suit so that he could beat him and prove to Judge that he was the superior scientist.
Sanji found himself in the Pleasure Hall, where several girls who were hiding there accused him of injuring one of them, O-Some. Incredulous, as he has vowed to never hurt a woman, Sanji was afraid of having really become like his brothers.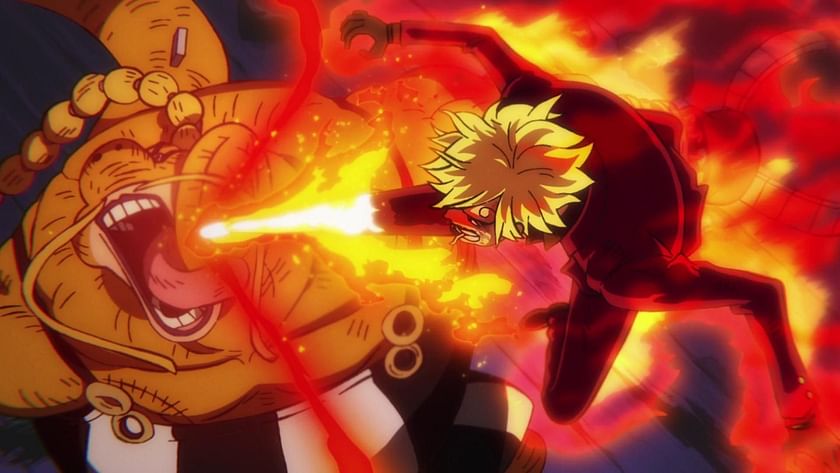 Questioning which version of him - a man who would never hurt a woman or an emotionless evil warrior - would be more useful to Luffy, Sanji made up his mind. He pulled out the box containing the Raid Suit and destroyed it.
Sanji then used a Radio Snail to contact Zoro, who was engaged in his fierce battle with King, and asked the swordsman to kill him should he really lose his humanity and become a heartless evildoer. Although confused, Zoro agreed.
Sanji thanked Zoro and started moving at his maximum speed, turning invisible to Queen's eyes. He then struck the latter with Hell Memories, blowing him away quite a distance. However, Queen endured the hit and made his way back to Sanji.
---
The final climax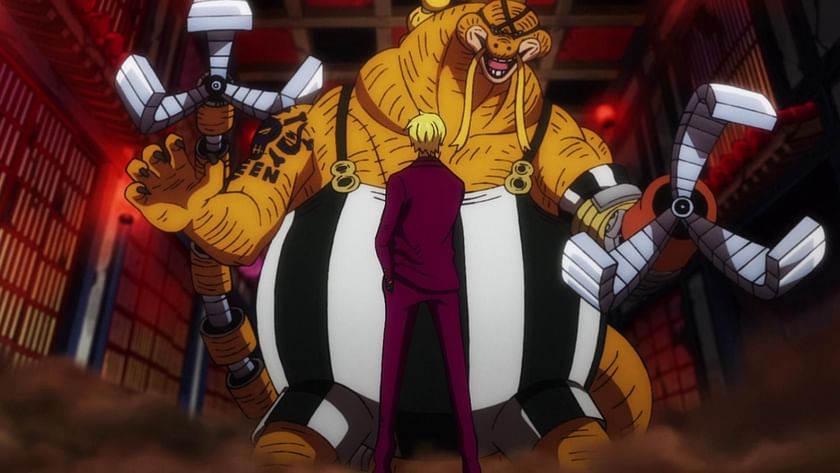 Shockingly, Queen started using all of Sanji's brother's signature techniques. Sanji managed to dodge Sparking Queen, but was struck and hurt by Henry Queen, and later grabbed Winch Queen, which smashed him through several walls, notably damaging him.
However, Sanji was able to free himself from the grasp, destroying Queen's mechanical arm with a powerful kick and then hitting him in the stomach with Flanchet Flayer. With a confident smile, Sanji declared to Queen that he wasn't the same person he fought before.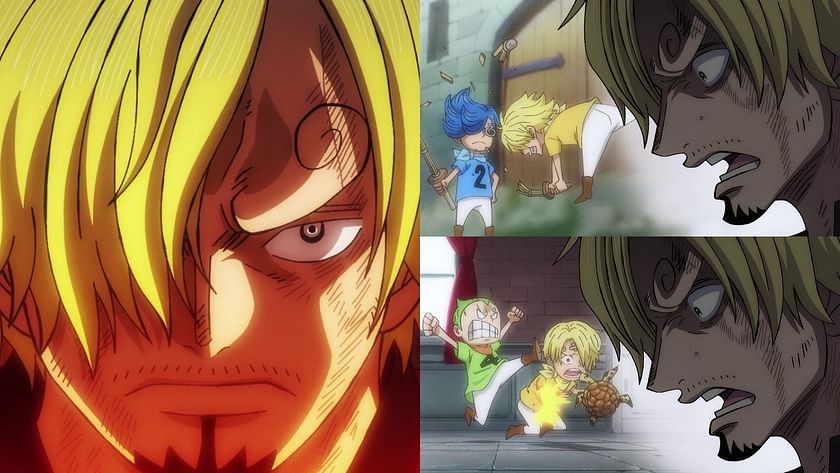 Queen challenged Sanji to show him how much different he was. He then turned himself invisible, demonstrating that he even copied Stealthblack, Sanji's Raid Suit ability to conceal his appearance. In response, Sanji started moving so fast that he became invisible to Queen's eyes again.
Noticing that Sanji's high-speed movement was significantly consuming his energies, Queen decided to wait for him to get tired. Meanwhile, O-Some entered the room, in search of Chuji, her pet mouse.
Seeing O-Some, Queen revealed that he was the one who punished her earlier, as she rejected him. He then attempted to strike her again. Furious at Queen's actions and the fact that due to the former he had accused himself of breaking his most important principle, Sanji went all-out.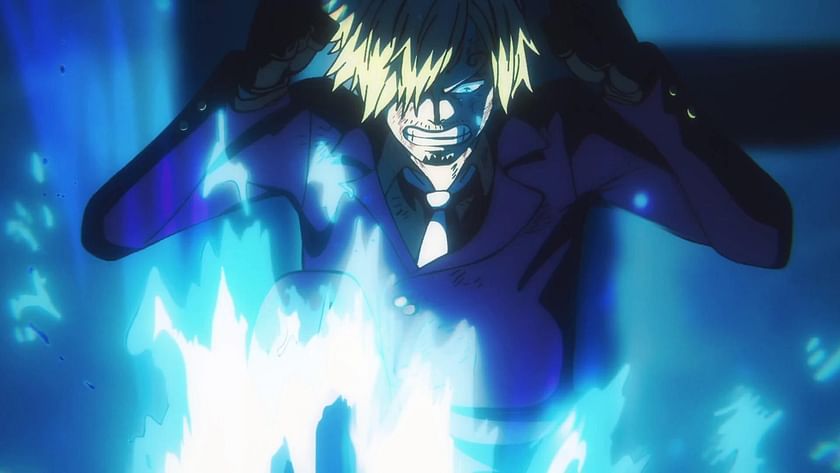 Combining the exoskeleton gifted to him by his genetic enhancements with his Armament Haki, Sanji became able to handle stronger flames. As such, he unleashed the Ifrit Jambe, a more powerful version of the Diable Jambe.
While Queen was about to hurt O-Some, Sanji angrily attacked him with Ifrit Jambe: Collier Coup, following it with a consecutive barrage of attacks which culminated in the devastating Ifrit Jambe: Boeuf Burst.
As a result of the hit, Queen was defeated and sent flying away from Onigashima, marking the end of the battle. Sanji then showed O-Some that he saved Chuji. After remembering the little mouse he fed in his childhood, Sanji suddenly collapsed from exhaustion. While he was unconscious, O-Some treated his injuries.
---
What does the fight against Queen mean for Sanji?
Since the start of the post-time skip narration, Sanji's reputation for strength started suffering. His trainer Ivankov, although a Commander-level individual, pales in comparison to Rayleigh, the second-in-command of Roger Pirates, and Mihawk, the World's Strongest Swordsman, who trained Luffy and Zoro.
In the following arcs, Sanji was underwhelming. In Punk Hazard, he admitted his inferiority to Vergo after breaking his leg in a clash with him, despite the latter holding back a lot, not even using his Armament Haki. In Dressrosa, Sanji was brutally crushed by Doflamingo in a short and onesided fight.
Even in Whole Cake Island and at the beginning of Wano, Sanji was not emphasized as a fighter. Finally, during the raid on Onigashima, Sanji proved himself against Queen, the third strongest member of the Beasts Pirates only below Kaido, the captain, and King, the latter's right-hand man.
Combining his Ancient Zoan with cybernetical weapons, Queen broke all bones in Sanji's trunk. Luckily, Sanji's power-up awakened at that very moment, allowing him to survive. Had his Vinsmoke genes not kicked in at the right time, he would have died.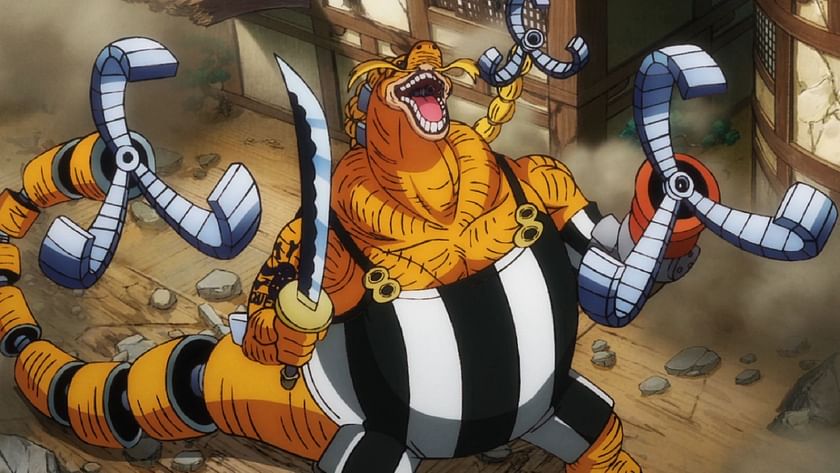 When Sanji finally unleashed his genetic enhancements, he obtained a new level of power, which allowed him to pummel Queen. Admittedly, defeating the third strongest member of a Yonko crew was a commendable achievement for Sanji.
Still, rather than a seasoned fighter, Queen resembled a mad scientist unable to fully exploit his own abilities. More than focused on Sanji, he was obsessed with the latter's father, Judge Vinsmoke. Strong but clumsy, at one point Queen even hit himself with his own attacks.
---
Final thoughts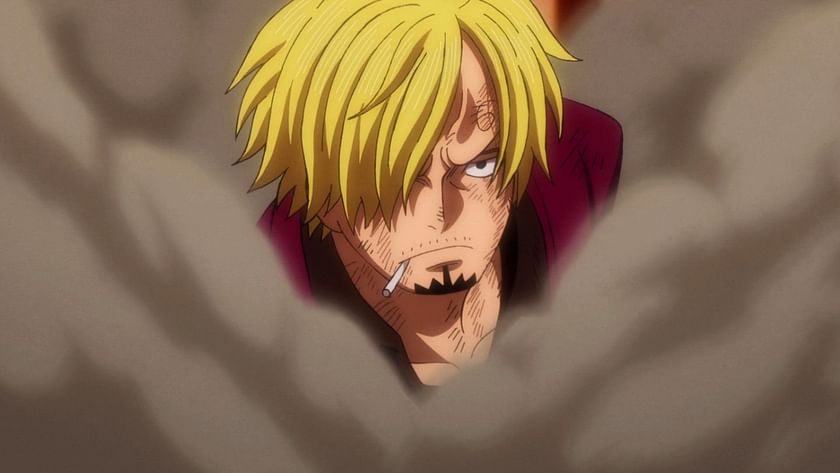 One Piece author Eiichiro Oda deemed Luffy and Zoro strong enough to fight valiantly against the Emperors, and even obtain the uncommon Advanced Conqueror's Haki, the signature skill of the absolute strongest. Sanji was never considered worthy of such a spotlight.
Nevertheless, it was nice to see Sanji finally proving himself in the New World. Still, even after showcasing his peak strength with Ifrit Jambe, he struggled with Queen, as he needed many hits before putting him down. In the process, Sanji got struck twice, suffering damage.
Rather than overpower his enemy in a final head-on clash, as Luffy did with Kaido and Zoro did with King, Sanji ended his fight in a more ambiguous manner. Queen got distracted by O-Some and lost focus on Sanji in the most decisive moment, giving the latter an easy opening to hit him.
While Sanji still has a way to go, the battle against Queen marked a turning point for the popular cook. With the Vinsmoke enhancements and the Ifrit Jambe, Sanji's powers have evolved in leaps and bounds, allowing him to be once more worthy to be the third strongest member of the Straw Hat Pirates.
Sportskeeda Anime is now on Twitter! Follow us here for latest news & updates.
Poll : Was Sanji vs Queen a satisfying fight for Sanji?
42 votes