eISL Season 2 got off to a great start and has grown to be even more impressive than its predecessor. One of the stars to keep an eye on in this year's competition is Delhi's Lokmanyu "lokmanyu06" Chaturvedi, who has been making headlines in the Indian FIFA scene for a while.
Lokmanyu is a professional FIFA Esports athlete who competes under the parent organization Chemin Esports. The 26-year old represents Kerala Blasters in the eISL and is a key player for the Indian eNational Team. Not only is he a skilled gamer, but he is equally adept at commentating and casting.
In an exclusive conversation with Sportskeeda Esports' Sayantan Chowdhury, the Indian national FIFA esports star opened up about his professional career, personal life, current game meta, and some of his thoughts on the future of the Indian esports scene.
Here is an excerpt from the interview.
---
"My expectation from eISL season 2 is to win it, of course": Lokmanyu Chaturvedi
Q. Lokmanyu, before getting started, tell us a bit about your IGN, "lokmanyu06." Was the "06" a random pick, or do I sense an interesting story here?
Lokmanyu: Well, regarding my in-game name, lokmanyu06, the number "06" does hold a special place in my life. I mean, it's a number that I picked when I started playing e-football professionally or at a semi-professional level within my state, Delhi. Yes, there's a reason behind the number, but I don't want to reveal it until I win something really big. I'm waiting for the day.
Maybe if I do well in this year's eISL, I will want to share, but it's not something mysterious. I just want to keep the relevance of the number secret because it has been close to me.
Obviously there's a footballing reason behind it as well, regarding some players whom I consider my idols, but that's another story I hope to share one day if I do make it big on the FIFA scene globally.
---
Q. When did you think of taking up esports as your profession? Growing up in a country like India, where orthodoxes prevail, was it difficult for you to choose a nascent career like gaming in the first place?
Lokmanyu: So I used to play FIFA tournaments within Delhi and online when I was in college. I used to go to football practice in the morning, attend classes, and whenever there were tournaments on weekends, I used to play that.
And then I realized, yes! I was good enough to perform well in these tournaments after winning quite a few, and, you know, finishing 3rd, 4th, in the top 8, in the top 16, and at the national championships back then.
I think that was when I decided to pursue FIFA full-time because the scene was growing. At that time, tournaments like the FIFA Global Series hadn't come to India because all the pros had to contribute massively in order to get it. Because of that everyone was really skeptical about whether they should really do it or not.
But yes, anyone who is starting out, unless and until they get to a level, should not give up their college, school, or job as well. This is because if you get to a decent level, then I think it's a good decision to take up esports as a professional player. But like I said, it wasn't a difficult decision because my family was supportive from the start.
Of course, my parents were also skeptical about whether it was going to work out for me or not. But I've always been a sportsperson, so it was never a problem for me to make that switch to professional FIFA. It's been my passion throughout, and I am someone who would rather follow his passion as a profession than do a desk job that I am not interested in.
---
Q. You represented India as part of the first ever Indian eNational squad at the FIFA eNations Cup online qualifiers in 2021. You also helped India qualify for regional playoffs in the FIFAe Nations Series 2022. What has been your experience wearing the tricolor badge so far? Any memorable instance you would like to share?
Lokmanyu: Oh, yes, of course! It's been an absolute honor. Ever since I was a kid, I wanted to play for India in real football, but because of a lot of injuries and a lot of other things as well, I couldn't pursue football professionally. My fitness wasn't helping me either.
So I decided that if I was playing FIFA, I would one day want to wear the badge on my chest and represent India in FIFA esports, which did happen in 2021. So, it means the world to me. I think it would be the same for any player who plays for their country.
FIFAe Nations Series 2022 was a big tournament. Yes, I contributed alongside the other players who played. I think my contribution was significant, not just as a player but in helping out, being in the ear of players who were playing, not playing, coaching, and helping each other.
The experience has been fantastic because it is something that I love to do, especially when I am doing it at a level where I get to represent the country.
I think the most memorable memory for me was when I went to Denmark with the team as a coach. I think we had a great time and got to learn a lot from other countries who were there as well. I met so many of my idols personally, who are age-wise younger than me but in FIFA they are so good, so it was a fantastic experience.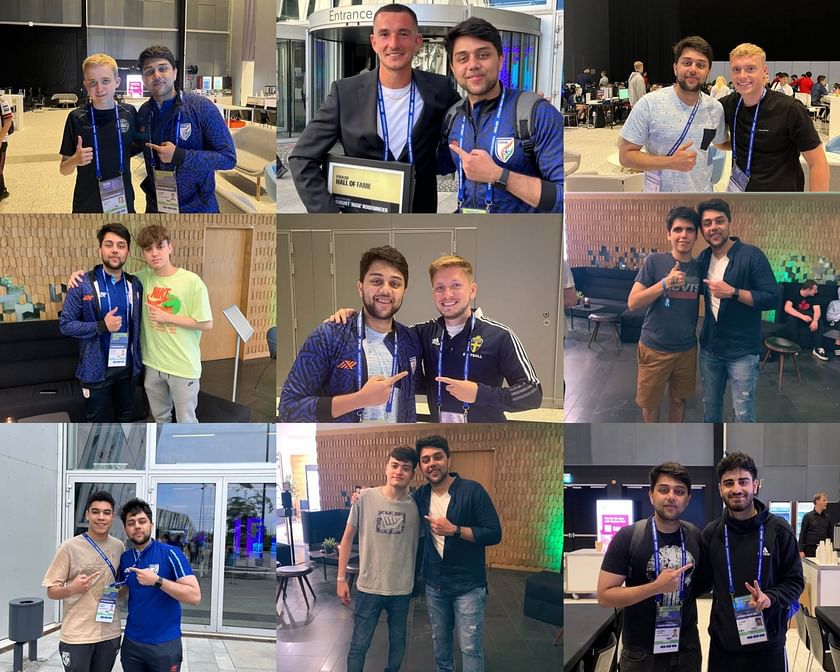 An instance that I would like to share is that there was this match where things were getting a bit tough in Denmark. I think all of us who were in the gaming area spoke about something related to it, and all of us had a good laugh because of something that had happened, which was really funny.
That doesn't really happen in a professional tournament, right? You are always stressed out, and moments like this make things easier and help you get along with the games.
---
Q. You have been in the competitive esports scene for almost five years now and have played against hundreds of professionals. Who was the most difficult opponent you have faced, and which one is the most memorable game in your entire FIFAe career?
Lokmanyu: With regards to the toughest opponent, I would say it's been Charanjot (Singh) according to me. I think he is a really good player, talented, and technically very good.
There was this match against Charanjot in the Asian Football Gaming Championship finals in 2020, where the game was supposed to be two-legged.
But there was no result after the first two legs, and back then there was no aggregate score to put in the compete mode. So the game went on to the fourth leg, where he scored one late goal and won the match. I think it's a very good game to recall.
But if I look at the high level of FGS (FIFA Global Series), there was a game against Saudi Arabia's pro FIFA athlete Mo Jabri, one of the best in his region. And this is the FGS, and India got the opportunity to compete for the first time, and I played really well. At one point, I was winning by a goal as well, but he made a comeback and won right at the end.
I think that was one of my most memorable moments as well because he congratulated me after the match, considering India was playing for the first time in this region and playing against Saudi Arabians is very difficult in the FIFA scene.
---
Q. You will be representing Kerala Blasters for the second time in a row in eISL and this time you will be sharing the controller with Subham Jadav. What are your expectations from Season 2?
Lokmanyu: It's an honor to represent Kerala Blasters. It's the biggest football club in terms of fan base, and the results have been really good as well. They were the runners-up in the last ISL, it's obviously incredible how far they've gone.
This time they've also made the play-offs, so it's really a pleasure to play for them. The guys in the management are really nice as well; they want to get involved, and they want to know more about the FIFA scene.
My expectation from Season 2 is to win, of course. I am at a level now where I don't want to make mistakes and want to utilize opportunities as they come, and most importantly, have fun while playing while representing the KBFC badge. It's very, very important to enjoy myself because that is how I get into that zone.
I'm also not going to put a lot of pressure on myself to take it one game at a time. The first goal, of course, is to make it to the playoffs, end up in the top 6 and then to win it eventually. But yes, I think getting into the top 6 is going to be really hard, considering how competitive the scene has become compared to last year with more full-time pros coming onto it.
---
Q. Do you believe eISL is helping boost esports awareness in India?
Lokmanyu: Of course! I think eISL has done a good job since its very first season. There was a massive prize pool last year, and significantly, it's very low this time for reasons I don't know.
I am surprised because there are more competitive players this time. Anyway, it's a good platform for incoming players since the FIFA circle is pretty small in India, particularly when it comes to the pros.
---
Q. Your love for FIFA can often be traced back to your passion for football. Your social media posts have often indicated your passion for Manchester United. Could you reiterate a few instances that you will always cherish as a lover of the sport?
Lokmanyu: There are so many, I mean, I can't even count. I have been a United fan since I was three years old. I think I was blessed to live in an era where I got to watch prime Sir Alex Ferguson and his team, where all the stars were there, winning the UEFA Champions League, Premier League, FA Cup, you name it, everything.
Winning the UCL final against Chelsea in the tiebreakers happens to be one of my most loving memories with Manchester United. Ronaldo missed it, but eventually we won. It was massive because Chelsea are our league rivals.
Then, of course, Sir Alex Ferguson's retirement was a very emotional moment for me. I did cry a lot when he retired. I got so carried away because I was like, "What would we do without him?" And look, we have struggled for six years.
---
Q. Let's talk a bit about the game. Even after integration of hyper-realism and ML by EA Sports, the FIFA community seems to be pretty much disappointed with the current gameplay and events. How has your experience been with the FIFA 23 meta so far? Where do you think EA should actually work-on for improving the game's upcoming versions?
Lokmanyu: I think ever since the hypermotion technology came in, the game has been very unpredictable, if you can say that. There have been good improvements, there have been downgrades as well. Like EA, if I have to put it in a nutshell, they still haven't found the right balance in FIFA.
The problem is that it's confusing for the developers. They want to make the game for mass audiences as well and not just esports-specific.
I think the best idea would be to give pro players an esports version right from the start of the game. For example, whoever qualifies from the rivals to FGS season 1, make them FGS registered, and just give them the esports version and make it different.
I don't think I've ever said this in an interview before or been quoted anywhere, but I think that's something a pro player should be playing right from the start. I believe EA should just let the players install the esports version, whoever makes it to the Elite Rank.
For the rest of the community, it can be different. I think that is how EA should be working on improving the mechanics for the pros so that it's purely based on skill and not where they want the community as well to feel they can come back in a game of FIFA against good players. So yes, there should be a separate version.
For events, I think there should be more of them. The broadcast should be there during the FGS. It was there in FIFA 21, which isn't the case anymore. So I believe there should be more local events.
Tournament organizers should be hosting more tournaments, so that the pros can earn more from the prize money and not rely only on their salaries because FIFA esports is still not at that level in India compared to how they are in Germany, Spain, England, Italy, France, etc.
---
Q. FIFA 23's introduction of cross-platform play has opened-up the chances for PC players to finally be a part of the competitive scene. What's your take on this? Have you tried playing cross-platform matches recently?
Lokmanyu: I'll be very honest, this should not have happened. Cross-platform has ruined it.
As a casual player, yes, that's fine because you get to play more matches, like you get lobbies instantly, that is, you search and get matches pretty quickly. But PC players have hackers, and there are different kind of hacks that I've seen recently, have happened to me personally, to people I know, and I have been seeing it all over Twitter, Instagram, etc.
Playing against hackers who have invisible teams in front of them, those who use AI in the whole game like there is no manual cursor on top of the players' heads.
There are players who have 75-rated stats, but they are boosted to 99 in all stats. So they are like hackers who buy cheats on the PC, so I think they shouldn't be a part of the competitive scene at all.
Unless and until EA fixes the hackers, I don't think it's a good idea to continue with cross-platforming. I have turned off cross-playing in my search because I don't want to go through that trouble anymore.
It was a good experience at the start when people weren't using so many hacks. But now I feel unless and until it's offline, I don't think online tournaments of cross-platforms should be allowed because there are hackers all over on PC.
---
Q. What is your strategic approach towards each match you play in the competitive scene? Do you strategize differently for different games, or do you have your own thumb rule?
Lokmanyu: I think it's a mix of both. My strategic approach is always to read the opponents' game but at the same time I want to be at my best.
I am someone who loves to play attacking, especially in FIFA 23. I don't prefer a lot of buildups unless and until I have to. If the opponents' defense is very solid, I have to make the game slower and play. But I love to attack first and that's my thumb rule to give your best when you're attacking, because in FIFA 23, outscoring your opponent is the best way to win matches and win tournaments.
I have seen the same in the highest level tournaments as well, in Europe, the eChampions League, etc. To give your best, you have to be sharp. You can't be passive in a game of FIFA. You have to be creative and the moment you are passive, it takes away the advantage, in my opinion.
I have been there multiple times and it happens to multiple players, becomes so repetitive and tiring for the creative block it builds in. So yes, I think the best way is to be creative, have fun, and try to outscore your opponents.
---
Q. Who is that one footballer whom you don't like missing out on in your FUT squad while playing a competitive game and which football player is your all-time favorite?
Lokmanyu: It has to be Ruud Gullit. I think a lot of people would seriously think he is the best card in the game. I think Kylian Mbappe matches in as well, it's very difficult to choose between the two. So it's either TOTY Icon Gullit or TOTY Mbappe.
And my favorite footballer of all time? Cristiano Ronaldo. There's no doubt about it. My football fandom was all about being a United fan, I grew up watching him, and for me, Cristiano is the greatest footballer ever.
---
Q. Apart from playing FIFA, you have simultaneously been coaching, hosting, and streaming in the professional scene. Would you keep doing the same in long-term or you have some different thoughts for future?
Lokmanyu: Yes, I have been involved in coaching with the national team, because it was for one tournament. Apart from that, I have coached a couple of other people.
Streaming is something I would love to get back to. I miss it and will start doing it very soon. I really miss hosting as well and would love to have more opportunities in hosting and casting the games because it's something that I love to do.
I would love to continue with both content creation and coaching and maybe be a team manager in the future when I am not playing. But at least for the foreseeable future, for the next couple of years, I will be competing as an athlete because I believe I have it in me to push my limits and keep going till I really feel that some other role suits me more than a player.
But yes, I think in the future my ultimate goal is to have my own esports organization, specifically for virtual football. I will also try venturing out into other esports styles as well, because gaming is something I love, and through it I would love to travel the world, meet new people, and make friends online.
---
Q. We all know that grinding on one game for days can get tiring and monotonous. Tell us what else do you do when you're not in the mood for FIFA? Have you tried other games like Valorant or Fortnite?
Lokmanyu: Yes, I do play a lot of Call of Duty, in fact, a lot of other FIFA pros like to play COD as well.
When I am not gaming at all, I love to watch a lot of Netflix series, I love working out, and I spend a lot of time on calls with my girlfriend as well. So yes, it's a balanced lifestyle, and most importantly, I spend a good amount of time with my family because that's very important.
---
Q. India is still in a state of infancy, considering the country's developing esports infrastructure. Many aspiring Indian FIFA players go through the usual problems and drop their dreams for something more "secure." What is your take on a career in gaming in India, and what changes can be made to make it more mainstream?
Lokmanyu: I think there are three things. The first is that, unless and until you become a pro, that is, you get to a level where all these pro players are in India, I don't think you should give up on anything. This is because in FIFA esports, the highs are very high and the lows are extremely low. It's not easy.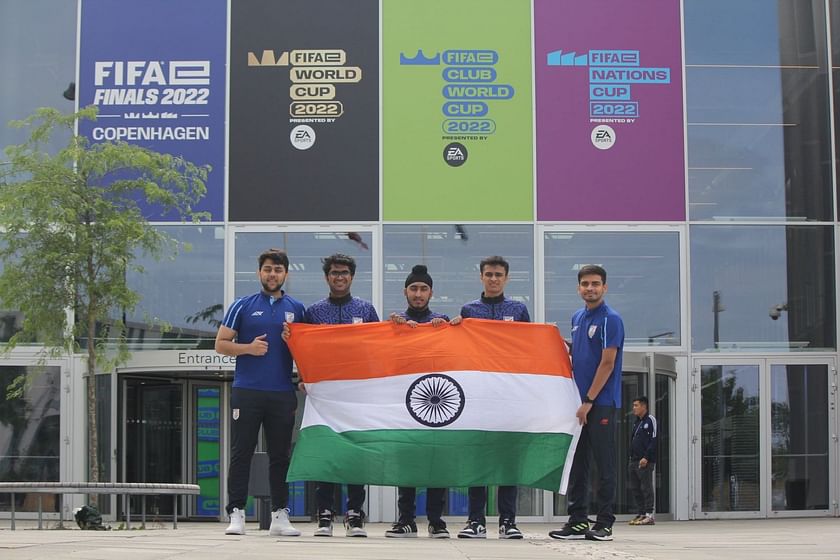 The second thing that I would like to mention is that since the government has been getting involved in the scene now, they can introduce some sort of scholarship program or something that secures the players with finances and infrastructure, at least the ones who have represented the country and really love esports.
Third, I feel it is very important for the government and its concerned authorities to intervene at the grassroots level in esports in India, be it private or public. Schools, colleges, and other institutions will play a big role in this.