The F1 legend who is considered to be the greatest driver of all times by many. Schumacher met with a near fatal accident and suffered life threatening injuring while skiing in the French Alps on December 29, 2013. He was left in a coma with a serious head injury.


What is Schumacher's current health condition ? Michael spotted on a family holiday in Majorca mansion?
In February 2019, Michael Schumacher was spotted on family holiday in Majorca, Spain. Schumacher arrived at the family owned mansion in a specially adapted Bell 429 Global Ranger Helicopter, along with his medical staff.
Earlier to this it was believed that Michael had been resting at his family home in Switzerland under medical supervision.
Schumacher in 2018
In January 2018, Schumacher celebrated his 49th birthday and his daughter Gina took to Instagram leaving a message to her father.
She wrote on Insta post : "Happy Birthday to the best Dad ever. We love you. #keepfighting."
Wife Corinna, son Mick Schumacher, and daughter Gina-Maria, rarely discuss about his condition since the tragedy.
In the beginning of the 2018 F1 season, with the seven-time world champion very much in people's minds and fans, Schumacher's manager Sabine Kehm said they were grateful for all the support from fans and friends.
She said: "What can be said is that the family really appreciates the empathy of the fans.
"The people really do see and understand (his health situation) is not to be shared in the public eye."
Doctors described his condition as "extremely serious" after the accident, the F1 driver was put into a medically induced coma and underwent two major life-saving operations at Grenoble Hospital, France.
In April 2014 Schumacher was taken out from the coma and was moved to a hospital in Lausanne, Switzerland, before he was brought home in September 2014.
Schumacher's family has remained private about his life since the skiing accident. The German is still battling to overcome life-threatening injuries and is currently treated at a mansion owned by his wife Corinna Schumacher at Andratx, Spain.
In November, Schumacher's wife Corinna Betsch told the press: "The decision to protect his privacy from the public has been taken in Michael's interest.
"We have made it very clear that something serious has happened."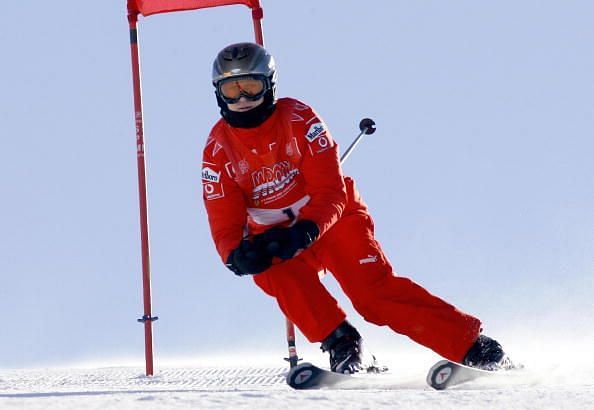 What happened to Michael Schumacher? What led to his Coma?
Schumacher accidentally fell and hit his head on a rock while skiing with his son Mick Schumacher in the French Alps. Despite wearing a helmet, he suffered a traumatic brain injury and was put in a medically induced coma.
Physicians at the hospital said that Schumacher would almost certainly have died if he was not wearing head protection.
No updates on Schumacher were given until April 2015, finally it was announced that he had shown "moments of consciousness and awakening".
Three months later a statement was released confirming that the F1 champion was no longer in a coma.
Latest F1 News, Results, Standings, and Schedule.