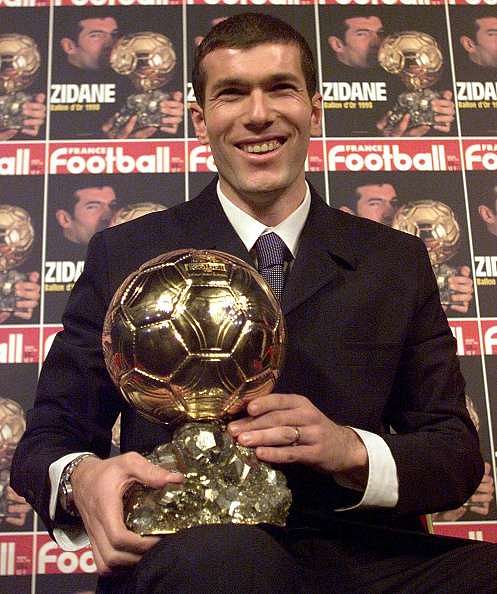 There have been some amazing Ballon d'Or winners in the past, but what makes the decade 1990-2000 unique is that there were unique winners in all the 11 years. Some amazing talent burst onto the scene this decade, capturing our imagination and dazzling the world of football.
All the players on this list are legends in their own right and have shaped the world of football in their own indelible way.From Lothar Matthaus to Luis Figo, let us look at all the Ballon d'Or winners from 1990-2000 and peak into what they are doing currently.
Lothar Matthaus (1990)
Then
Former Bayern Munich and German international, Lothar Matthaus is widely considered to be one of the greatest midfielders of all time. Supremely successful at both the club and country level, Matthaus was capable of playing both as a central midfielder and as a sweeper.
The legendary German played in five FIFA World Cups and holds the record for the most World Cup matches played by a single player. Matthaus' impact on the game and the respect he had from his rivals was best epitomised by Diego Maradona's comments:
"he is the best rival I've ever had. I guess that's enough to define him", said Maradona in his book Yo soy el Diego (I am the Diego).
Now
After calling time on his career in 2000, Matthaus went on to manage a number of teams like Rapid Wien, Partizan Belgrade, Hungary national team and the Bulgarian national team. Currently the German works a TV pundit and a columnist for various websites and organisations.
The German has also had a colourful personal life having married 5 times so far. At present, Matthaus and his wife Anastasia Klimko live in Hungary and have a son named Milan who was born in 2014.
Jean-Pierre Papin (1991)
Then
French super striker Jean-Pierre Papin won the Ballon d'Or award during his time at Marseille. In a 17 year career representing many of the top clubs in Europe's various leagues, the Frenchman scored nearly 350 goals in over 620 matches.
He was at his best during his 6-year spell at Marseille where he wowed audiences with his goalscoring abilities and his poaching skills. After 1992, Papin had a couple of difficult seasons at Milan and Bayern Munich.
The Frenchman finally called time on his career in 2001 at Saint-Pierroise retiring as one of the greatest strikers France has ever produced.
Now
After calling time on his career Papin managed French clubs Strasbourg, Lens and Chateauroux. He left as the manager of Chateauroux in 2010 and worked as a pundit occasionally for various French managers.
Papin is currently being linked to the manager position at Marseille and a move to Les Phoceens would see Marseille reunited with its favourite son.
Marco van Basten (1992)
Then
Van Basten was undoubtedly one of the greatest talents to ever play the game. The Netherlands international had his greatest moment in the 1988 Euro final where he scored a stunning volley to give Netherlands their only major international trophy.
One of the greatest footballers to have ever lived, Van Basten was a joy to watch when he was fit. An amazing dribbler, pacy runner and a supreme finisher, Van Basten called time on his stellar career at the young age of 28 because of a recurring knee injury.
An Ajax, Milan and Netherlands legend, Van Basten's goals in the Euro 1988 tournament are still remembered fondly by the Dutch public. The Ballon d'Or win in 1992 was Van Basten's third in his career.
Now
After retiring in 1995, the Dutch legend took a hiatus from the sport till 2003 before he took over as manager of Jong Ajax (Ajax reserve team). He then had a spell as the manager of the Netherlands national team where he won 35 of the 52 matches they contested in from 2004-2008.
He then notably managed the Ajax first team for a year, followed by spells in Heerenveen and AZ Alkmaar where he was the assistant manager. Most recently, he was the assistant manager of the Netherlands national team before he left the role in August 2016 as he would be taking up a position in FIFA.
Roberto Baggio (1993)
Then
Mainly playing as an attacking midfielder or a support striker, Roberto Baggio is quite easily the most talented footballer to ever play for Italy. Nicknamed Il Divin Codino (The Divine ponytail), Baggio was known for his spectacular set-pieces, dribbling skills and creativity.
Voted as the 4th best player of the century in 1999, Baggio was inspirational in Italy's run to the 1994 World Cup final even though he is remembered for the penalty miss in the final against Brazil.
Baggio was undoubtedly amongst the best players in 1993 and 1994 finishing second in the Ballon d'Or standings in 1994. The legendary Italian had successful spells at Fiorentina, Juventus, Milan and Inter before retiring at Brescia in 2004.
Now
A goodwill ambassador for the United Nations food and agriculture organisation since 2002, Baggio after his retirement has helped to fund hospitals, raise money for the victims of the Haiti earthquake, contribute to tackling bird flu, and was involved in the Burmese pro-democracy movement even winning the 2010 Man of Peace award in Hiroshima.
From 2011-2012 Baggio acquired his UEFA A coaching license and is now eligible to manage a Serie A club if required. A wonderful footballer and a beautiful human off the pitch, Baggio is currently busy with many of his charitable ventures.
Hristo Stoichkov (1994)
Then
The greatest Bulgarian footballer ever, Hristo Stoichkov won the Ballon d'Or award when he was at the peak of his career at Barcelona. Most famous for his trophy-laden spells at CSKA Sofia and Barcelona, the Bulgarian legend provided some sheer moments of magic with his quick feet, supreme dribbling skills and excellent goals.
Although criticised by some critics for his work rate, no one can deny the immense talent Stoichkov possessed. After his successful spell at Barcelona, Stoichkov played in quite a few clubs like Al Nassr, Chicago Fire, DC United before calling time on his career.
Now
In 2004, Stoichkov took over as Bulgaria manager for 3 years before having a spell in Spain with Celta Vigo. After leaving Celta in 2007, Stoichkov surprisingly managed South African club Mamelodi Sundowns and Bulgarian club Litex Lovech.
In June 2013, Stoichkov was named manager of his beloved CSKA Sofia, but he quit after just one month because of financial instability. Currently, Stoichkov works as a pundit and is known for his outspoken views on Barcelona and their rivals.
George Weah (1995)
Then
Arguably the greatest African footballer of all time and the only Ballon d'Or winner from the continent, Geroge Weah played a crucial role in PSG's successes in the mid-1990s. In his prime, Weah was considered to be one of the greatest strikers to ever play the game.
The Liberian was blessed with good speed, physique, and technique and his goals and skills enthralled PSG fans day in and day out. Bought from Monaco in 1992, Weah had three extremely successful seasons at PSG, where he won the Ligue 1 title, Coupe de France and Coupe de La Ligue.
For his achievements and skills, the Liberian was nicknamed "King George". King George went on to win the FIFA Ballon d'Or in 1995 before making a move to AC Milan where he cemented his place as one of the greatest players of this generation. Weah finally retired from football in 2003 at Al Jazira.
Now
Weah has been extremely busy after calling time on his playing career and is a well-renowned humanitarian and politician in his home country of Liberia. The legendary African footballer even ran for Presidency in Liberia after the second Civil war, but he narrowly lost out to his rival in Ellen Johnson Sirleaf.
Personally, George Weah converted from Christianity to Islam before converting back to Christianity again and he hopes for peace between Christians and Muslims calling them both "one people".
In 2014 he ran for election to the Senate as a Congress for Democratic Change candidate in Montserrado County. He was overwhelmingly elected to the Liberian Senate on December 20, 2014. Weah defeated Robert Sirleaf, the son of President Sirleaf, becoming the first Liberian international athlete elected to represent a county in the Legislature.
The 1995 Ballon d'Or winner has impacted several lives since his retirement from football.
Matthias Sammer (1996)
Then
One of the greatest defensive midfielders/sweepers to ever play the game, Matthias Sammer perhaps surprisingly won the Ballon d'Or award in 1996 thanks to his superb performances for both club (Borussia Dortmund) and country in 1996.
Sammer won the Bundesliga, DFL Super Cup and the UEFA Euro 1996, before going on to win a historic Champions League title in 1997. Sammer had an extremely successful international career for East German as well as unified Germany even winning the best player award in Euro 1996.
Sammer had his most successful spell at club level in Borussia Dortmund where he finally called time on his career in 1999.
Now
After his playing career, Sammer immediately took over as manager of BVB from 2000-2004 guiding them to a Bundesliga title in 2002. Following his managerial stint at Dortmund, Sammer had a one year spell at VFB Stuttgart leaving the club in June 2005.
He was soon appointed as the technical director of the German football association in 2006 and following an extremely successful 5-year spell on the national board, he controversially accepted the Sporting Director position at Bayern Munich in 2012.
In early 2016, Sammer had a "minute circulatory disorder in the brain" and had to take a break from his work. During his recovery, he gained a new perspective on his work and family life and asked FC Bayern to release him from his position as sporting director which they granted.
Ronaldo Nazario (1997)
Then
Considered to be one of the greatest strikers of all time, Ronaldo Nazario was an absolute phenomenon at his peak. A three-time FIFA World Player of the Year and two-time Ballon d'Or winner, Ronaldo at his peak was known for his devastating turn of pace, acceleration, quick dribbling and clinical finishing skills.
The Brazilian striker played for some amazing clubs in his prime such as Cruzeiro, PSV, Barcelona, Inter Milan, Real Madrid, AC Milan and Corinthians and he was successful throughout his career.
Winner of the Ballon d'Or award thanks to his amazing performances at Barcelona in the 1996/97 season, Ronaldo is undoubtedly the greatest out and out striker of this generation.
Now
Ronaldo retired finally at Corinthians in 2011 and following his retirement Ronaldo became a member of PokerStars SportsStar even playing a charity poker match against Rafael Nadal in December 2013.
The Brazil legend also owns a minority stake in Fort Lauderdale Strikers which plays in the North American Soccer league. Having served as the ambassador for the 2014 FIFA World Cup, Ronaldo has continued his work as a United Nations Development Programme Goodwill Ambassador.
Zinedine Zidane (1998)
Then
Winner of the Ballon d'Or in 1998, Zidane was at his best when he was terrorising defences in Serie A for Italian giants Juventus. Considered to be one of the greatest if not the greatest player of all time, Zidane enjoyed successful spells at Cannes, Bordeaux, and Juventus before calling time on his career at Real Madrid in 2006.
In his stellar career, Zidane has won two Serie A titles, a La Liga title, 2 UEFA Super Cups, A Champions League and not to forget the 1998 FIFA World Cup and 2000 Euro Championships.
Capable of the extraordinary, Zidane almost led France to another World Cup triumph before he infamously headbutted Marco Materazzi in the 2006 final against Italy. By the time he retired at Real Madrid in 2006, the Frenchman had cemented his legacy as one of the greatest players of all time.
Now
After retiring from football in 2006, Zidane was involved in a number of charitable ventures like Soccer Aid, UNICEF and Keuydaroon children's AIDS charity before being appointed as special advisor for the Real Madrid first team in 2010.
In July 2011, Zidane was appointed as the Sporting director before becoming the assistant manager to Carlo Ancelotti in 2013. Of course, now Zidane is the manager of Los Blancos and is one of the few people in football to have won the Champions League both as a player and manager.
Zidane will be hoping to guide Madrid to the league title this year.
Rivaldo (1999)
Then
Rivaldo enthralled fans all over the world with his quick feet, dribbling skills, and spectacular goals. Winner of the FIFA World player of the year, and the Ballon d'Or award in 1999, Rivaldo was at his very best when he played for Barcelona.
The Brazilian forward spent an amazing five years at Barcelona where he gave the Blaugrana faithful number of moments to remember scoring some absolutely stunning goals. Rivaldo won 2 La Ligas and a Copa Del Rey in his spell at Barcelona.
Easily the standout player of that particular Barcelona squad, Rivaldo enthralled fans all across Spain with his stunning skills and goals and he is easily one of the greatest players ever to pull on the Barcelona jersey.
Now
In his playing career, Rivaldo represented an astonishing 14 clubs retiring as late as 2014 in his childhood club Mogi Mirim. On his retirement, Rivaldo said:
"My history as a player has come to the end. With tears in my eyes today I would like to thank God, my family and all the support, the affection that I received during those 24 years as a player."
He is currently the President of Mogi Mirim where his son Rivaldinho also plays.
Luis Figo (2000)
Then
Probably the most controversial transfer in the history of football, Luis Figo won the Ballon d'Or award in 2000 while he was at Real Madrid, but it was largely for his performances when he was in Barcelona.
Considered to be one of the three standout Portuguese players along with Eusebio and Cristiano Ronaldo, Figo first created a name for himself at Portuguese giants Sporting CP, before really hitting his strides at Barcelona.
A highly controversial world record transfer to Real Madrid followed where Figo continued to put in amazing performances on the wings, Finally, in 2005, the Portuguese superstar moved to Inter Milan where he called time on his career in 2009.
Now
After his retirement, Figo has actively been involved in football's governing body FIFA even running for Presidency in 2015, before withdrawing. Now, Figo is actively involved in Futsal and is even the President of burgeoning Indian league Premier Futsal which was held successfully earlier this year.
More football news, features and rumours at Sportskeeda.com