EPL Table: What if the match duration had been 80 minutes?
4.73K //
26 Dec 2012, 19:57 IST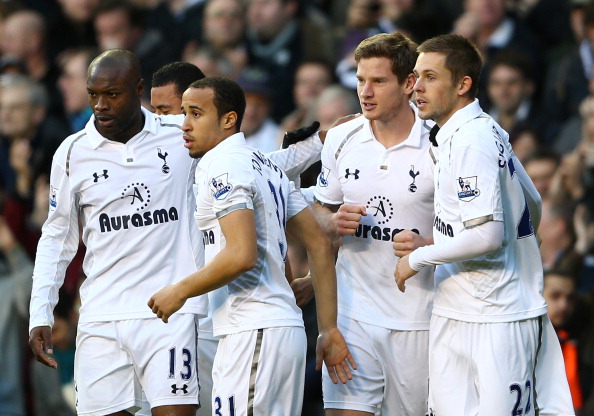 Manchester United are renowned for late comebacks in the EPL over the years, but which team is the one which has conceded the most in the last ten minutes to throw away matches and leads? Here is a look at the English Premier League table at almost the mid-point of this season, had the matches ended at 80 minutes instead of 90.
| | | | | | | | |
| --- | --- | --- | --- | --- | --- | --- | --- |
| Team | Played | Won | Draw | Lost | For | Against | Points |
| Tottenham | 16 | 11 | 2 | 3 | 29 | 15 | 35 |
| Man. Utd | 16 | 10 | 2 | 4 | 34 | 21 | 32 |
| West Brom | 16 | 10 | 1 | 5 | 19 | 14 | 31 |
| Chelsea | 16 | 7 | 7 | 2 | 24 | 14 | 28 |
| Everton | 16 | 7 | 5 | 4 | 22 | 16 | 26 |
| Man. City | 16 | 6 | 7 | 3 | 21 | 12 | 25 |
| Liverpool | 16 | 6 | 7 | 3 | 22 | 17 | 25 |
| Stoke | 16 | 5 | 8 | 3 | 12 | 10 | 23 |
| Arsenal | 16 | 5 | 7 | 4 | 20 | 14 | 22 |
| Swansea | 16 | 5 | 5 | 6 | 20 | 18 | 20 |
| Norwich | 16 | 5 | 5 | 6 | 14 | 22 | 20 |
| West Ham | 16 | 5 | 4 | 7 | 15 | 19 | 19 |
| Southampton | 16 | 5 | 4 | 7 | 19 | 25 | 19 |
| Fulham | 15 | 4 | 5 | 6 | 19 | 21 | 17 |
| Newcastle | 15 | 4 | 5 | 6 | 12 | 16 | 17 |
| Wigan | 16 | 4 | 3 | 9 | 14 | 27 | 15 |
| Sunderland | 15 | 3 | 5 | 7 | 12 | 17 | 14 |
| Aston Villa | 16 | 2 | 8 | 6 | 9 | 20 | 14 |
| Reading | 15 | 2 | 6 | 7 | 15 | 22 | 12 |
| QPR | 16 | 0 | 8 | 8 | 12 | 24 | 8 |