The 2002 FIFA World Cup ran from 31st May 2002 to 30th June 2002 and was hosted by South Korea and Japan. This was the first World Cup hosted outside the Americas or Europe, and also the first to be jointly hosted by more than 1 nation. South Korea and Japan were declared hosts by FIFA on 31st May 1996. South Korea and Japan, each provided 10 venues for the 2002 FIFA World Cup. The stadiums in Daegu, Suwon, Yokohama, and Saitama all hosted 4 matches each, which was the most number of matches hosted by a stadium in the 2002 FIFA World Cup. Tokyo on the other hand did not host a single match, making it the first capital of a host country to not be a FIFA World Cup venue.
South Korea
Daegu
Seoul
Busan
Incheon
Ulsan
Daegu World Cup Stadium
Seoul World Cup Stadium
Busan Asiad Stadium
Incheon World Cup Stadium
Ulsan Munsu Football Stadium
Capacity: 68,014
Capacity: 63,961
Capacity: 55,982
Capacity: 52,179
Capacity: 43,550
Suwon
Gwangju
Jeonju
Seogwipo
Daejeon
Suwon World Cup Stadium
Gwangju World Cup Stadium
Jeonju World Cup Stadium
Jeju World Cup Stadium
Daejeon World Cup Stadium
Capacity: 43,188
Capacity: 42,880
Capacity: 42,391
Capacity: 42,256
Capacity: 40,407
South KoreaBusanDaeguDaejeonGwangjuIncheonJeonjuSeogwipoSeoulSuwonUlsanJapan
JapanKashimaKobeMiyagiNiigataŌitaOsakaSaitamaSapporoShizuokaYokohamaS. Korea
Japan
Yokohama
Saitama
Shizuoka
Osaka
Miyagi
International Stadium Yokohama
Saitama Stadium
Shizuoka Stadium ECOPA
Nagai Stadium
Miyagi Stadium
Capacity: 72,327
Capacity: 63,000
Capacity: 50,600
Capacity: 50,000
Capacity: 49,000
Ōita
Niigata
Kashima
Kobe
Sapporo
Ōita Stadium
Niigata Stadium
Kashima Stadium
Kobe Wing Stadium
Sapporo Dome
Capacity: 43,000
Capacity: 42,300
Capacity: 42,000
Capacity: 42,000
Capacity: 42,000
Who Was The 2002 World Cup Winner?
Brazil won the 2002 FIFA World Cup hosted by South Korea and Japan. Brazil was drawn into Group C alongside Turkey, Costa Rica, and China. Brazil started off very well, beating all 3 teams in their group to finish on top of the table with 9 points. Brazil followed this up with a comfortable Round of 16 win against Belgium thanks to goals by Rivaldo and Ronaldo. Brazil's next opponent was England in the Quarter-finals.
England scored the first goal, taking a one-goal lead over Brazil, but just on the stroke of halftime, Rivaldo equalized for Brazil. Ronaldinho then scored the second goal for Brazil early in the second half. England was unable to respond to this goal and Brazil won 2-1 over England to qualify for the Semi-finals. Brazil now faced Turkey in the Semi-finals, a team they had already faced once in the 2002 FIFA World Cup. Brazil had managed to beat Turkey 2-1 in their first match and this was only due to an 87' penalty scored by Rivaldo. Brazil knew this would not be an easy match.
Brazil managed to go 1-0 up at the start of the second half thanks to a goal by Ronaldo. Turkey was unable to retaliate to this goal and Brazil managed to sneak a narrow 1-0 victory over Turkey to advance to the finals of the 2002 FIFA World Cup. Brazil played Germany in the finals of the World Cup and a second-half brace by Ronaldo saw Germany being rendered helpless as Brazil won the final 2-0 to lift the 2002 FIFA World Cup trophy.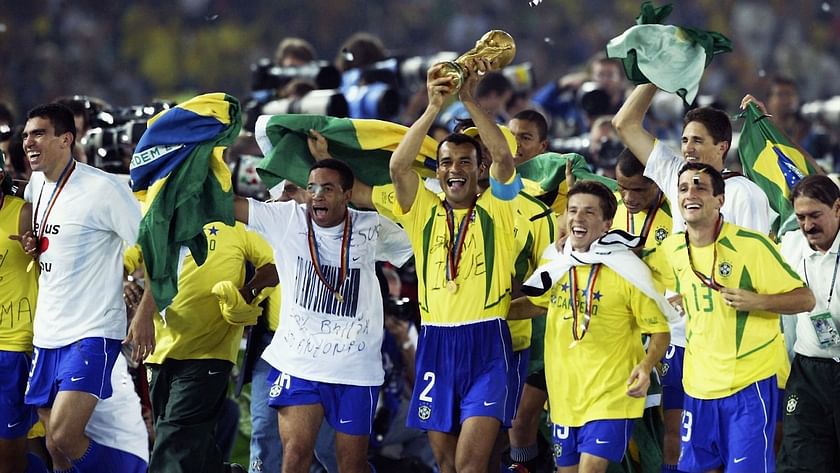 Which Teams Were In The 2002 World Cup?
AFC (4)
China
Japan (co-hosts)
Saudi Arabia
South Korea (co-hosts)
CAF (5)
Cameroon
Nigeria
Senegal
South Africa
Tunisia
OFC (0)
None qualified
CONCACAF (3)
Costa Rica
Mexico
United States
CONMEBOL (5)
Argentina
Brazil
Ecuador
Paraguay
Uruguay
UEFA (15)
Belgium
Croatia
Denmark
England
France
Germany
Italy
Poland
Portugal
Republic of Ireland
Russia
Slovenia
Spain
Sweden
Turkey
Who Was The Top Scorer In The 2002 World Cup?
Ronaldo ended the tournament as the top scorer of the 2002 FIFA World Cup with 8 goals to his name. Ronaldo scored 4 goals in the group stages, 1 against both Turkey and China, and 2 against Costa Rica. Ronaldo scored another 4 goals in the knockout stages of the tournament. He scored one goal in the Round of 16 game against Belgium, another against Turkey in the Semi-final, and the final 2 goals against Germany in the final of the 2002 FIFA World Cup.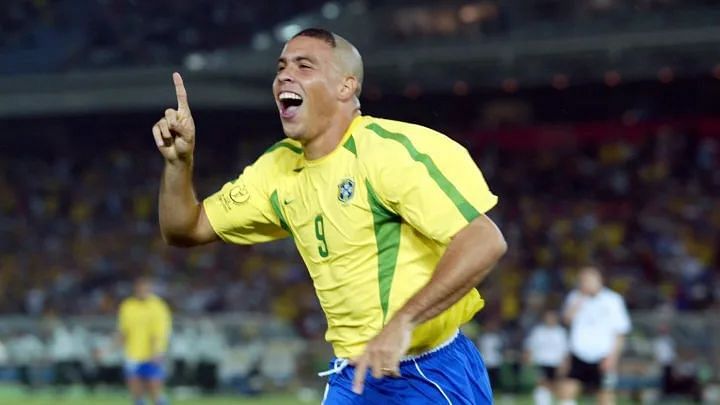 What Was The 2002 World Cup Trophy?
The FIFA World Cup Trophy was presented to Brazil after they beat Germany in the 2002 FIFA World Cup finals to become the world champions. Since the Jules Rimet trophy was put out of commission after the 1970 FIFA World Cup, the same trophy has been given to every winner of the FIFA World Cup.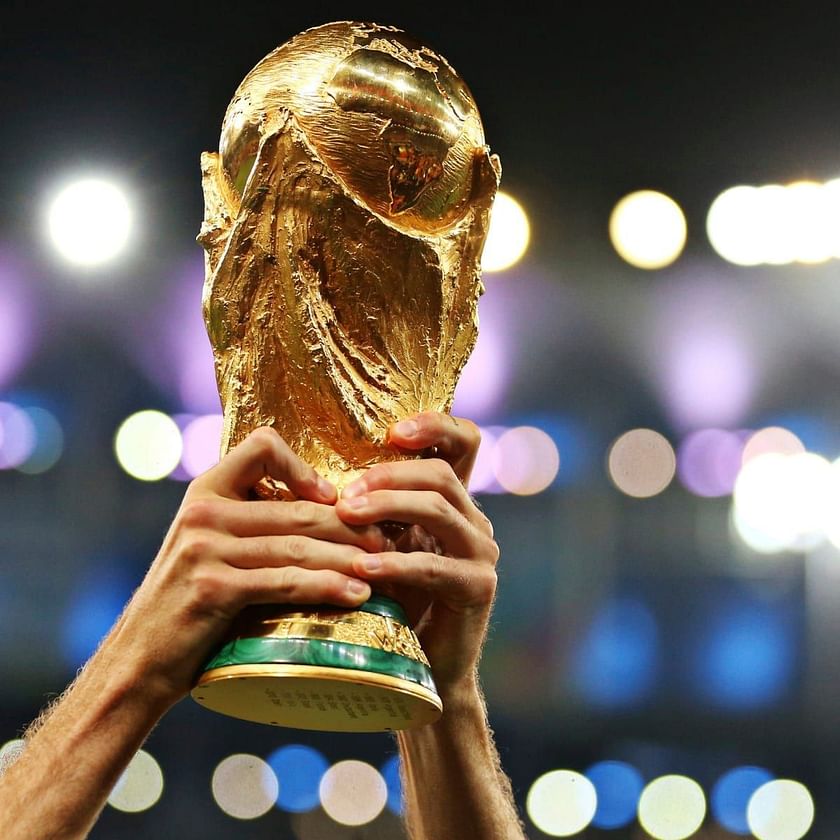 What Was The Official 2002 World Cup Ball?
The official ball of the 2002 FIFA World Cup was called "Fevernova". This ball was produced and manufactured by Adidas. This was the first-ever FIFA World Cup ball with a triangular design.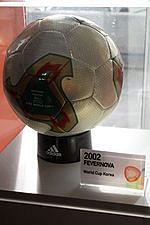 What Was The 2002 World Cup Song?
There were 2 songs for the 2002 FIFA World Cup. The first was Anthem by Vangelis. The second song was Boom by Anastacia. The links for both the songs are provided below.
Anastacia - Boom | FIFA World Cup 2002 (Official Video)