The Asia Cup points table is the first thing a cricket fan wants to see whenever the mega event is underway. This year's Asia Cup will begin on August 27 in the United Arab Emirates. So, from August 27 onwards, every cricket fan will look forward to the Asia Cup 2022 schedule.
The upcoming Asia Cup competition will be played in the T20I format. Six teams, namely Sri Lanka, Bangladesh, Afghanistan, India, Pakistan and a qualifier will compete in the tournament. There will be two rounds in the Asia Cup before the final match.
Stay tuned for the Asia Cup live score & news updates on Sportskeeda.
The Asia Cup points table for the group stage and the Asia Cup 2022 points table for the Super Four round will hold a lot of significance in the journey to the final match of the competition.
Here are all the important things you need to know about the Asia Cup points table.
Asia Cup 2022 Points Table Rules
The Asia Cup points table will follow the rules that almost every multi-nation cricket tournament does. The six Asia Cup teams have been divided into two groups of three each. The teams which are in the same group will battle against each other once during the group stages.
For each win, a team will get two points on the table. For each defeat, a team will get zero points, whereas, for each abandoned match, a team will get one point. The top two teams from both Asia Cup groups with the most points at the end of the group stage will qualify for the Super Four.
Points will be calculated during the Super Four round in the same way. Fans should note that any points earned during the group stage will not be carried forward for the Super Four round.
Asia Cup 2022 Points Table - Qualifiers Stage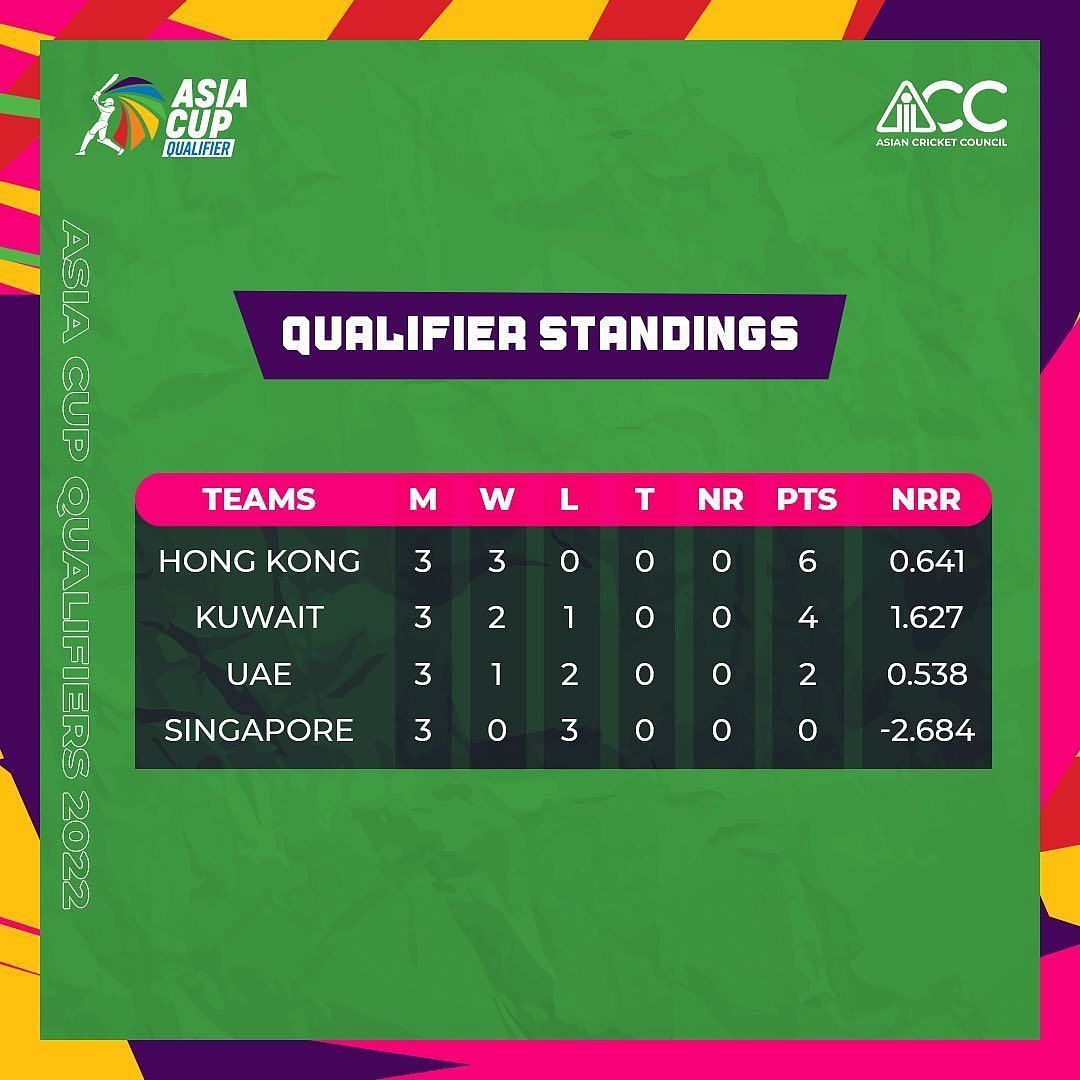 Asia Cup 2022 Qualifiers Standings
How do teams qualify for the Asia Cup?
The Asian Cricket Council determines the number of participants for the Asia Cup. The Test-playing members earn an automatic entry. India, Pakistan, Sri Lanka, Afghanistan and Bangladesh qualified without playing any qualifiers.
The other members of the ACC play in multiple tournaments. The winners of those regional and divisional competitions play against each other, with the most successful team out of them making it to the main tournament.
This year, UAE, Kuwait, Singapore and Hong Kong are competing for a spot in the main competition. Hong Kong topped the Asia Cup points table for the qualifiers round and will be playing in the main tournament.
Asia Cup Points Table - 2018
| | | | | | | | |
| --- | --- | --- | --- | --- | --- | --- | --- |
| Super Four | Matches | Won | Lost | Tied | NR | Pts | NRR |
| India | 3 | 2 | 0 | 1 | 0 | 5 | 0.863 |
| Bangladesh | 3 | 2 | 1 | 0 | 0 | 4 | -0.156 |
| Pakistan | 3 | 1 | 2 | 0 | 0 | 2 | -0.599 |
| Afghanistan | 3 | 0 | 2 | 1 | 0 | 1 | -0.044 |
| Group A | Matches | Won | Lost | Tied | NR | Pts | NRR |
| India | 2 | 2 | 0 | 0 | 0 | 4 | 1.474 |
| Pakistan | 2 | 1 | 1 | 0 | 0 | 2 | 0.284 |
| Hong Kong | 2 | 0 | 2 | 0 | 0 | 0 | -1.748 |
| Group B | Matches | Won | Lost | Tied | NR | Pts | NRR |
| Afghanistan | 2 | 2 | 0 | 0 | 0 | 4 | 2.27 |
| Bangladesh | 2 | 1 | 1 | 0 | 0 | 2 | 0.01 |
| Sri Lanka | 2 | 0 | 2 | 0 | 0 | 0 | -2.28 |


Asia Cup Points Table - 2016
| | | | | | | | |
| --- | --- | --- | --- | --- | --- | --- | --- |
| Teams | Matches | Won | Lost | Tied | NR | Pts | NRR |
| Sri Lanka | 4 | 4 | 0 | 0 | 0 | 17 | 0.773 |
| Pakistan | 4 | 3 | 1 | 0 | 0 | 13 | 0.349 |
| India | 4 | 2 | 2 | 0 | 0 | 9 | 0.45 |
| Afghanistan | 4 | 1 | 3 | 0 | 0 | 4 | -1.278 |
| Bangladesh | 4 | 0 | 4 | 0 | 0 | 0 | -0.259 |


Asia Cup Points Table - 2014
| | | | | | | | |
| --- | --- | --- | --- | --- | --- | --- | --- |
| Teams | Matches | Won | Lost | Tied | NR | Pts | NRR |
| Sri Lanka | 4 | 4 | 0 | 0 | 0 | 17 | 0.773 |
| Pakistan | 4 | 3 | 1 | 0 | 0 | 13 | 0.349 |
| India | 4 | 2 | 2 | 0 | 0 | 9 | 0.45 |
| Afghanistan | 4 | 1 | 3 | 0 | 0 | 4 | -1.278 |
| Bangladesh | 4 | 0 | 4 | 0 | 0 | 0 | -0.259 |


Asia Cup Points Table - 2012
| | | | | | | | |
| --- | --- | --- | --- | --- | --- | --- | --- |
| Teams | Matches | Won | Lost | Tied | NR | Pts | NRR |
| Pakistan | 3 | 2 | 1 | 0 | 0 | 9 | 0.44 |
| India | 3 | 2 | 1 | 0 | 0 | 8 | 0.38 |
| Bangladesh | 3 | 2 | 1 | 0 | 0 | 8 | 0.02 |
| Sri Lanka | 3 | 0 | 3 | 0 | 0 | 0 | -0.89 |


Asia Cup Points Table - 2010
| | | | | | | | |
| --- | --- | --- | --- | --- | --- | --- | --- |
| Teams | Matches | Won | Lost | Tied | NR | Pts | NRR |
| Sri Lanka | 3 | 3 | 0 | 0 | 0 | 14 | 1.42 |
| India | 3 | 2 | 1 | 0 | 0 | 9 | 0.28 |
| Pakistan | 3 | 1 | 2 | 0 | 0 | 5 | 0.79 |
| Bangladesh | 3 | 0 | 3 | 0 | 0 | 0 | -2.63 |


Asia Cup Points Table - 2004
| | | | | | | | |
| --- | --- | --- | --- | --- | --- | --- | --- |
| Super Fours | P | W | L | T | NR | Points | NRR |
| Sri Lanka | 3 | 2 | 1 | 0 | 0 | 13 | 1.144 |
| India | 3 | 2 | 1 | 0 | 0 | 12 | 0.022 |
| Pakistan | 3 | 2 | 1 | 0 | 0 | 10 | 0.162 |
| Bangladesh | 3 | 0 | 3 | 0 | 0 | 1 | -1.19 |
| Group A | P | W | L | T | NR | Points | NRR |
| Pakistan | 2 | 2 | 0 | 0 | 0 | 12 | 2.567 |
| Bangladesh | 2 | 1 | 1 | 0 | 0 | 6 | 0.4 |
| Hong Kong | 2 | 0 | 2 | 0 | 0 | 0 | -2.979 |
| Group B | P | W | L | T | NR | Points | NRR |
| Sri Lanka | 2 | 2 | 0 | 0 | 0 | 11 | 1.28 |
| India | 2 | 1 | 1 | 0 | 0 | 7 | 1.04 |
| United Arab Emirates | 2 | 0 | 2 | 0 | 0 | 0 | -2.32 |
Asia Cup Points Table - 2000
| | | | | | | |
| --- | --- | --- | --- | --- | --- | --- |
| Team | Pld | W | L | NR | Pts | NRR |
| Pakistan | 3 | 3 | 0 | 0 | 6 | 1.92 |
| Sri Lanka | 3 | 2 | 1 | 0 | 4 | 1.077 |
| India | 3 | 1 | 2 | 0 | 2 | −0.416 |
| Bangladesh | 3 | 0 | 3 | 0 | 0 | −2.800 |