The latest edition of Fight Night emanated from the CSKA Arena in Moscow and the stacked card was headlined by a highly-anticipated Featherweight contest between the #7 ranked Zabit Magomedsharipov and the #11 ranked Calvin Kattar.
Greg Hardy returned to Octagon for the first time since his controversial outing at UFC on ESPN 6 in October when his win was overturned to a no-decision after he was caught using an inhaler between rounds. The former NFL star took on Alexander Volkov in the co-main event of the evening.
Top Russian talents from the UFC were also featured in a fight card that didn't fail to disappoint the fight fanatics in Russia.
So without any further delay, here are the results and highlights of UFC Fight Night 163 from Moscow:
---
UFC Fight Night 163 Results: Prelims
---
Magomed Ankalaev def. Dalcha Lungiambula via TKO (front kick) (0:29, Round 3)
Rustam Khabilov def. Sergey Khandozhko via unanimous decision (30-27, 29-28, 29-28)
Karl Roberson def. Roman Kopylov via submission (rear-naked choke) (4:01, Round 3)
David Zawada def. Abubakar Nurmagomedov via submission (triangle choke) (2:50, Round 1)
Roosevelt Roberts def. Alexander Yakovlev via unanimous decision (29-28, 29-28, 29-28)
Pannie Kianzad def. Jessica-Rose Clark via unanimous decision (30-27, 30-27, 30-27)
Davey Grant def. Grigorii Popov via split decision (29-28, 28-29, 29-28)
---
UFC Fight Night 163 Results: Main Card
---
#1 Shamil Gamzatov vs. Klidson Farias de Abreu (Light Heavyweight)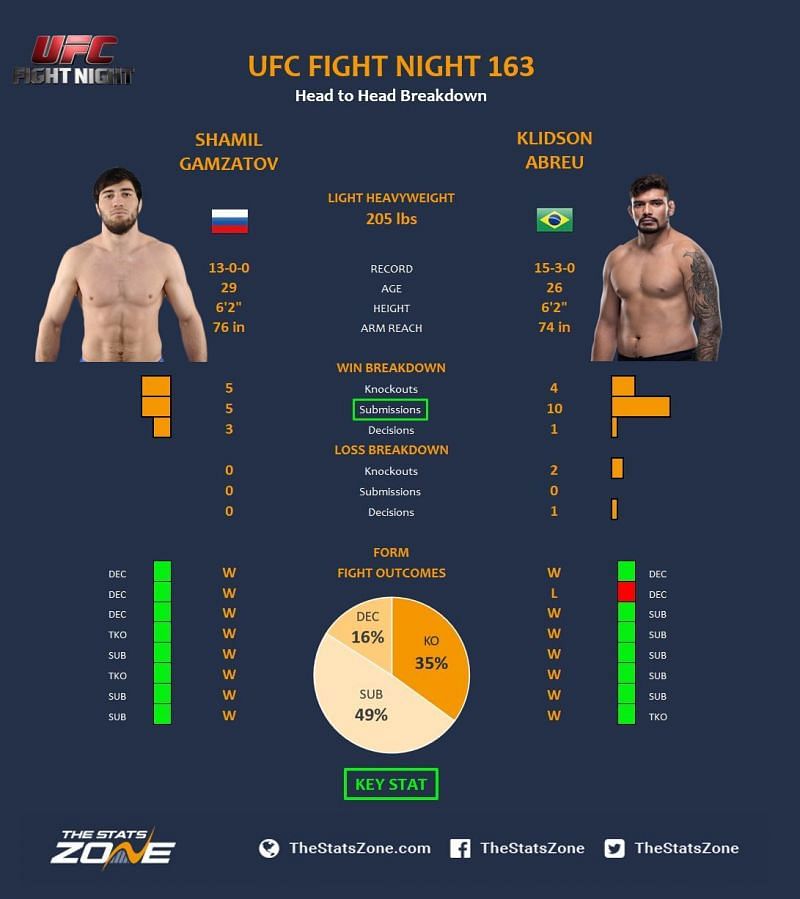 Coming into the UFC with a spotless record, all the eyes were on UFC debutant Shamil Gamzatov. However, the undefeated Russian wasn't in for an easy challenge in his first UFC fight as his Brazilian opponent was no pushover.
Round 1: Abreu began in southpaw while Gamzatov took the orthodox position. The Brazilian was the one pushing forward in the early stages.
Gamzatov tried to create some distance with the oblique kicks. Abreu attacked the legs with low kicks while also trying to mix it up with shots to the body. He attempted a lead left but Gamzatov kept his guard up.
Abreu then went for a flying knee but Gamzatov saw it coming from a mile away and got out of the way. The Russian fired kicks to Abreu's body with the occasional punches being added in equal measure.
Gamzatov looked for the short left. He connected with a jab but ate a counter hook. Gamzatov went low but got hit with a kick up high.
Both men exchanged a few shots in the pocket but none of them landed cleanly. Gamzatov couldn't get his range going in the first round, which ended without any fireworks. While it was a tough round to score, Abreu may have edged it as he was the one pressing forward.
Round 2: Urso Branco continued with his press on Gamzatov, who looked to get his range in place. He attempted a few straight lefts but Abreu was moving his head well and answered with kicks to the legs and body of the Russian.
Gamzatov tried a strike to Abreu's body. The Brazilian tagged the Russian with a good right. It was surprising to note that there were zero takedown attempts with both men content with the stand-up style of the fight.
Gamzatov went high for two consecutive head kicks, one of which grazed Abreu's head. The undefeated Russian began to press forward but Abreu connected with a counter hook.
The BJJ expert finally got the fight to the ground by taking Gamzatov down to the mat. The Russian got back up with five seconds left to go in the round. Abreu got another round in the bag and Gamzatov had everything to work for in the final five minutes.
Round 3: Gamzatov went high and low with the kicks. Abreu moved well to avoid the stikes and sent in two consecutive kicks to the inside of Gamzatov's thighs.
Abreu's distance management was on point today as he got out of a majority of the incoming strikes. Gamzatov kept throwing and he kept missing. That was the story of the fight.
In the meantime, Abreu scored points with the leg kicks and counter shots. Gamzatov finally got the crowd going with a lead right that sent Abreu back.
The Russian found his range with a few well-timed strikes. A knee and punch to the body from Gamzatov gave the fans in Moscow something to cheer about. The Russian went for an overhead right and missed. Abreu took advantage of Gamzatov losing his position and locked his arms around the body of the Russian.
They engaged in a clinch up against the fence with Gamzatov switching positions, changing levels and looking to get a takedown. The fight was back in the center with 30 seconds on the lock. Abreu shot for the takedown but it was stuffed with ease. The fight came to a close with Gamzatov defending an attempted takedown with his back against the cage.
Result: Shamil Gamzatov def. Klidson Abreu via split decision (29-28, 28-29, 29-28)
Despite Abreu having better moments in the fight, it was a close encounter and in the end, the hometown boy got the nod on the judges' scorecards. While it wasn't the most convincing of debuts for the undefeated Russian, but he wouldn't mind the win either.
#2 Ramazan Emeev vs. Anthony Rocco Martin (Welterweight)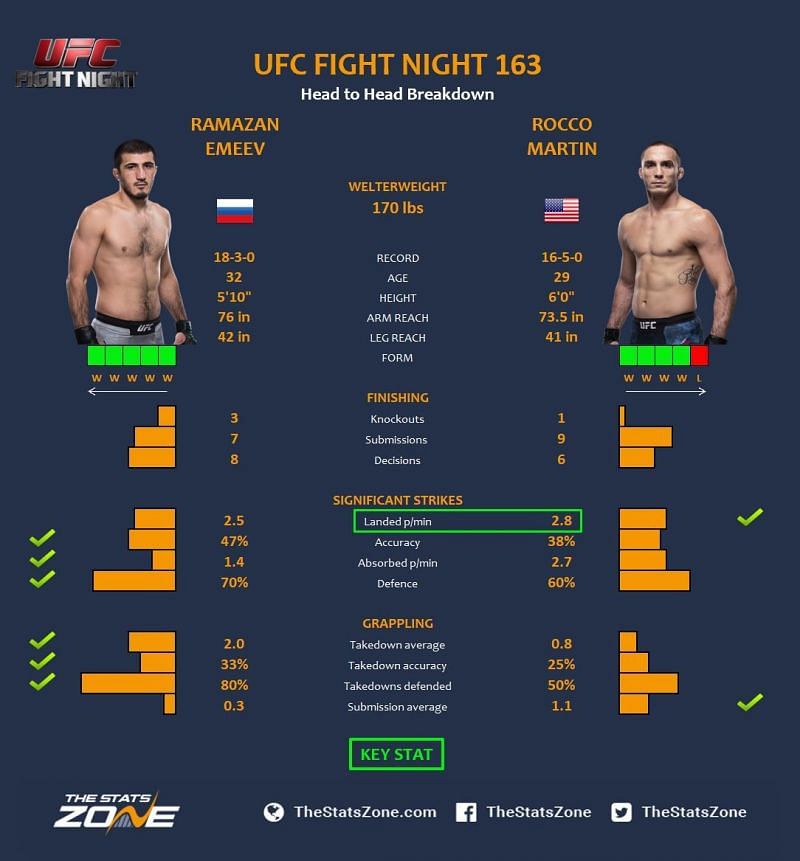 Anthony Rocco Martin was coming off a loss against Demian Maia and looked to get back into the winner's column with a win over Ramazon Emeev. The Russian fighter hadn't tasted defeat in almost five years, so it was a tall task for the American Welterweight. Did he come through though?
Round 1: Martin looked to rile his opponent up before the fight got underway he came in looking more focussed as he went for the low calf kicks.
Rocco landed a solid three-piece combo and it was clear that he wanted to fire up his Russian opponent to engage. Emeev was keeping up with Martin with the left jabs.
The Russian took Martin down but he couldn't get a dominant position. Martin grabbed Emeev's left arm and worked hard for a Kimura. The Russian stayed patient and transferred his weight to turn Martin over on his back. That was a great scramble.
They got up on their feet and clinched against the cage. Emeev landed a few good knees that were deemed to be legal. The fight was momentarily stopped after Martin got hit in his groin.
Emeev resumed the fight with the jabs. His left jabs were crisp and kept getting through Martin's guard. Rocco went for the calf kick while Emeev went for a three-piece up top.
The Russian grappler level changed but Martin stuffed the takedown. The round ended with both men in a body lock.
Round 2: Emeev continued to find success with the left jabs. Martin was his trash-talking self as he looked for an opening to exploit. The calf kicks were causing Emeev some trouble, who went for a wild overhand right and missed. Emeev got Martin down but got caught in a Guillotine. The Russian got his head out and pushed Martin against the cage.
The American got up using the fence before breaking away from the clinch. Emeev wasn't too happy with how slippery Martin was but he tried for another takedown with the level change.
Tony had it covered and stuffed it again. Emeev landed a big overhand right that sent Martin back. The American came back in with a cheeky smile and got hit with another right. Rocco didn't give up on the calf kicks though.
Martin's jabs landed and he mixed it up with a few right and left-handed combinations. The fight went to the ground again with Martin attempting a Kimura before the round came to a close.
Round 3: Emeev went for another big right but missed. The American stuffed another takedown attempt and Emeev was back to finding a way into the pocket.
Emeev landed a big 1-2, with a left hooking visibly hurting Martin. Both men engaged in a body lock in the center before breaking up again. The statistics of the fight were really close at this point in the fight as both men were going toe-to-toe when it came to the striking differential.
Martin's jabs landed but he ate a few as well that bloodied his nose. The American's calf kicks were his biggest weapon as it helped lessen the mobility of his opponent.
Emeev got in for a takedown but Martin kept his posture in place to defend it well. Both the Welterweights ended the fight with a high-impact brawl that got the cheers from the fans in attendance. That was an incredibly close fight to score!
Result: Anthony Rocco Martin def. Ramazan Emeev via unanimous decision (30-27, 29-28, 29-28)
It was a thoroughly professional performance from Anthony Rocco Martin, who never lost his focus and handed Emeev his first loss in five years.
#3 Ed Herman vs. Khadis Ibragimov (Light Heavyweight)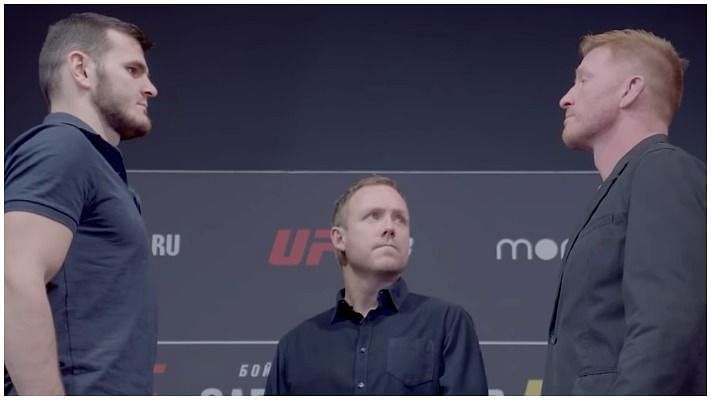 This was a battle between a 39-year-old veteran in Ed Herman and a young 24-year-old prospect in Kadis Ibragimov. Who prevailed, the old warhorse or the up and coming rookie?
Round 1: Ibragimov was the more active fighter in the initial stages as he looked to stun the veteran Herman with a flurry of strikes.
Herman clinched to avoid taking a lot of damage with Ibragimov working towards a takedown.
The veteran landed knees and elbows in the clinch after stuffing a judo takedown attempt from Ibragimov. The Russian's Sambo credentials were on display as he pinned up Herman against the cage. Herman tried an outside leg trip but Ibragimov stayed put on his feet.
Ibragimov landed a punch on the break. Herman connected with a solid kick to the thigh. Herman took a deep breath with 30 seconds left to go in the round. Ibragimov went for an overhand right as the round came to a close. Ibragimov's nose was busted as a result of the knees he took in the clinch.
Round 2: Herman landed a few good body kicks to start the round. Both men tagged each other with wild strikes in the pocket.
A brief clinch followed by Ibragimov landing an overhand right. He followed it up with a string of strikes and Herman retreated. Ibragimov put his chin forward and invited Herman to hit him.
Herman obliged a few seconds later with a right. They clinched again. Herman landed a few good elbows. Ibragimov changed levels for the takedown. Herman defended it. They broke up and got into another clinch. Herman landed a few more knees in the clinch.
Ibragimov looked spent as the round came to a close with Herman hurting him with a combination.
Round 3: The final round saw a scrappy beginning as both men threw labored shots and somehow connected. Ibragimov was exhausted but stayed on his feet and kept throwing down with Herman.
The Russian got hold of Herman's left leg and landed a brief takedown. They clinched again against the fence and Herman kept crushing Ibragimov with the knees. These knees were brutal to watch. Herman caught him in a standing Guillotine but Ibragimov got his head out and flipped the position.
It was Herman whose back was against the cage now. The Russian got Short Fuse down in the final minute of the fight. Herman landed strikes from his back with Ibragimov attempting a choke.
The veteran Light Heavyweight got back up and pushed his opponent against the fence. The fight ended with some dirty boxing in the clinch and an exhausting hug between the two Light Heavyweights.
Result: Ed Herman def. Khadis Ibragimov via unanimous decision (30-27, 30-27, 29-28)
That was an exhausting fight as both men emptied their gas tanks to go the distance. In the end, the seasoned warhorse managed to overcome the young up-and-comer in a scrappy three-round showdown.
#4 Zelim Imadaev vs. Danny Roberts (Welterweight)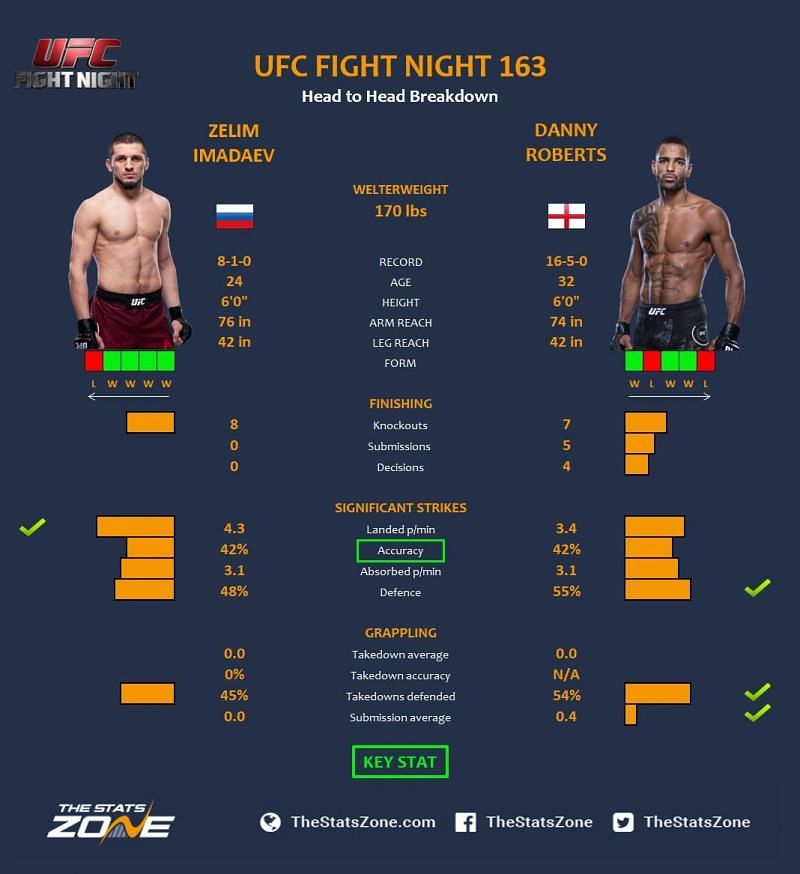 After losing his first UFC fight to Max Griffin at UFC 236, Zelim Imadev came into his second fight with a lot of pressure on his shoulders. British Welterweight Danny Roberts was on a two-fight losing streak and was also in need of a big win to get his UFC career back on track.
Round 1: Imadaev began with a head kick. We like the Intent!
Roberts changed levels and caught hold of Imadaev's left leg. Hot Chocolate pushed the Russian towards the cage. Imadaev turned over and trapped Roberts against the fence.
They clinched and Roberts landed a few good knees right to the southern plexus. Both men engaged in a great clinch with the battle of strength ending in a stalemate.
Roberts looked light on his feet and stayed out of Imadaev's range. Roberts landed a low leg kick but lost balance. Imadaev attempted a flying knee but Roberts got out of the way. That was close!
They clinched again with Roberts landing an elbow on the break. Imadeav cracked Roberts with a straight kick to the ribs. Imadaev landed a good kick to the body. Roberts moved his hands well but all his shots missed by a whisker.
He changed levels and took Imadaev down. The Russian turned him over and fell into Roberts' guard before the round ended.
Round 2: Roberts connected with a 1-2. The Englishman shot for the takedown but he ended up giving up his guard. Imadaev had Roberts' back despite the fight getting up on the feet.
Roberts did some good wristwork to break away. He showed some good handiwork with a combination. Hot Chocolate went for a straight kick but missed. Imadeav had Roberts against the cage and he made him pay with a flurry of rights and lefts. Roberts covered up before getting out of the incoming traffic.
The British fighter continued to look for a takedown but Imadaev's defense was solid. Another clinch ensued and Roberts connected with two good knees.
Imadeav was the one who pushed for a takedown this time around and he successfully executed one. Back on the feet, both men clinched. Roberts caught Imadaev's right wrist and fired off strikes with his right hand. Roberts' wrist control was impressive and his tactic worked wonders in keeping Imadeav's hands in check.
They broke up and got back to the center with a few seconds left to go.
Imadaev attempted a right hook but overextended his backhand. Roberts ducked and then unleashed one hell of a left-hand shot - which was swift and directed to the jaw and it the Russian did a 360 flip before falling down to the mat. The referee jumped in to stop the fight.
That one-punch knockout infused some life into this main card. Incredible!
Result: Danny Roberts def. Zalim Imadaev via KO (4:54, Round 2)
That was a picture-perfect highlight reel finish from Hot Chocolate that will surely get him a performance bonus at the end of the night.
#5 Greg Hardy vs. Alexander Volkov (Heavyweight)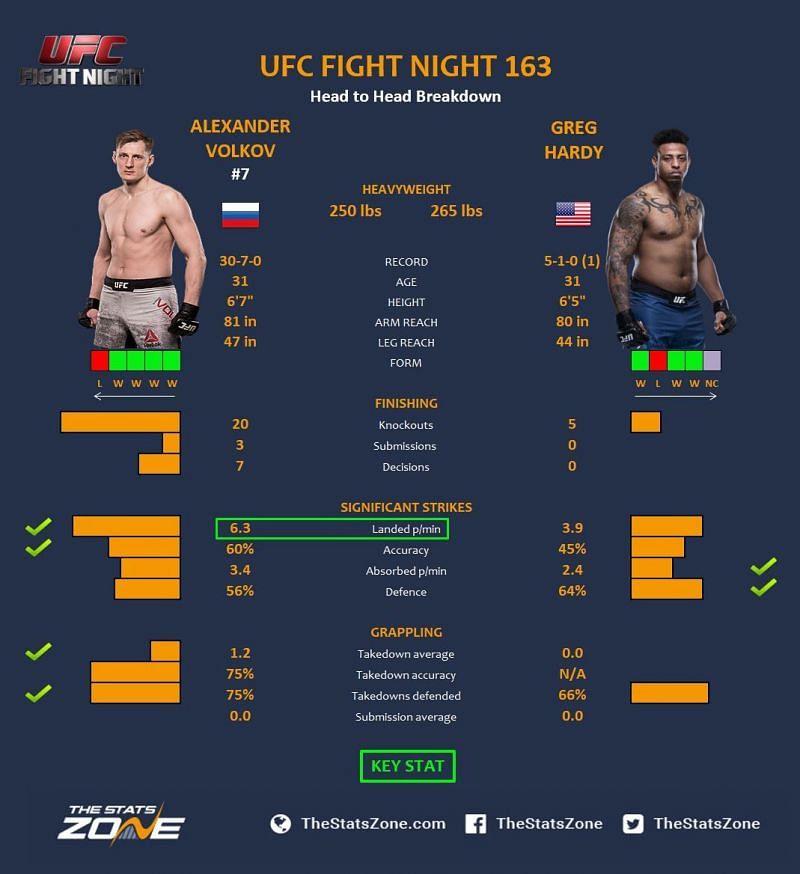 Alexander Volkov returned home to fight one of the most polarizing fighters in UFC today, Greg Hardy.
The former NFL star wanted to shake off the negativity that stemmed from his previous fight and that could have only happened if he overcame the giant Russian. Did Hardy do that though? Let's find out...
Round 1: Volkov smiled confidently as Hardy came running towards him after the fight got underway. The fans inside the CSKA Arena chanted for their hometown hero. It was deafeningly loud!
Hardy looked to get through the large frame of the Russian with the left-hand jabs. Hardy attempted a takedown then pulled back before clinching neat the fence. A few knees from Hardy ended the clinch and both men circled the Octagon again.
Volkov went high with a head kick. Hardy tried to reach in for a few left jabs. The towering Russian too used his left-hand jabs to good effect.
Volkov tagged Hardy with a left. The American answered with two good rights of his own.
Round 2: Both men smiled at each other as the second round kicked off. Hardy injured his right hand after it hit Volkov's shin and that could have hindered his game plan. This was a test of Hardy's adaptability as a mixed martial artist.
Drago began to land more as he landed snappy jabs and body kicks. The hometown darling kept scoring points with soft low kicks. He followed it up with a few body kicks. The Russian used his reach really well to keep Hardy at bay with the kicks.
The former NFL Defensive End landed a good overhand right. Hardy kept punching Volkov's body while his opponent sent in the front kicks to the body.
Hardy jabbed and came in hard with a spinning back fist. Volkov used the lead leg well and went high for a head kick. Drago effortlessly got his lead leg up Hardy's body and kept connecting with swift kicks. That was a strong round for Drago.
Round 3: Hardy was more aggressive in the final round as he carelessly swung his arms in a bid to land a killer shot. Volkov was just too big and retreated with ease.
The Russian continued to pepper Hardy's face with jabs. Hardy went low. No one there! He went up top, no one there again! Volkov's striking defense and range management were flawless up until this point.
He went for a head kick and followed it up with front lead leg kicks to the body. Volkov landed a left and a right that had Hardy's head ricocheting backwards.
Volkov landed another beautiful head kick. The kicks kept landing for Volkov and Hardy had no answer.
Result: Alexander Volkov def. Greg Hardy via unanimous decision (30-27, 30-27, 30-27)
The hometown fan-favorite put on a clean striking display to shut down the troublesome Greg Hardy. The #7 ranked Heavyweight used his experience and reach advantage to give Hardy another big loss.
#6 Zabit Magomedsharipov vs. Calvin Kattar (Featherweight)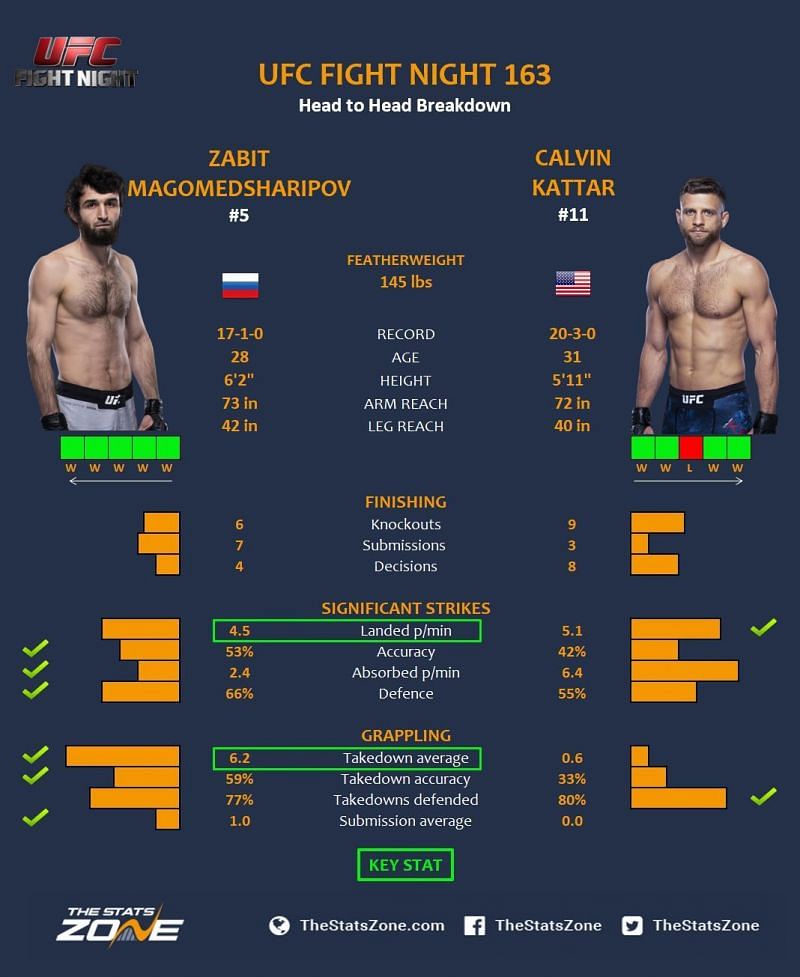 The stakes were high for the UFC Featherweight clash between two of the most promising fighters in the division currently ruled by Max Holloway. This was a main event that promised to be a proper mixed martial arts spectacle and it certainly lived up to all the hype.
Round 1: Zabit began in trademark fashion as he went for the double jab and inside low kicks. Inside leg kicks were followed by an oblique kick from the Russian.
Calvin Kattar pushed forward with a lead right. Zabit replied with double jabs and a right from the top. He was light and mobile on his feet and got in a few kicks to the body.
Both the Featherweights tried to get into the groove with their striking. Zabit didn't take much time to settle in as he kept tagging Kattar with his unorthodox combinations. The Russian wasn't afraid to get into the pocket and engage in a dirty brawl with Kattar. The round ended with one of those high-volume exchanges in the pocket.
Round 2: The Dagestani got straight to work with a pressing 1-2. Zabit kept firing in the left jabs. He followed it up with a right front head kick that missed the target. Zabit shifted stances and got into the pocket but didn't let his hands loose.
ZaBeast came in with a brilliant combination that started with a flying knee and ended with a spinning back fist. While none of it landed, it was poetry in motion.
Kattar landed with the left jabs but visibly found it tough to deal with Zabit's constant feints, movement and unique style of striking. Zabit smartly front tripped Kattar and got hold of his back for a few seconds. That was ingenuity at its best.
The American was having his moments too as he landed quite a few shots as well during the exchanges. The left jabs, in particular, were quite a prominent facet of his game plan. Zabit briefly lost balance at the end of the round and almost got caught with a head kick. Kattar pressed forward for a finish but Zabit retreated until the sound of the bell. Zabit nodded his head in appreciation as he went to his corner.
Round 3: A furious exchange of jabs began the third round. A groin strike paused the fight for a few seconds before we were back underway.
Kattar was the one pushing forward now and he increased the volume of his strikes as well. He went for a big overhand right but he couldn't touch the elusive Zabit.
Kattar was having a solid round as he went on to land quite a few strikes to the face and body of his Russian counterpart. The American continued to hurt Zabit with various combinations. Zabit kept going back and the scales had now turned in favor of Kattar.
Left hooks, lead rights, uppercuts, body shots, right hooks, and the jabs kept coming in from Kattar. He went for a flying knee but Zabit caught him in mid-air and slammed him down to the mat. Kattar didn't stay idle on his back as he fired off elbows and punches until the fight came to an end.
Result: Zabit Magomedsharipov def. Calvin Kattar via unanimous decision (29-28, 29-28, 29-28)
ZaBeast survived a late onslaught to notch up his sixth UFC win inside the Octagon and fourteenth consecutive victory as a fighter. Both the world-class featherweights put on a striking clinic that deserved to be a 5-round affair.