Skechers sneakers are known for their exceptional comfort and use of superior materials. The footwear brand is recognized for its commitment to excellence and delivering high-quality sneakers crafted with precision. The sneakers from the brand are highly regarded for their orthopedic comfort.
The shoe label was founded in 1992, and its casual footwear immediately became a best-seller by receiving a great response from the sneaker community. With time, the footwear label grew to include athletic and performance footwear in its offerings, which helped it gain traction among fitness enthusiasts and those with an eye for fashion.
Sneaker enthusiasts looking to purchase exceptional orthopedic sneakers can choose from the top five orthopedic Skechers sneakers available in 2023.
---
Best orthopedic footwear options from Skechers
1) Skechers Arch Fit Arcade - Meet Ya There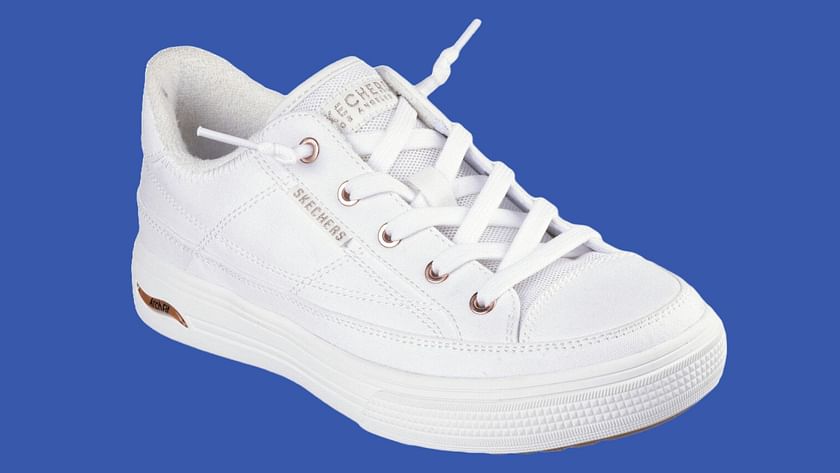 The Arch Fit Arcade - Meet Ya There sneaker is a lace-up sneaker with a removable and washable podiatrist-certified arch support system. The arch support system is a culmination of extensive research over the past two decades to ensure even pressure distribution across the foot.
The shoes feature an air-cooled memory foam insole for enhanced cushioning and breathability. The upper of the sneaker comes with a soft-woven mesh fabric complemented by synthetic overlays. The outsole is architected from a flexible rubber material to improve traction and shock absorption.
The shoes are specifically engineered to offer exceptional arch support and comfort. These shoes boast a fashionable and sporty aesthetic that complements various outfits. The sneakers have a retail price of $75 and are available in three color options, which can be viewed and purchased on Skechers.com.
---
2) Skechers Slip-ins: Max Cushioning AF - Game
These sneakers feature innovative technology for effortless on-and-off wearability. The shoes also include a patented Arch Fit insole system for certified arch support, a Max Cushioning platform midsole for shock absorption and responsiveness, and a Goodyear Anti-Slip rubber outsole for traction and durability.
The sneakers are built with an engineered mesh upper, laces that can be adjusted, a 2-inch heel height, and a sleek and sporty aesthetic. These sneakers are conveniently machine washable, simplifying the maintenance process. For those seeking a transformative addition to their footwear collection, these kicks warrant consideration.
With their contemporary aesthetics, these kicks complement any attire. Since the shoes are flexible and breathable, they are crafted to fit the contours of the wearer's foot. These shoes are available in various color combinations at a retail price of $120 on the brand's official website.
---
3) Skechers GO WALK Arch Fit - Imagined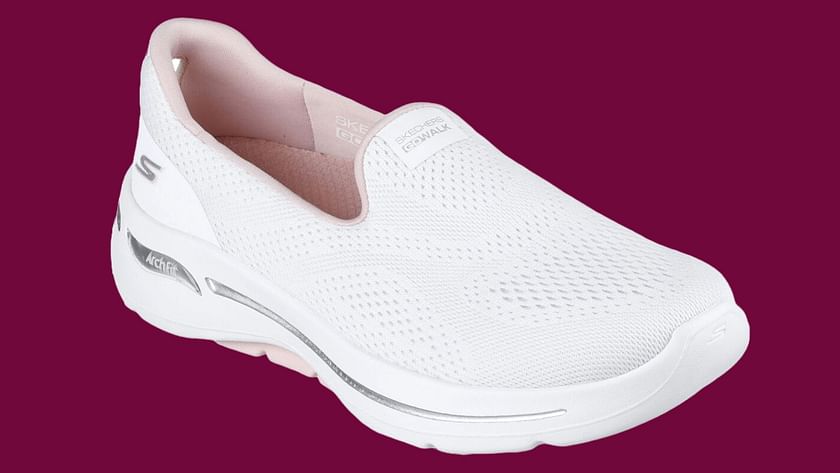 The GO WALK Arch Fit - Imagined is another lace-up footwear with a go-walk midsole, offering lightweight and responsive padding for the feet. The midsole incorporates ultra-go technology, which enhances energy return and rebound. These shoes feature a removable arch-fit insole system that provides podiatrist-certified arch support and comfort.
The upper includes a soft-woven athletic mesh fabric complemented by synthetic overlays, providing durability and stability. The outsole is constructed with a flexible rubber material that provides both traction and flexibility. The GO WALK Arch Fit—Imagined is a suitable choice for individuals who prioritize walking and require enhanced arch support and foot comfort.
These sneakers are specifically engineered to provide a seamless transition from heel to toe, ensuring a natural walking experience. The sneakers feature a versatile and refined design suitable for various occasions. These sneakers are available in a single black color option and are priced at $90.
---
4) Skechers Arch Fit 2.0 - Big League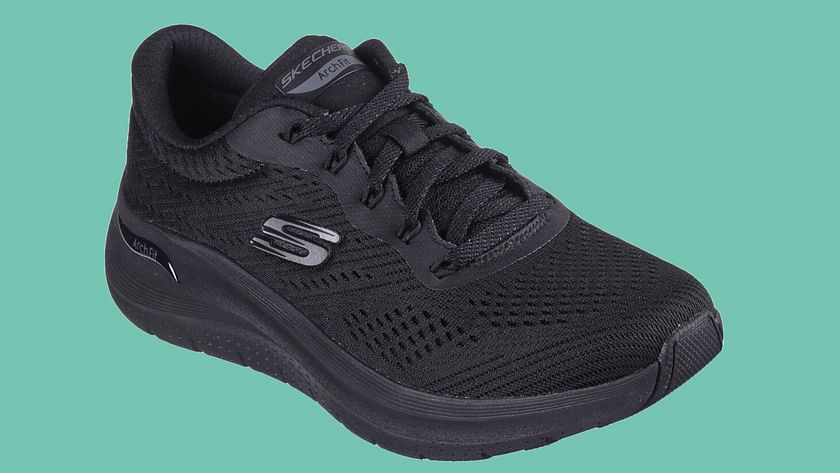 The Arch Fit 2.0 Big League is a lace-up shoe incorporating the arch-fit insole system, delivering superior arch support and comfort to the wearer's feet. The insole system is designed to be removable and washable, providing the added benefit of distributing pressure evenly across the foot. The shoes have an an air-cooled memory foam insole for boosted cushioning and breathability.
The upper is constructed from smooth leather and synthetic overlays. An elastic rubber compound doubles as a gripping material and a cushioning device in the outsole. These shoes are an ideal pair of shoes for those with flat feet or low arches.
The Arch Fit 2.0 - Big League is an outstanding addition to any sneaker lover's collection, as they are suitable for various occasions. A pair of these shoes is available in four color options at the price of $95 at the brand's official website.
---
5) Skechers GO WALK Massage Fit - Hydro Massage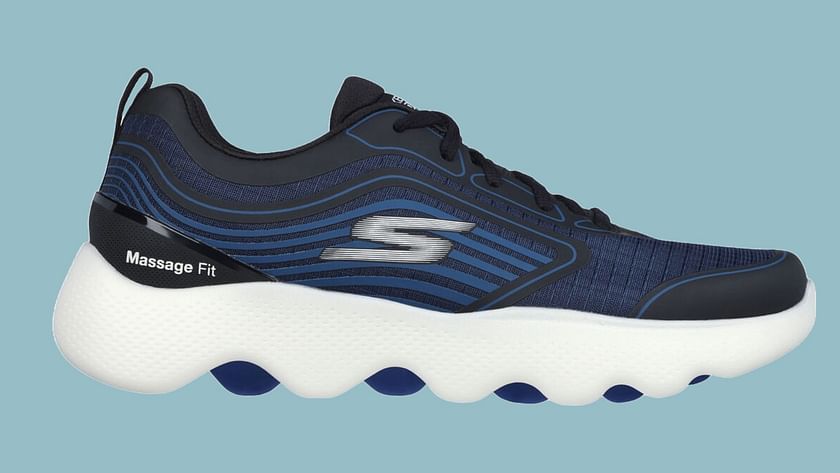 The GO WALK Massage Fit - Hydro Massage sneakers include a lace-up ripstop mesh upper with synthetic overlays for enhanced breathability and support. The upper features a haptic print for added visual appeal and texture. These sneakers have a 1.5-inch heel height and are adorned with the brand's logo on the side.
One notable feature of these shoes is the Massage Fit wave midsole, which provides a gentle massaging effect while walking. The midsole incorporates HYPER BURST cushioning, delivering a responsive and lightweight feel.
The resilient foam in this footwear is created through a 'Super Critical' process, resulting in spherically-shaped cells compressed into the midsole. The sneakers have an Ortholite comfort foam insole for lasting cushioning and enhanced breathability. The sneakers also come with a dual-density traction outsole that provides reliable stability and grip on different surfaces. The outsole boasts a Goodyear Anti-Slip rubber compound, which improves durability and performance.
These sneakers are offered in navy/black and charcoal/black color options, catering to both regular and wide widths. The GO WALK Massage Fit - Hydro Massage sneakers are available for $118 per pair on the brand's official website.
---
Skechers shoes have made a name for themselves by continuously combining style, comfort, and value. The shoes featured above represent the brand's commitment to quality and orthopedic comfort. These selections are budget-friendly but trend-setting solutions for anyone looking for comfort in their sneakers.
Edited by Ivanna Lalsangzuali