The Bludgeon Brothers News
The Bludgeon Brothers Videos
The Bludgeon Brothers Bio
Erick Rowan and Luke Harper made their debuts on NXT when FCW was rebranded into NXT, as part of the Wyatt Family. They entered the tournament to crown the first ever NXT Champions but were unsuccessful in winning the tournament.
They further went on to win a number one contenders match to earn the chance to win the NXT gold, which they did On the May 8 episode of NXT, when Harper and Rowan defeated Neville and Dallas, to win the NXT Tag Team Championships.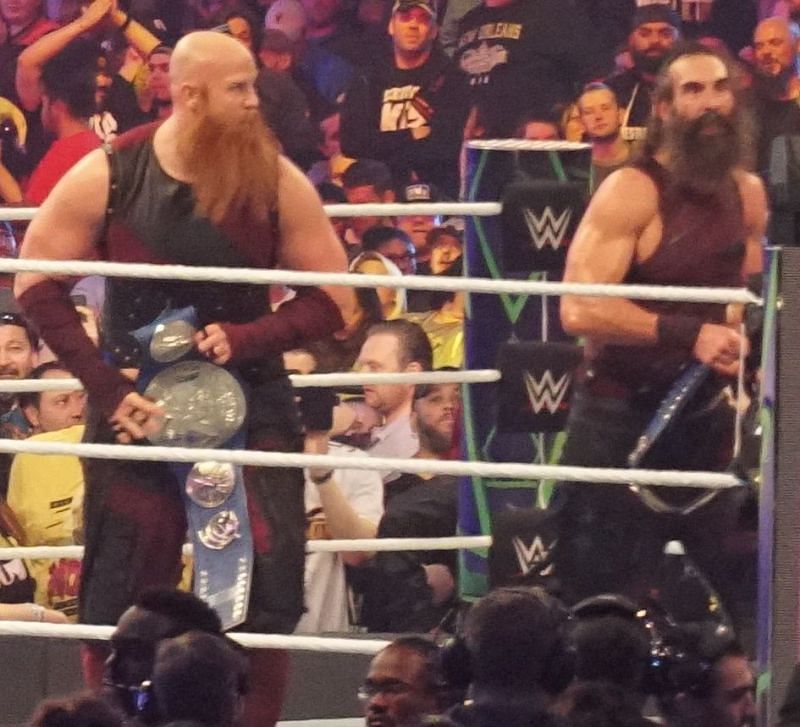 On the July 8 episode of Raw, The Wyatt Family finally made their debut by assaulting Kane. Harper and Rowan made their main roster in-ring debut on the July 26 episode of SmackDown, where they defeated Tons of Funk (Brodus Clay and Tensai) in a tag team match.
The team of Harper and Rowan went on a winning streak which was put to an end by Goldust and Stardust. In 2014, the Wyatt Family majorly feuded with John Cena and The Shield.
The Wyatt Family broke up during November 2014 to start their singles careers, however, the faction got back together in October of 2015; adding Braun Strowman to the group as well.
During this time, The Wyatt Family feuded with several teams including The Brothers of Destruction (The Undertaker and Kane) and Team ECW (The Dudley Boyz, Tommy Dreamer and Rhyno). In March, Harper suffered a knee injury during a Raw dark match and it was reported that the injury would sideline him for five to six months.
The Wyatt Family again disbanded after Wyatt was moved to the Raw brand during the 2017 WWE Superstar Shake-up, however, Harper and Rowan continued to team.
​
After months without appearing on WWE television, Harper and Rowan returned in a repackage vignette, with the duo wielding mallets and dubbing themselves "Bludgeon Brothers" on the October 10 episode of Smackdown.
The newly minted team was in a brief feud with Breezango and The Ascension before moving on to bigger and better things.
The Bludgeon Brothers interfered and attacked both the Usos and the New Day during their SmackDown Tag Team Championship match at Fastlane, setting up a triple threat match for the Smackdown Tag Team belts at Wrestlemania 34.
The Bludgeon brothers were victorious at Wrestlemania 34, becoming the new SmackDown Tag Team Champions.
​
​Ring Names:
Luke Harper and Eric Rowan
BIlled Weight:
Combined: 590lb
Major Championships Held:
Smackdown Tag Team Championships(1x);
NXT Tag Team Champions (1x)
Interesting trivia:
Luke Harper and Eric Rowan, both made their debuts as part of the Wyatt Family along with Bray Wyatt. They remained in the faction for a long time before trying to establish singles careers.
They reunited as a team on Smackdown, being repackaged as the Bludgeon Brothers in 2017.
Entrance Theme:
Brotherood (2017)