Tennis fans around the world, especially Frances Tiafoe's fans, drew comparisons between Harry Styles' Grammy outfit and that of the tennis star's 2023 Australian Open look.
Frances Tiafoe brought a vibrant energy to the Kia Arena for his debut at the 2023 Australian Open, sporting a stylish head-to-toe Nike ensemble. He made a bold fashion statement for his campaign and the vibrant ensemble captivated tennis fans worldwide.
Tiafoe's sleeveless shirt and matching shorts caught the eye of tennis fans who believe that he is one of the few athletes who could have pulled off such a daring look.
For the 2023 Grammy awards, Harry Styles stepped out in a stunning rainbow patchwork Egonlab jumpsuit adorned with Swarovski crystals. The multicolored, patchwork-style overalls evoked the vivid imagery of a Cirque du Soleil clown costume in a whimsical and vibrant display of color and texture.The look was created in a partnership between the two brands, with Styles and his stylist, Harry Lambert, playing a major role in its design.
Styles kept his hair loose and tousled, and accessorized with his signature gold necklaces and rings. He completed the look with pristine white shoes, making for a truly show-stopping ensemble.
Tennis fans took to Twitter to compare the music star's looks to that of Tiafoe's. One of them asserted that Frances Tiafoe could take home a Grammy, but Harry Styles would never be able to win the Delray Beach tournament.
"Frances could win a Grammy but Harry could never win Delray Beach," one fan expressed on Twitter.
The same fan mockingly insiniuted that because of the American, the Grammy winner could wear his choice of daring outfit.
"Frances Tiafoe walked so Harry Styles could run," he wrote.
Here are some other fan reactions:
Tiafoe's outfit earned him widespread acclaim from the fashion world. When asked about it, Anna Wintour, the Global Editorial Director of Vogue and a passionate tennis enthusiast, had this to say:
"Full of spirit like the man who wears it."
Frances Tiafoe and Ben Shelton reach new career-high ATP rankings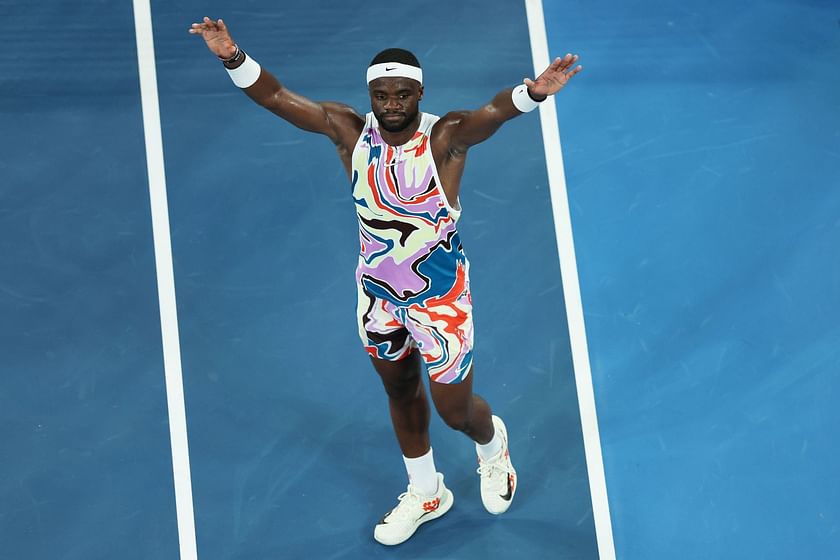 There has been a remarkable transformation in this week's ATP rankings, with eleven players reaching new career highs. Frances Tiafoe has surged one spot to No. 14, establishing a personal best. Despite an underwhelming Australian Open campaign, Tiafoe has debuted in the top 15 of the ATP singles rankings, eliciting elation from the American. He is currently competing in the Dallas Open this week, and a win could catapult him even higher up the rankings.
Ben Shelton and Benjamin Bonzi have each seen their rankings skyrocket, jumping three places to No. 41 and 42, respectively. Constant Lestienne and Marc-Andrea Huesler have also experienced a surge in their standings, climbing four spots to No. 48 and 49, respectively.