In previous generations, WWE fans were often left wondering whether somebody had departed the company if they suddenly stopped appearing on television.
Nowadays, however, it does not take long for everybody to find out the reason why an outgoing WWE talent has been let go from their contract.
For example, as soon as WWE announced that over 20 Superstars had been released as a cost-cutting measure due to the COVID-19 pandemic in April 2020, the likes of Drake Maverick and Heath Slater took to social media to give their video reactions.
Similarly, when a WWE star has requested their release, fans usually only have to wait a few days or weeks before that person gives an out-of-character media interview to reveal the real reason for their departure.
With that in mind, let's take a look at the exact moment when five former WWE stars decided that they wanted to leave the company.
---
#5 Exact moment Jon Moxley decided to leave WWE
Speaking in his first interview after leaving WWE, Jon Moxley (fka Dean Ambrose) said on Chris Jericho's Talk Is Jericho podcast in May 2019 that he had a feeling when he was preparing for his WWE comeback in August 2018 that he might leave the company when his contract expired the following year.
At the time, the former Shield member had been out of action since December 2017 due to a triceps injury. He told Jericho that he was excited to return to the ring, especially after watching other promotions during his absence, but he was not necessarily looking forward to working for WWE.
Two months after making his return, Ambrose betrayed Seth Rollins on the same night that Roman Reigns announced that he had been diagnosed with leukemia for the second time.
That moment instantly turned the former WWE Champion into one of RAW's main bad guys. However, instead of focusing on the Ambrose vs. Rollins rivalry in the weeks that followed, Moxley recalled to Jericho that Vince McMahon wanted the Ambrose character to take rabies shots to inoculate himself from WWE audiences.
"This is the day that I knew 100 per cent I was gone and there was no turning back. I actually almost walked out. Not really, I'm glad I didn't because I would've ended up in some legal stuff. I knew I was gone in July but I'm thinking, like, why rush it? It's only eight more months or whatever."
Moxley said he always felt that he could recover when he had been given bad scripts and storylines in the past, but the segment with the doctor (video above) proved to be the final straw.
#4 Exact moment Renee Young decided to leave WWE
Renee Young established herself as one of the most well-liked interviewers and personalities in WWE during her eight years with the company.
In August 2020, it emerged that the former RAW commentator was suddenly set to leave WWE, with her final on-screen appearance coming as a panelist on the WWE SummerSlam 2020 kickoff show.
Speaking on the SI Media Podcast, Young revealed that she made the decision to request her WWE release around the time that she lost her WWE Backstage job and when she tested positive for COVID-19.
"I don't know that there was like a definitive, 'I'm leaving now.' I think when [WWE] Backstage got cancelled, that was really the moment for me… I got COVID. A lot of s*** just kind of happened." [H/T 411mania]
Young explained that she found out that she had COVID on the same day that WWE Backstage got canceled, and it made her wonder what she had left to achieve in WWE.
"But it was really with Backstage being cancelled that I was like, 'What am I doing?' Like I'm not really doing anything anymore. And my skill set of being a host, there's just nowhere for me to do it anymore."
The former Talking Smack host added that she feared she would not have any accomplishments to be proud of if she kept doing the same job in WWE forever.
#3 Exact moment Brodie Lee decided to leave WWE
Although WWE made sporadic attempts to use Luke Harper as a singles Superstar, the former WWE Intercontinental Champion's run with the company is best remembered for his association with Bray Wyatt and The Wyatt Family.
Speaking on Talk Is Jericho after his WWE departure, the man behind the Harper character – Brodie Lee, now in AEW – revealed that he decided to request his release from WWE after he was pitched an idea that would have seen him play a background role to another Superstar, Sami Zayn.
Lee reluctantly agreed to the storyline before being told that there had been a change of plan, which ultimately prompted him to ask for his exit from WWE.
"That was exactly what I don't want to do. That is what I have done my entire career. I don't want to be behind anybody, I just want to do my thing. But I said, 'You know what, I am going to make it work and we will figure it out.' Then they were like, 'Oh, well, we are not doing that.' I said, 'That's it.' I went home, discussed it with my wife, and she said, 'If you don't want to be there, don't be there.'" [H/T Wrestling Inc.]
Lee then took to Twitter in April 2019 to reveal that he had requested his release from WWE after seven years with the company.
The former Wyatt Family member briefly returned to WWE television in September 2019 before being granted his release in December 2019.
#2 Exact moment MVP decided to leave WWE
MVP explained in an interview with VICELAND in June 2019 that he left WWE in December 2010 following a disagreement that he had with an executive backstage.
"After having been at WWE and being somebody who was being groomed to be a World Champion, I ran afoul of some politics and spent three months on a losing streak."
The former United States Champion went on to reveal that somebody said something out of turn to him at a time when he was already considered his options, prompting him to request his release.
"I had a confrontation with one of the executives. He came out of his mouth to me, sideways. I told him, 'Man, you don't talk to me like that.' He told me to go f*** myself. At that moment I decided, 'OK, I'm done here.' I said, 'No, you go f*** yourself.'"
MVP said he was "mentally done" at that stage of his WWE career and he had aspirations to work elsewhere, particularly in Japan.
After being granted his release, he was told that he could return in one or two years as an even bigger star. However, following spells in NJPW, IMPACT Wrestling and MLW, among other promotions, it took almost 10 years before WWE officially rehired MVP in 2020.
#1 Exact moment Chris Jericho decided to leave WWE
Chris Jericho often mentions in media interviews that his 2016-17 storyline on WWE RAW with Kevin Owens is one of the best of his career.
Speaking to various reporters after AEW's first Double or Nothing event in May 2019, the nine-time WWE Intercontinental Champion revealed that the booking of his WrestleMania 33 match with Owens is what led to him leaving the company.
"In 2016, I had my best story angle with Kevin Owens and we ended up second on WrestleMania. That's when I knew I had to get out of here. That should have been the main event."
The long-awaited Jericho vs. Owens match was due to take place in the main event of WrestleMania 33 at one stage, but Owens lost the Universal Championship to Goldberg at the Fastlane pay-per-view just four weeks before 'Mania.
As a result, Jericho vs. Owens (United States Championship) went on second at WWE's biggest show of the year, while Goldberg vs. Brock Lesnar (Universal Championship) and Roman Reigns vs. The Undertaker (No Holds Barred main event) took place later in the night.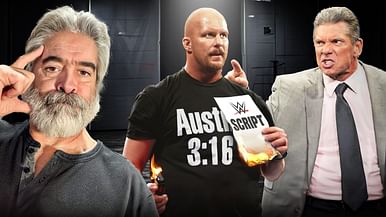 How Stone Cold was born in 2 minutes