WWE Hall of Famer Nikki Bella broke up with John Cena three years ago. Since then, she has sent him a few direct and indirect messages.
Cena and Nikki's relationship has captured a lot of attention from the WWE Universe from its very beginning. A big part of WWE's reality show Total Divas was dedicated to following up the progression of their life as a couple. Their breakup was even filmed on camera for the whole world to see.
At WrestleMania 33, John Cena proposed to Nikki Bella inside the ring. They were supposed to get married on May 5, 2018, but Nikki called off the engagement a few days before their wedding date. Despite their breakup, the couple insisted they still have a great deal of love and respect for each other.
Both superstars have moved on with their lives. Nikki is currently engaged to her former Dancing with the Stars partner Artem Chigvintsev. She gave birth to their first child last July.
Cena, on the other hand, dated Shay Shariatzadeh for over a year before the couple tied the knot last October.
Nikki Bella has publicly addressed Cena a few times since their break-up. Her messages to her ex-fiancé were always positive.
Here are five messages Nikki sent to Cena since they separated.
---
#5 A special message from Nikki to Cena at the WWE Hall of Fame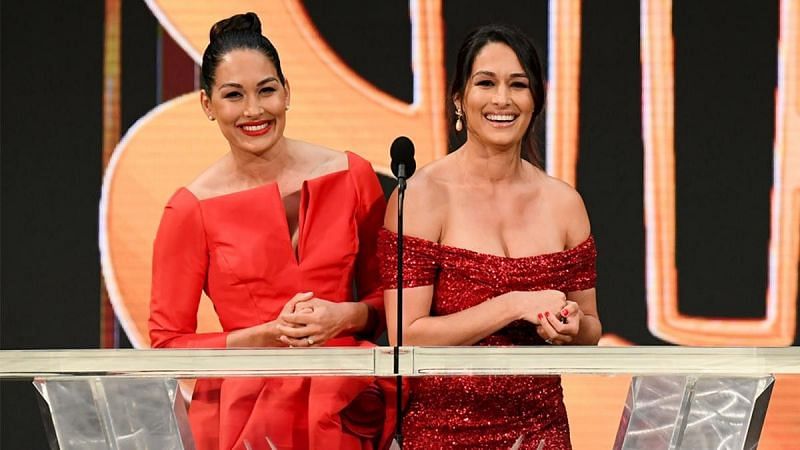 Nikki Bella and her sister Brie were inducted into the WWE Hall of Fame class of 2020 during this year's ceremony last April. In Nikki's speech, she addressed John Cena, giving him credit for helping her show her "fearless" side.
"And to John, thank you for teaching me a lot about this business and helping me truly find my fearless side."
Nikki recently explained why she thanked Cena during her Hall of Fame speech.
"It was Brie, it was the Bella army, it was the producers, all the people that believed in me, and John was a big part of that. He really helped me be that fearless side and showed me a part of that world that I never saw before," she told ET.
Brie Bella also gave credit to Cena for always keeping an eye on their performance and giving them advice. She insisted The Bella Twins would not have become Hall of Famers if not for Cena's advice.
#4 Nikki Bella congratulates Cena on his wedding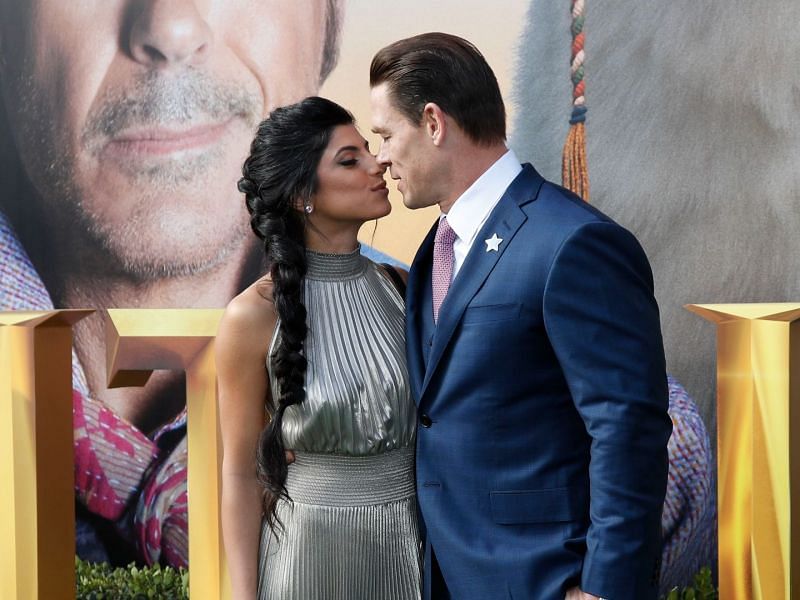 John Cena married his girlfriend Shay Shariatzadeh last October after dating for over a year. The couple held their wedding ceremony in Tampa, Florida, and invited family, friends, and WWE talent.
Two months later, Nikki Bella appeared on the All Things Vanderpump podcast, where a fan asked her whether she congratulated Cena on his wedding. Nikki said that she hasn't and asked if there were rules for such a situation.
"I haven't … but yeah, I didn't. Are there rules? Am I supposed to? Should I send flowers?"
Afterward, the WWE Hall of Famer sent a heartfelt message to her ex-fiancé congratulating him on his wedding to Shay Shariatzadeh.
"John, congratulations on your wedding. I'm very, very happy for you."
John Cena met his Canadian wife while filming his movie Playing With Fire in her home country. According to her LinkedIn, she is a University of British Columbia alumni and holds a bachelor's degree in Electrical and Electronics Engineering. She has been working at Microsoft as a Program Manager since April.
#3 Nikki Bella's message to Cena on their sixth anniversary
Nikki Bella called off her wedding to John Cena a few months before their sixth anniversary in 2018. On August 9, what would have been their anniversary, she sent a message to her ex-fiancé through her Instagram account.
In her message, the WWE Hall of Famer stated that Cena changed her forever and ensured that she would never forget him. Nikki also added "8/9 | 6", referring to their sixth anniversary.
Nikki Bella has revealed why she left Cena nearly a year ago on the "Better Together with Maria Menounos" podcast. She said that they had an incredible relationship but were two people wanting different lives. Nikki also stated that she was afraid Cena would regret having kids with her down the road.
"Even in the end when he was willing to give me kids, I could just tell it's not what we wanted. And that's really, like, you know, what pushed me in the end, was like, if I'm going to force someone to be a father," she said.
Nikki also recalled her life coach's advice that made her realize she had to leave Cena.
"I'll never forget, I think it was my life coach, he goes, 'What if he looks at you down the road and just regrets everything, and then you have this child and you've built this life? Is that what you want?' And I remember thinking, that's not what I want. I don't want to force someone to change."
Nikki Bella has finally fulfilled her wish to become a mother as she welcomed her first baby with Artem Chigvintsev last July.
#2 Nikki Bella told Cena he is a rare case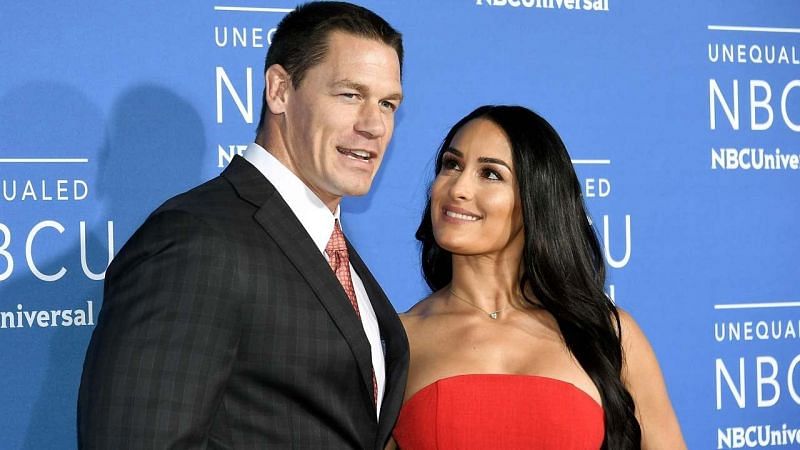 Following her breakup with John Cena, Nikki Bella confessed she called him after all of her dates.
The former WWE Superstar admitted to People magazine in January 2019 that she found Cena's attitude towards her going out with other people a little surprising. She told him that he is a rare case.
"The one thing is, John's never been a jealous man. That's one bone he doesn't have, which I'm like, you're so rare."
On an episode of The Bellas Podcast in August 2019, a fan asked Nikki about her feelings towards Cena. The WWE Hall of Famer confessed that she has an unconditional love for her ex-fiancé.
"I do feel like John is a soulmate of mine. [Brie Bella is] one. I do feel like Artem is one. I really feel a soulmate connection with [Artem] and with John. And we both have said this. I have unconditional love for him."
Nikki then spoke about why their relationship did not work out. She admitted her marriage to Cena would have turned out to be different from what she desired.
"We were such a great couple, but our lives didn't work. And that's what I think– sometimes people, when they get into marriage, they don't realize that marriage is beyond just loving someone. You are joining a life together. It's a partnership. It's so many things that those are things, unfortunately, you have to look at and I look at my marriage just being different than what John and I were gonna have."
Nikki Bella and Artem Chigvintsev announced their engagement in January 2020. The former Divas Champion revealed on Instagram that she had already said yes two months earlier but kept it a secret. In May 2020, Nikki told the "Big Demi Energy" podcast that they had decided to postpone their wedding due to their child's arrival.
The WWE Hall of Famer and her partner are currently considering holding their wedding on the Saturday of Thanksgiving weekend, as Nikki told US.
#1 Nikki blamed Cena for not calling her after their breakup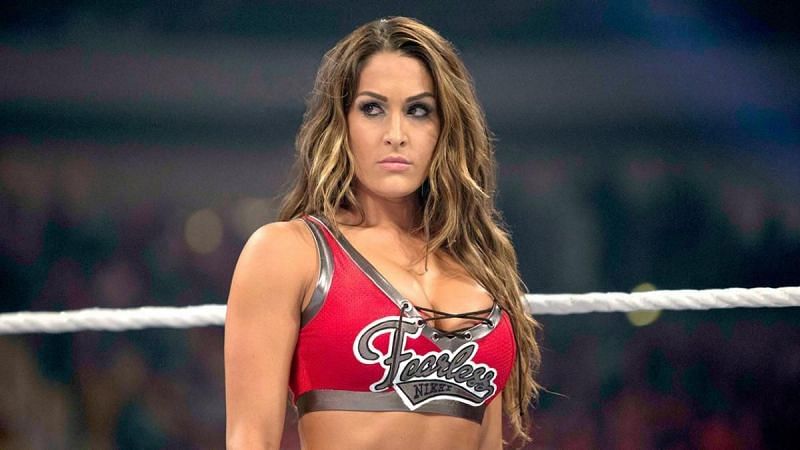 In their first meeting following their breakup, Nikki Bella blamed Cena for not calling her and confessed that she missed him.
As seen on Total Bellas, Cena and Bella bumped into each other backstage during RAW after calling off their wedding. The former Divas Champion blamed her ex-finacé for not calling her the day before. He responded by saying that he wanted to do the right thing.
Cena told his ex-fiancée he missed her, and Nikki admitted she felt the same way.
John Cena moved on with his life and started dating Shay Shariatzadeh in early 2019, less than a year after splitting up with Nikki Bella. A few paparazzi photos of the couple soon surfaced on the internet before they made their red carpet debut at the premiere of his film Playing With Fire.
Cena's photos with Shariatzadeh had a strong impact on the former WWE Champion's ex-fiancée. On The Bellas Podcast, Nikki revealed her reaction to seeing Cena with another woman.
"When I saw the photo, it was weird. You know sometimes when you get a text, or you see a photo, or you see your significant other flirt with someone, you get those knots in your stomach and it hurts? Like you either want to poop your pants immediately … or you just have the craziest tummy-ache. Neither of that happened to me when I saw the photo."
The Total Bellas star further explained how she felt towards Cena dating Shay Shariatzadeh.
"He's one of the people, besides you, Brie, who's made me an amazing person. But because of how sad I made him and how much I felt like I hurt him, when I saw the big smile on his face with the paparazzi photos, I think that's why I didn't want to s— my pants."
Nikki ensured Cena that she was happy for him. However, she issued a warning to his then-girlfriend.
"I felt happy for him. I am very happy for him. As long as John is happy, I'm happy, let me tell you, she breaks his heart? I will rack-attack her in a heartbeat. Still protective of that man."
Luckily for Shariatzadeh, she did not break Cena's heart. Instead, she married the Hollywood star to make him extra happy.
Edited by Anirban Banerjee