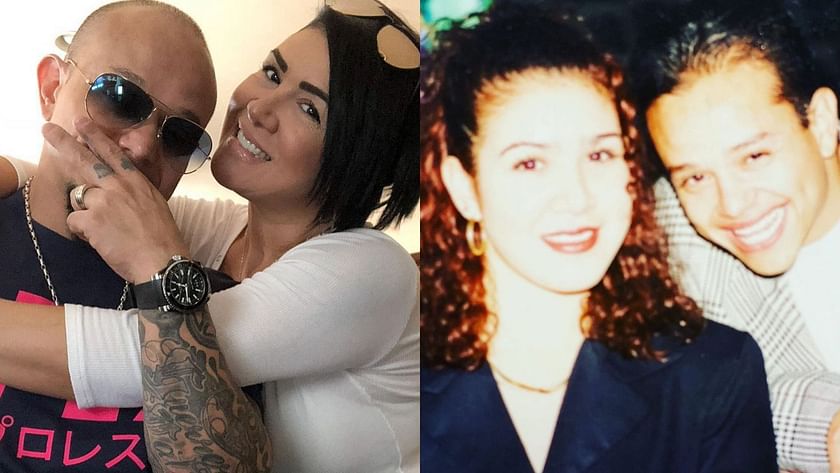 A few current WWE Superstars have been married to their current spouses for more than 15 years.
Some current WWE Superstars have been married several times over the past two decades. Edge, for example, has tied the knot three times. His third marriage came nearly five years ago to his current wife, Beth Phoenix.
Meanwhile, other WWE Superstars have married only once. They have been with their current spouses for more than a decade and a half now. While some of these couples were high school sweethearts, others met in Vince McMahon's company.
Here are six current WWE Superstars who have been married for over 15 years.
---
#6. WWE legend Rey Mysterio
Rey Mysterio and his wife, Angie, were teenagers when they first met in the early 1990s. Although the Mexican superstar had already kicked off his wrestling career a few years earlier, Angie was not interested in professional wrestling and had no idea who he was.
In his autobiography "Rey Mysterio: Behind the Mask," the former world heavyweight champion disclosed that he fell in love with Angie at first sight after meeting her at a gym.
"One day while I was working out, a girl I knew came in with a friend. The girl I knew was a wrestling fan, and she came over to chat a little (...) Right away I noticed her friend. It may sound corny, but it was one of those things: we laid eyes on each other, and there was love at first sight. From the moment her friend introduced us, there was something between us. She smiled, and I knew she liked me, and I knew I liked her," he wrote.
The former WWE Champion and Angie did not start dating right away. Although they had feelings for each other and even kissed once, they remained only friends for a while because Angie had a boyfriend at the time. Nonetheless, she later broke up with her boyfriend because she wanted to be with Mysterio.
The couple then started dating. Although Mysterio and Angie were very much in love, some people believed their relationship would not last.
"Most teenage romances don't last very long, and wrestlers are notorious for having love problems. With that combination, most people would have figured that my relationship with my first real girlfriend would never last. But they'd be wrong. Angie was and is the love of my life," he wrote in his autobiography.
After nearly four years together, the former United States Champion tied the knot with his girlfriend in a traditional Catholic ceremony in Tijuana on May 11, 1996. They have been married for over 25 years now. They have two children, Dominik and Aalyah.
Mysterio and Angie's son, Dominik, is now a WWE Superstar. He is currently active, alongside his father, on Monday Night RAW. The two men also became the first ever father-son duo to win tag team titles in company history.
#5. WWE Superstar AJ Styles
Like Rey Mysterio and Angie, WWE Superstar AJ Styles and his wife, Wendy, met during their high school days. The couple fell in love with each other and dated for several years before tying the knot in August 2000.
Over the past few years, the former United States Champion has posted several photos with his wife on his social media accounts. He has also praised her in a few posts. Celebrating their 19th anniversary, The Phenomenal One sent her a heartfelt message via Twitter:
"Ninteen years ago today I married the most incredible woman. Strong, kind, beautiful, loving, and compassionate. A mother of 4 kids and the wife of a wrestler. I can't do this life without you babe. Happy anniversary, I love you," he wrote.
Styles joined Vince McMahon's company in 2016 after competing for many years in different promotions, including IMPACT Wrestling. Earlier in his career, WWE offered him a developmental contract. However, he turned down the offer for his wife's sake.
In an interview with Slam Wrestling, he explained why he refused to join Vince McMahon's company at the time.
"I am honored that they offered me a contract. Financially I couldn't afford to go up there. My wife was in college and I was the sole provider. It wasn't feasible for me to move to Cincinnati for a developmental deal when I was making nothing. God and family are more important to me. I couldn't do it to my wife," he said.
Styles and Wendy have been married for more than 21 years now and have four children. Although she keeps a low profile, the school teacher has accompanied her husband to a few WWE events in the past few years.
#4. WWE Hall of Famer Goldberg
WWE Hall of Famer Goldberg and his wife, Wanda, met nearly 17 years ago on a movie set. While the former Universal Champion played the role of a deranged Santa Claus in a movie called Santa's Slay, his wife was a stunt woman.
The couple fell in love with each other almost immediately. Although Goldberg was in a relationship with another woman at the time, he could not bear the idea of not asking Wanda out.
"If I did not ask her to go to dinner I would have regretted it the rest of my life. Yeah, so you don't know until you try it," he said on Jay Leno's Garage.
The actress and stuntwoman also had a boyfriend when she met the WWE Hall of Famer. However, she broke up with him shortly after meeting Goldberg.
"I had a boyfriend. I had an awesome guy and I broke up with him that night and said no, if I can feel this way about someone else that quickly, I'm not in the right relationship. Yeah, it was that quick," she told Jay Leno.
Goldberg and Wanda tied the knot in April 2005. They have now been married for over a decade and a half. The couple's son, Gage, recently made a few appearances with his father on Monday Night RAW.
#3 & #2. WWE EVP Triple H and CBO Stephanie McMahon
Unlike the three previous entries on this list, Triple H and Stephanie McMahon met in WWE more than two decades ago. The couple then kicked off their romantic relationship in 2000.
In an interview with Dave Palumbo, The Billion Dollar Princess stated that her father, Vince McMahon, somehow pushed her towards The Game:
"He (Vince McMahon) always kind of pushed me towards him (Triple H). I was dating a guy at the time and I would talk to my dad about advice – my dad and my brother (Shane). We would be chatting after the show and watching re-runs of Nitro and laughing about a lot of stuff, and my dad would always say, 'You need to be with a guy who's more like Triple H.' My brother would jump in, 'A guy like Triple H, not actually Triple H,'" she said.
Despite this, Vince was unhappy when his daughter first started dating the former WWE Champion.
In his autobiography "Making the Game: Triple H's Approach to a Better Body," The Game disclosed that The Chairman gave them permission to date, then took it away.
"Before anything happened romantically, we spoke to Vince about the situation and he told us it was okay with him. Soon after that, though, he changed his mind. He said he gave it more thought and realized, 'This won't work out. You two cannot do this.' He took it away just like that," he wrote.
The couple separated for ten months. Nonetheless, they eventually got back together, and Vince gave them his blessing.
In October 2003, Triple H and Stephanie tied the knot. They have been married for more than 18 years now and have three daughters.
#1. WWE Champion Brock Lesnar
Like Triple H and Stephanie McMahon, Brock Lesnar met his wife, Sable, in WWE. The Beast Incarnate made his main roster debut in 2002. A year later, his wife returned to Vince McMahon's company in 2003 after leaving a few years earlier. That same year, the couple met and fell in love with each other.
Shortly after they started dating, Lesnar left Vince McMahon's company in early 2004. Meanwhile, Sable continued to work in the company.
However, The Beast Incarnate was unhappy that Sable was still there. Hence, he demanded that she leaves her job for their relationship to continue.
"I wanted to marry Rena (Sable). However, before I could do this, I needed her to get out of WWE. 'If we want a relationship,' I told her, 'neither one of us can work for that company. We both know the long-term side effects of everything there.' That was my only demand. Nothing else. Just that. And so she left World Wrestling Entertainment," Lesnar wrote in his autobiography "Death Clutch: My Story of Determination, Domination, and Survival."
Two years after their departure from Vince McMahon's company, the couple tied the knot on May 6, 2006. They have now been married for nearly 16 years and have two sons, Turk and Duke.