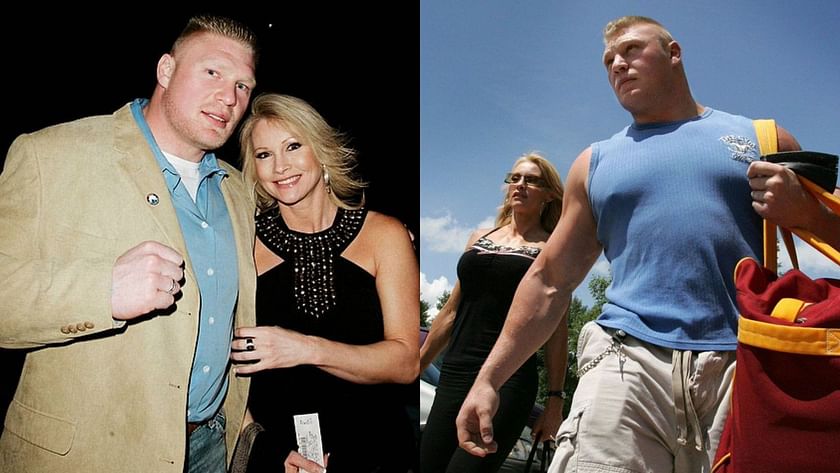 Brock Lesnar and Sable are among the most famous WWE couples. Nonetheless, many wrestling fans do not know much about their relationship.
The Beast Incarnate joined WWE in 2000 and made his main roster debut two years later. At the time, Sable was already an established star. The couple fell in love and started their relationship in 2003. They dated for a few years before getting married in 2006.
Lesnar and Sable are very private about their relationship and prefer to keep it away from the public eye. Nonetheless, the former WWE Champion has revealed a few things about his relationship with his wife in the past few years in interviews and his book "Death Clutch: My Story of Determination, Domination, and Survival."
Here are five things you may not know about Brock Lesnar and Sable's relationship:
Also Read: Who is Brock Lesnar's son?
---
#5. Sable is very supportive of Brock Lesnar
Throughout the years, Sable has been very supportive of her husband, Brock Lesnar. In his book, The Beast Incarnate disclosed how the former Women's Champion supported him when he decided to leave WWE in 2004.
Sable also supported her then-boyfriend when he decided to pursue a Mixed Martial Arts career following his departure from WWE:
"I wanted to compete as a real athlete. I wanted to test myself. I talked it over with Rena (Sable), who was now my wife, and she assured me she would be supportive in anything I decided I was going to do. My wife knows I'm a competitor, and that competition is what drives me. It's in my blood. It's what I want to do. It's what I was made for," he wrote.
The former Universal Champion also revealed that Sable had to go through the last part of her pregnancy with their first son alone because he had to train for his fight against Frank Mir at UFC 100 in 2009. Lesnar stated that his wife was mature enough to understand what he needed to do.
A few months following his fight at UFC 100, Lesnar was diagnosed with diverticulitis. The 44-year-old fought for his life for several months, and his wife never left his side:
"I was truly a man who had been blessed by God. My wonderful wife showed me, once again, that she was going to stick by me no matter what," Brock Lesnar added in his book.
The Conqueror has expressed his love for Sable several times in his book. He even dedicated the book to her and his children.
Also Read: Where does Brock Lesnar live?
#4. Brock Lesnar didn't like that Sable was working with WWE after he quit
Brock Lesnar left WWE in early 2004 following his defeat against Goldberg at WrestleMania XX. At the time, he wanted to pursue a career in the NFL. However, his then-girlfriend, Sable, continued working in Vince McMahon's company.
In his book "Death Clutch: My Story of Determination, Domination, and Survival," The Beast Incarnate disclosed that he was not happy that Sable was still working in WWE. However, she was not yet ready to let go of her career:
"Rena was still on the road with WWE, and she was flying into Phoenix to be with me. I didn't like the fact that she was in that environment anymore. I already knew she was the woman that I wanted to be with for the rest of my life, but she wasn't ready to let go of her career yet," he wrote.
Meanwhile, the former WWE Champion understood why his then-girlfriend did not want to follow in his footsteps and leave Vince McMahon's company at the time:
"I guess I can't really blame Rena for not walking out when I did. We weren't married, I had just made myself unemployed, and the odds of a guy who never played college football making an NFL roster were not good. But none of that stopped me from trying to get her to quit. I hated it when Rena was on the road. There is a lot of testosterone in the business, and I was worried about what some jackass might do or say to her. But Rena is a remarkable woman, and she can take care of herself," Brock Lesnar added.
Sable had a busy year in WWE in 2004. In March, she joined forces with Torrie Wilson to feud with Stacy Keibler and Miss Jackie. They squared off in a Tag Team Evening Gown match at WrestleMania XX.
Sable and Wilson won the bout. Nonetheless, the former Women's Champion later turned heel and feuded with her former tag team partner, Torrie Wilson.
#3. Brock Lesnar demanded that Sable leave WWE for their relationship to continue
Eight months following Brock Lesnar's departure from WWE, Sable also left the company. In his book "Death Clutch: My Story of Determination, Domination, and Survival," the former Universal Champion disclosed that she did not leave because the company treated her wrongly or disrespected her. Instead, she left for him.
The Beast Incarnate revealed that his only demand in his relationship with Sable was that she leave WWE:
"I wanted to marry Rena (Sable). However, before I could do this, I needed her to get out of WWE. 'If we want a relationship,' I told her, 'neither one of us can work for that company. We both know the long-term side effects of everything there.' That was my only demand. Nothing else. Just that. And so she left World Wrestling Entertainment. She had worked so hard to get back into that company, and now she was leaving it again, except this time she was giving up her career for me. It couldn't have been an easy decision," Brock Lesnar wrote in his book.
In August 2004, WWE announced the release of Sable. Her final match came against Torrie Wilson on the June 29, 2004, episode of SmackDown. Although the 54-year-old defeated Wilson two days earlier at The Great American Bash pay-per-view, she lost to the WWE Hall of Famer in her last WWE match.
Brock Lesnar returned to WWE in 2012. Nevertheless, his wife never worked for Vince McMahon again.
#2. Brock Lesnar broke into Sable's house before proposing to her
Brock Lesnar and Sable's relationship went through some hard times after the former champion departed from WWE in 2004. The Conqueror felt stressed out as his future was up in the air. Although Sable tried to make things work, Brock Lesnar pushed things too far once:
"One day, of course, I pushed things too far, and Rena (Sable) decided that she'd had enough of my bullsh*t. She was smart enough to pack her bags and go back to her own house in Florida. I knew she was the woman I was going to marry, and I also knew I'd screwed up by driving her away. I started calling her, but she wasn't going to make it easy for me. I guess I should have taken the hint after a week of her not taking my calls. As things turned out, I'm glad I didn't take the hint," Brock Lesnar wrote in his book "Death Clutch: My Story of Determination, Domination, and Survival."
After Sable ignored his calls for two weeks, the former Universal Champion hopped on a plane and headed to Orlando. On his way, he bought an engagement ring.
Although he had been to Sable's house before, Brock Lesnar did not remember her address. Hence, he went through several obstacles until he finally stood in front of her door. However, Sable was not home, so he broke into her house:
"I'm standing there ringing the doorbell, and I know someone is going to notice me standing in front of her house and call the cops (...) So, I decide to try to get in from the back of the house. Here's this three-hundred-pound gorilla jumping the fence into the backyard, and it's not like I'm inconspicuous. I'm just hoping to God that maybe she left the window open or something like that. Of course, she didn't. Everything is all locked up. I saw a neighbor standing by his garage, and I knew he had seen me around with Rena enough to know we were a couple. That was a lucky break for me," Brock Lesnar wrote told the story in his book.
Brock Lesnar told Sable's neighbor that he was working in the backyard and asked him for a screwdriver. He then used the screwdriver to open Sable's sliding doors and get inside the house. The former Women's Champion was unpleased when her boyfriend called her from her house phone. However, they made up when she returned home.
The Beast Incarnate ended up spending a whole week with Sable in Florida. At the end of the week, he proposed to her by the waterfall at the Orlando airport.
#1. Brock Lesnar and Sable called off their engagement in 2005
Sable and her first husband, Marc Mero, divorced in early 2004. A few months later, she got engaged to Brock Lesnar. Nonetheless, the couple called off their engagement a year later.
In January 2006, Brock Lesnar and Sable became engaged again. Later that same year, the couple tied the knot. The former champions now have two sons together, Turk and Duke.
A few years ago, rumors spread that Sable and her husband had split. In an interview with Power Slam magazine in 2008, the former WWE Champion addressed these rumors.
"[The Best story I've heard about myself that isn't true] That me and Sable are divorced… We're married. In fact, we're having breakfast together right now," he said.
The couple have been together for more than 15 years now. Lesnar has revealed in his book that meeting Sable was the best thing that ever happened to him in WWE:
"If I hadn't been in WWE, I wouldn't have met Rena. She's given me two healthy sons, and she's been wonderful with Mya. When I say I'm a man who has been blessed by God, I mean it," he wrote in his book "Death Clutch: My Story of Determination, Domination, and Survival."
The Beast Incarnate disclosed that he never regretted marrying Sable. He also believes she never regretted marrying him either.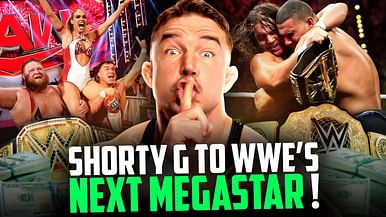 Why Chad Gable could be the next WWE mega star