In 2000, Brock Lesnar signed a contract with WWE. The Beast Incarnate reported to the company's developmental brand at the time, OVW. During his time there, the 45-year-old got into a fight with former manager Kenny Bolin for allegedly touching his girlfriend.
In an interview with Cafe de Rene in April 2022, Bolin detailed the incident. He disclosed that Lesnar and his girlfriend at the time visited him several times at home and that he would always greet the former WWE Champion's lady with a hug and a kiss. However, when Lesnar's girlfriend wanted to greet Bolin with a hug after an OVW show, he stopped her because he was sweaty. Instead, he gave her a "Hollywood greeting," sending her kisses in the air.
However, when Lesnar walked backstage at that moment, things turned ugly for Bolin and The Beast Incarnate's girlfriend.
"Brock walks in and sees, to his perception it looked like I was kissing his girlfriend. I kissed her a 100 times anyway and she'd done the same with me when they came over to my house (...) So he says, 'get you hands off my girl or whatever he called me. So, I thought he was working the crowd outside. I said, 'no problem here brother, no, no, I'm not gonna touch her. You the man' and I back away. He says, 'don't you ever touch her you motherf**ker. And I'm looking at him and I see he's f**king furious. I mean you can see it in his eyes. I said, 'Brock, I never touched her.' He says, 'don't you ever f**king touch her you piece of sh*t.' And I'm looking, 'what?! Where the f**k this coming from?' " he said. [2:13 - 3:12]
While Bolin continued explaining to Lesnar that he did not touch his girlfriend, she also turned to the former WWE Universal Champion and told him that the former OVW manager did not touch her. However, that was still not enough to convince Lesnar, who decided to get physical with Bolin.
"I said, 'Brock, I told you I never touched her. And she looks over and she says, 'Brock, he didn't touch me. He's sweaty and he didn't wanna get me wet.' 'You shut up b*tch, you know better,' that's what Brock told his girlfriend. And now he's getting up in my face. He says, you ever even come close to her again you motherf**ker, I'll knock you out. (...) I said, 'Brock, calm down man.' I said, 'I didn't f**king touch her. You just heard her.' And then he pie-faces me," Bolin added. [3:13 - 3:40]
Bolin's son, Chris, then ran to Sylvester Terkay to help his father. Hence, Terkay rushed to the scene where he challenged Lesnar to a fight. Nevertheless, The Beast Incarnate allegedly turned and walked away.
A former WWE manager once threatened to shoot Brock Lesnar for touching his girlfriend's genitals. Check out the story here.
If you're interested in sports betting, the Pittsburgh Steelers play the Cleveland Browns this weekend! Don't lose out, claim the offer and place your bets below!
Bet $5+ on any sport pre-game ML, Get $150 If Your Bet Wins at DraftKings!
---
Brock Lesnar got suspended from WWE after the incident
Following the incident, Jim Cornette, who was in charge of OVW, called Brock Lesnar and demanded that he apologize to Bolin. The Beast Incarnate then called the former OVW manager to tell him that he was sorry that he got physical with him.
Meanwhile, Cornette punished the former WWE Champion by suspending him for two weeks.
"I think he [Cornette] suspended Brock for like two weeks. Made him do some free personal appearances," Bolin said [7:06 - 7:11]
Brock Lesnar is currently married to former WWE star Sable. Check out five things you may not know about their relationship here.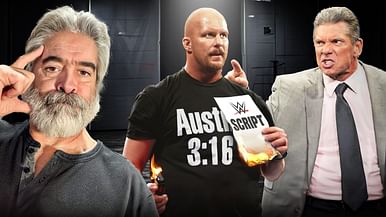 How Stone Cold was born in 2 minutes