Top 100 wrestlers of 2012(according to PWI)
You Can Read Last Years Complete List Here. That's according to Pro... Link Provided By BhabaniWWE.IN.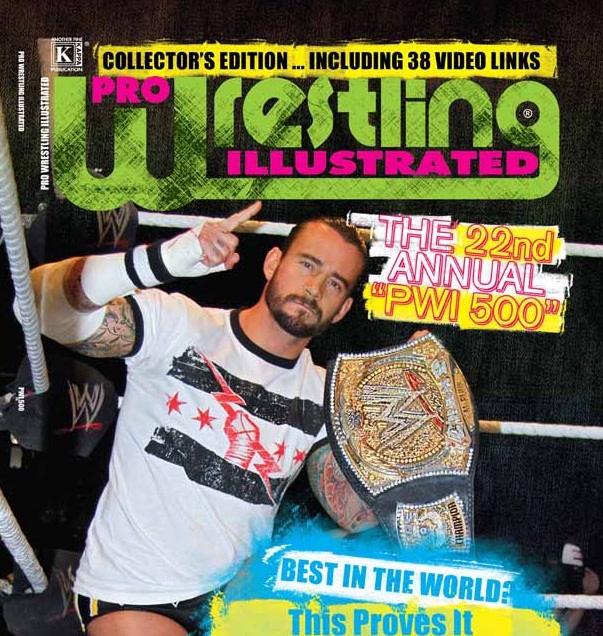 Pro Wrestling Illustrated unveiled the Top 500 wrestlers list. The WWE Champion CM Punk is on top of the ladder, thanks to his 365 days as the WWE Champion. 10 times WWE Champion John Cena is on 3rd while TNA wrestler Bobby Roode is on second.
Here are the top 100 wrestlers according to PWI:
 1.CM Punk
2.Bobby Roode
3.John Cena
4.Daniel Bryan
5.Sheamus
6.Jun Akiyama
7.Davey Richards
8.Kurt Angle
9.Mark Henry
10.Alberto del Rio
11.Kiroyoshi Tenzan
12.James Storm
13.Austin Aries
14.Randy Orton
15.Christian
16.Dolph Ziggler
17.The Big Show
18.Eddie Edwards
19.L.A. Park
20.Kevin Steen
21.Jeff Hardy
22.Kane
23.Cody Rhodes
24.Takashi Sugiura
25.Devon
26.Dr. Wagner Jr.
27.Mr. Anderson
28.AJ Styles
29.Chris Jericho
30.Bully Ray
31.Kofi Kingston
32.Roderick Strong
33.Jack Swagger
34.El Terrible
35.Sting
36.R-Truth
37.Rob Van Dam
38.Go Shiozaki
39.Jay Lethal
40.Kazchika Okada
41.Crimson
42.Shelton Benjamin
43.Magnus
44.Colt Cabana
45.Tensai
46.Seth Rollins
47.Shinsuke Nakamura
48.Chris Daniels
49.The Miz
50.Matt Morgan
51.Samoa Joe
52.Sami Callihan
53.Charlie Haas
54.Michael Elgin
55.Gunner
56.Wade Barrett
57.Jeff Jarrett
58.Kazarian
59.Johnny Gargano
60.Santino Marella
61.Takeshi Morishima
62.Adam Pearce
63.Jay Briscoe
64.Karl Anderson
65.Mark Briscoe
66.Robbie E
67.El Mesias
68.Prince Devitt
69.Averno
70.Zack Ryder
71.Tommaso Ciampa
72.Primo
73.Satoshi Kojima
74.Brodus Clay
75.Adam Cole
76.Epico
77.Leo Kruger
78.Mike Bennett
79.Yamato
80.Negro Casas
81.La Mascara
82.El Generico
83.David Otunga
84.Kenny King
85.Eric Young
86.Hernandez
87.Zema Ion
88.Pac
89.Damien Sandow
90.Jey Uso
91.Jimmy Uso
92.Hunico
93.Harry Smith
94.Tetsuya Naito
95.Carlito
96.Evan Bourne
97.Rhett Titus
98.Richie Steamboat
99.Justin Gabriel
100.Sin Cara