This week's episode of WWE SmackDown delivered a good show once again. Drew McIntyre from RAW made a special appearance during the show and stood up to Roman Reigns. He even competed in the main event, marking his dominance on the Blue brand.
In addition to that, we saw the long-running storyline involving the Mysterio family, Seth Rollins, and Murphy finally come to an end. Both Rollins and Rey Mysterio locked horns to script the last chapter of their intensely personal feud. We also saw Chelsea Green compete on the Blue brand tonight while Live Morgan earned a spot for herself in the women's team that will represent WWE SmackDown at Survivor Series.
In this article, we will take a look at Superstars who flopped on WWE SmackDown this week and those who impressed. So, without further ado, let's begin.
---
#3 Impressed on WWE SmackDown: Drew McIntyre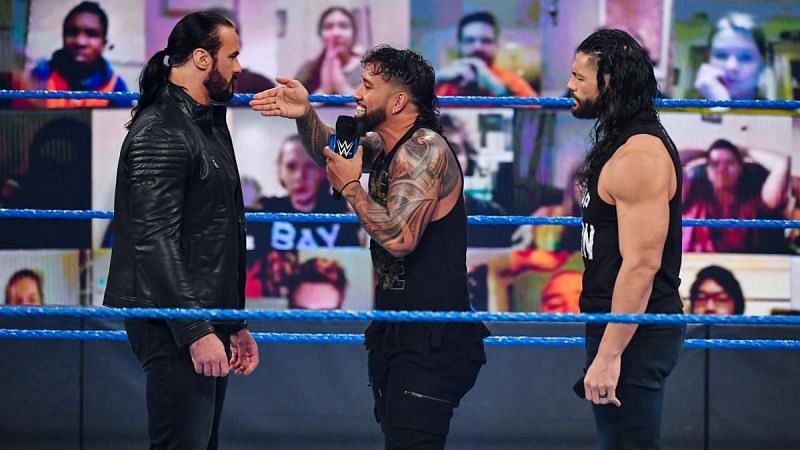 This week on WWE SmackDown, we saw Drew McIntyre make an appearance on the Blue brand. He confronted Roman Reigns in the opening segment of the show, making it clear that he carried the promotion when Reigns abandoned the same. He also went on to say that he will beat Randy Orton for the WWE Championship next week and then face Reigns at Survivor Series. McIntyre looked extremely confident inside the ring as he seemed eager to take on Reigns.
However, it was Jey Uso who decided to interfere in this segment. He challenged McIntyre to a match which seemed to have angered Reigns. The latter wasn't happy with Jey Uso implying that 'they run the show'. Instead, Reigns insisted that it is him who pulls strings on WWE SmackDown and Jey Uso should respect him for that. Soon, it was confirmed that Jey Uso would square up against Drew McIntyre in the main event of the show.
In the final match of WWE SmackDown, we saw McIntyre dominate his encounter with Jey Uso. The latter looked good inside the ring, but it certainly appeared that he was bound to struggle against the likes of Drew McIntyre. McIntyre also deserves special credit for going above and beyond to make Jey Uso look strong inside the ring. Despite Roman Reigns' mild interference, McIntyre prevailed and ended up making a strong statement in front of Reigns.
Drew McIntyre is now set to lock horns with Randy Orton for the WWE Championship on the go-home episode of RAW before Survivor Series 2020. If he wins the match, McIntyre will face Universal Champion Roman Reigns at the upcoming pay-per-view -- a match that will surely keep the WWE Universe excited for their in-ring battle. McIntyre's appearance on WWE SmackDown tonight made him look like a huge babyface that can actually take on the biggest heel in the business right now. Hopefully, the creative will make the best use of this storyline by booking McIntyre accordingly.
#2 Flopped on WWE SmackDown: Apollo Crews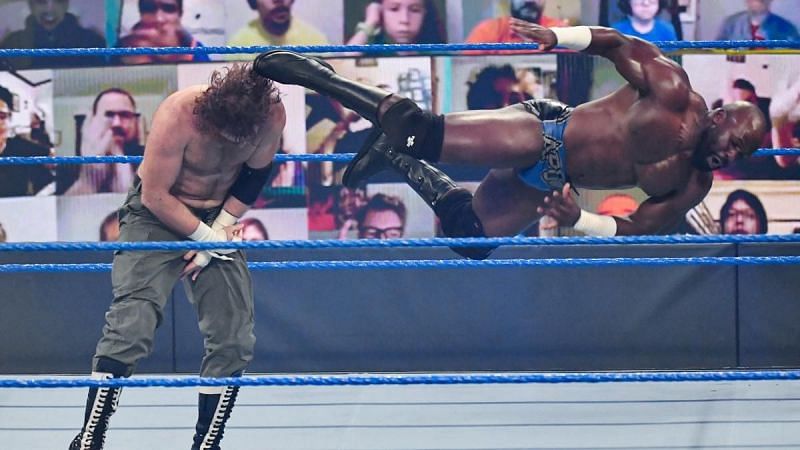 Apollo Crews emerged as one of the breakout Superstars while WWE was navigating their way through the implications of COVID-19. He worked extremely hard inside the ring and established himself as a legitimate title contender. Following that, Apollo Crews defeated Andrade for the United States Championship and had a good run with the gold before losing his title to Bobby Lashley. But that Apollo Crews is nowhere to be seen on WWE SmackDown.
Tonight, he challenged Sami Zayn for the Intercontinental Championship. Zayn thought that it was his opportunity to prove why he is a deserving champion while Crews believed that this would be his shot at facing Bobby Lashley inside the ring once again. Hence, both Superstars locked horns in a rather underwhelming match on WWE SmackDown.
The match ended with Zayn tying Crews' feet to the ring before he jumped back inside the squared circle. He was inside the ring just before the referee could finish the 10-count and won the match to retain his title. This was a disappointing result for Crews who deserves to be a part of more compelling matches and even storylines. The same can be said for Zayn, but at least he has a title. We hope that both these Superstars will be involved in better storylines and will get more screen time in WWE SmackDown following the pay-per-view.
#2 Impressed on WWE SmackDown: Rey Mysterio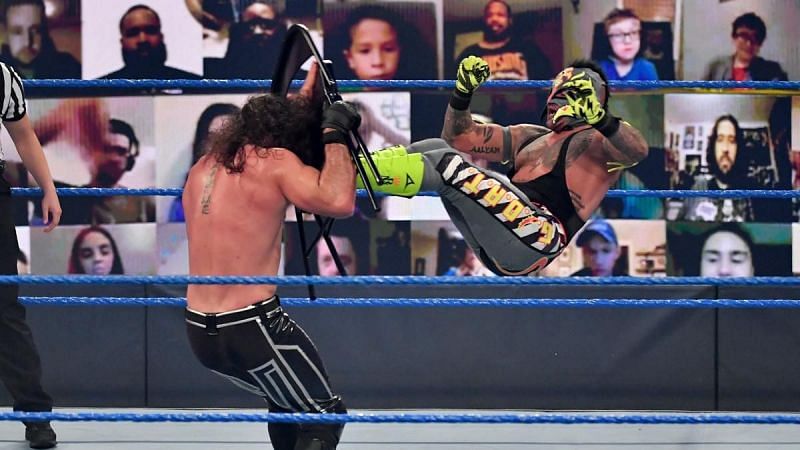 After several months of build-up, the storyline involving Rey Mysterio and Seth Rollins finally came to an end on tonight's episode of WWE SmackDown. We saw both Superstars lock horns in a No Holds Barred match that accounted for a final chapter of their long-running rivalry. This battle between both the Superstars is precisely what WWE wanted all along, and we finally saw them both engage in an unforgettable battle inside the squared circle.
An angry Rey Mysterio looked determined to make Rollins pay for all his actions. A little help from Murphy, the support from his family, and his evergreen high-flying maneuvers helped Rey Mysterio in securing the much-needed victory over Rollins on WWE SmackDown. Rey Mysterio looked like his old self, and it was nice to see him draw the curtain on his extended rivalry with Rollins.
Not to forget, this match also led to Rey Mysterio accepting Murphy into his family as he helped the legend in closing a big chapter of his current WWE run. Moreover, it now appears that even Dominik Mysterio and Murphy are at peace which will open up new doors of possibilities involving the two Superstars. The creative can book Murphy and Dominik Mysterio as allies on WWE SmackDown which will prove beneficial for both Superstars. Murphy will get his deserved time to shine whereas Dominik Mysterio will have an opportunity to get out of his father's shadow.
#1 Flopped on WWE SmackDown: Dolph Ziggler
This week on WWE SmackDown, we saw Dolph Ziggler engage in a match with Otis. Both Ziggler and Robert Roode were making fun of Otis' relationship with Mandy Rose and how he was betrayed by his best friend and tag team partner, Tucker. This led to a match being booked between the two Superstars.
Inside the squared circle, Otis looked extremely dominant as he spent most of the time toying with Ziggler. The latter struggled hard to gain control over the match, but he couldn't bring himself to get the better of his opponent. Even when Robert Roode tried to help his partner, he was easily scared away by Otis who then went on to pick a clean victory over Dolph Ziggler on WWE SmackDown.
Understandably, the creative wanted to use Ziggler in order to put Otis over once again. But the manner in which it was done made Ziggler look extremely weak inside the ring. It is certainly a mistake that WWE should avoid, especially if you take a look at the tag team division. We hope that both Ziggler and Roode and will be booked strongly on WWE SmackDown following this match and hopefully, it will allow them to emerge as top heels in the division once again.
#1 Impressed on WWE SmackDown: Seth Rollins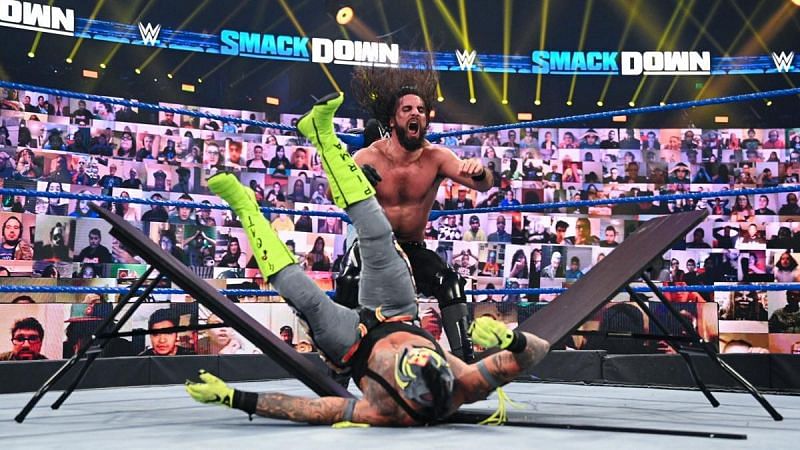 It had been a long time since Seth Rollins topped the list of Superstars who impressed us. But tonight, his match against Rey Mysterio on WWE SmackDown, reminded the WWE Universe of Rollins' brilliance inside the ring. Despite losing the match this week, Rollins looked extremely good inside the ring, and frankly, he resembled his old self during this match.
Given that Rollins lost after being betrayed by Murphy, he did not come out of this encounter looking weak. Instead, it simply helped in ending this long-running feud on WWE SmackDown. Both Rollins and Mysterio arguably delivered the best WWE match of the week, and it was certainly their best match in this extended feud. This was the biggest proof that the creative didn't need to drag the storyline for so long in order to get an unforgettable match out of both these Superstars. Nonetheless, it has all ended now that Rollins has confirmed that he is done with Rey Mysterio.
Next week, we will see Rollins take on Murphy as he will look to make the 'disciple' pay for his betrayal. It is expected that both Superstars will once again engage in an epic encounter that will help cement Murphy as a credible threat on the roster. As far as Seth Rollins is concerned, the talented Superstar is bound to find himself involved in goods storylines on WWE SmackDown once he is done with his ongoing storyline.