IPL 6: MI v/s CSK – The Quick Flicks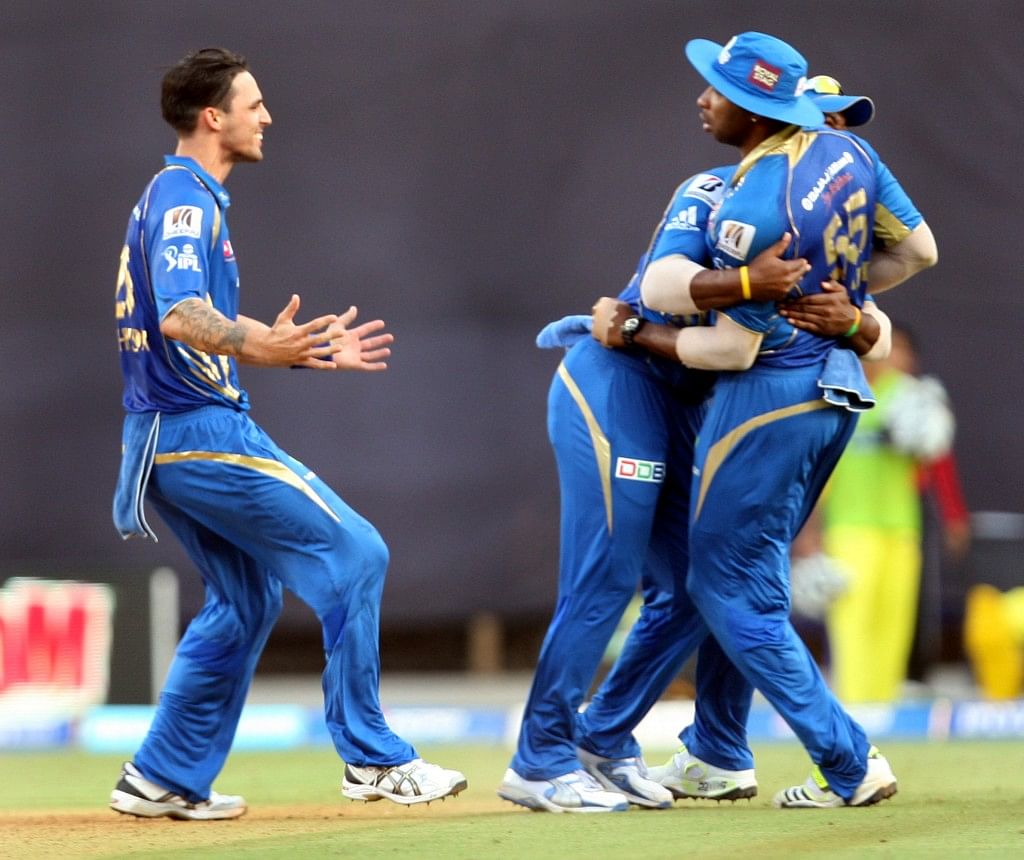 "Annihilation" – that's exactly how I can sum up today's game between the Mumbai Indians and the Chennai Super Kings. For once, old Punter would have been glad he wasn't wearing yellow. After all, it isn't every day that you rout a side, that has won the IPL title twice, for 79 runs. This game had all the trappings of a Bollywood potboiler – action and plenty of masala. Here are some of the snapshots of today's game:
Sir dismisses the Master:
Sir Ravindra Jadeja can do anything these days. One of those things was getting rid of the Little Master, Sachin Tendulkar, just when the great man was looking to cut loose. He followed it up by taking out Dinesh Karthik and Kieron Pollard, but the Master's wicket will be one that he will cherish for years to come. No wonder he deserves the title of "Sir" – it suits him to the 'T' (or should I say "J"?)
Harbhajan's Power Blast
If you want to smash those fours and sixes towards the end of an innings, use a bat that has your nickname on it. Every time Bhajji's done that, he's ended up playing the big shots extremely well. 12 of the 19 runs in Mumbai's last over came off his blade – a glorious six followed by a well-timed hit to the fence being the highlights of his 22-run unbeaten cameo. CSK definitely got a taste of Bhajji Pow!
Pollard fluffs it up
How on earth does a guy like Kieron Pollard drop 3 catches in a row off the same bowler?  And that when the batsman in question is the magnificent Mike Hussey? Maan, you need to consider yourself lucky that a player of Hussey's calibre was induced into offering a false stroke not once but 3 times. Mitchell Johnson must have been really livid.
Johnson's Triple Strike
Notwithstanding Pollard's flop show in the field, Aussie quick Mitchell Johnson dished out a terrific performance with the ball today. He knocked over Murali Vijay with a rather poor delivery (by his standards), before dismissing CSK's last-game hero Suresh Raina with a short ball (incidentally, Pollard redeemed himself by taking Raina's catch). And off the last ball of the over, the left-armer removed S Badrinath with a classic in-swinger. I'm kicking myself for not having the sense to get a ticket for today's game – I live for this kind of stuff!
Ashwin ahead of Dhoni? Bad choice
Never, ever, under any circumstances, move R Ashwin up the order. He's a good Test batsman but doesn't have the temperament needed for a T20 game. When you're chasing 140 on a slow Wankhede track, you need your best batters up front to hold the fort. Ashwin isn't that kind of player. And, my dear MSD, it is an insult to SRJ. So, moral of the story – bring Ashwin on early when you're bowling, not when you're batting.