Indian Football
Recent
Spotlight
Trending Now
Recent
Spotlight
Father-son duos are common in football but very rarely do we hear about a father and a son being teammates. Perhaps the most famous example of the ...
Bollywood star John Abraham has talked about the deep passion that the north-east of the country has for football while explaining his decision to ...
India's hopes of playing in the Asian Cup has received a boost as the tournament will be expanded to 24 teams from the 2019 editionPhoto ...
Photo Credit: Churchill Brothers Churchill Brothers returned to the bottom of the I-League table at the weekend following their 4-2 defeat against ...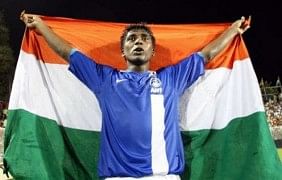 NP Pradeep's success story will inspire a generation of footballers to follow. 'Keralam', as it is fondly called by its inhabitants has a ...
Spanish giants Atletico Madrid have expressed their delight on winning the Kolkata franchise of the Indian Super League. The La Liga side made a bid ...
IMG Reliance and Star India promoted Indian Super League, under the aegis of All India Football Federation, have today reached a crucial junction on ...
Overview Going into the penultimate round of fixtures, both the I-League title race and relegation battle remains wide open. For some teams like ...
Photo Credit: AIFF Media India moved up seven spots to 145 in the FIFA Rankings according to the latest release, which came out on Thursday. Wim ...
Trending Now