One Piece's protagonist Monkey D. Luffy is getting closer to realizing his dream of becoming the Pirate King. After defeating the mighty Kaido, Luffy was declared one of the Four Emperors. To overcome such a fearsome enemy, the Straw Hat combined his Haki powers with the capabilities granted by his Devil Fruit, obtaining a whole new level of strength with the Gear 5 form.
A very creative fighter, Luffy has always managed to evolve his Devil Fruit abilities in unexpected and interesting ways. This article lists all the various transformations that Luffy showcased throughout the One Piece series.
Disclaimer: This article contains major spoilers from the One Piece manga up to chapter 1083.
---
Understanding all of Luffy's Devil Fruit transformations in One Piece
Gom-Gom Fruit / Human-Human Fruit, Model: Nika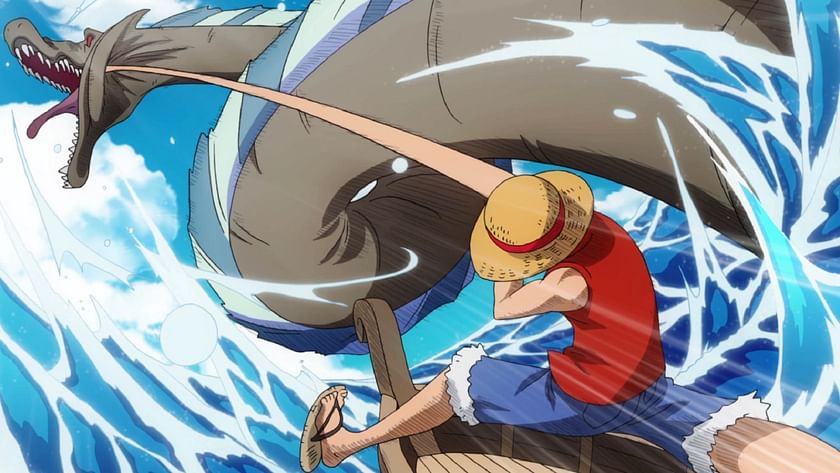 At the age of seven, Luffy ate the Paramecia-class Gom-Gom Fruit, which was kept by the Red Hair Pirates. The Devil Fruit gave his physique the properties of rubber, allowing him to stretch, bounce, bend, twist, and inflate any part of his body.
Moreover, being made of rubber, Luffy's body became completely immune to lightning and to blunt attacks not imbued with Haki. These special traits enabled him to notably increase his effectiveness as a brawler.
Over time, Luffy created transformations called Gears, with the aim to further enhance his speed, strength, and versatility. During the Wano Arc, the alleged Paramecia-class Gom-Gom was revealed to be a Mythical Zoan, the Human-Human, Model: Nika.
Techniques:
Gum-Gum Pistol
Gum-Gum Rocket
Gum-Gum Bazooka
Gum-Gum Gatling Gun
Gum-Gum Whip
Gum-Gum Stamp
Gum-Gum Spear
Gum-Gum Rifle
Gum-Gum Bullet
Gum-Gum Battle Axe
Gum-Gum Storm
---
Gear 2 (Pre-Time Skip)
Luffy developed the Gears after suffering a brutal defeat at the hands of Marine Admiral Aokiji. Taking inspiration from the CP9's Soru technique, he created Gear 2, a form that causes him to increase the blood flow in his body, providing him with more oxygen and nutrients.
With Gear 2, Luffy's metabolic rate increases to the point where his sweat vaporizes so quickly that his body seems to be steaming. This enhances his speed and physical strength tenfold. However, using this form puts immense strain on Luffy's body.
After witnessing Gear 2, Rob Lucci compared it to doping and speculated that its usage would reduce Luffy's lifespan. Luffy neither confirmed nor denied this, answering that nothing would matter as long as he could protect his friends.
Techniques:
Gum-Gum Jet Pistol
Gum-Gum Jet Rocket
Gum-Gum Jet Bazooka
Gum-Gum Jet Gatling Gun
Gum-Gum Jet Whip
Gum-Gum Jet Stamp
Gum-Gum Jet Bullet
Gum-Gum Giant Jet Shell
---
Gear 3 (Pre-Time Skip)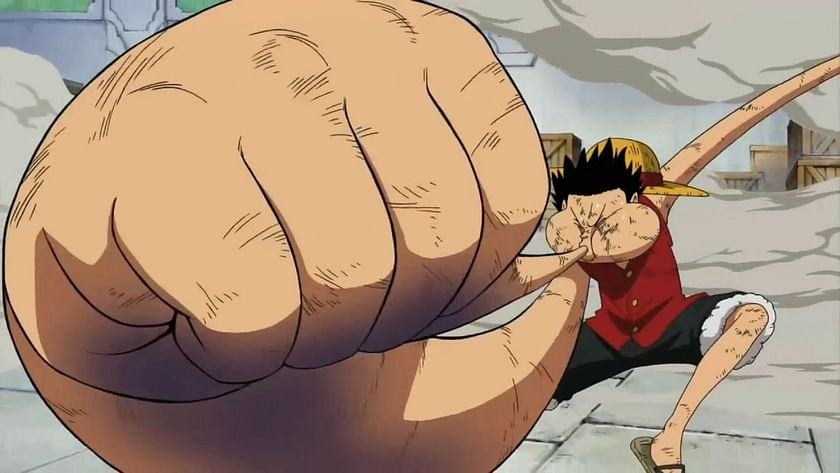 Using Gear 3, Luffy blows air into his thumb and inflates his bones. His body parts become like those of a giant, granting him a major increase in brute force that allows him to deliver blows even mightier than those enhanced with Gear 2.
The downside of this power-up is that, after the enlarging wears off, Luffy's body temporarily shrinks to the size of that of a child. Pushing himself to his limits, Luffy can combine the abilities of Gear 2 and Gear 3, using them simultaneously.
Techniques:
Gum-Gum Bone Balloon
Gum-Gum Giant Balloon
Gum-Gum Giant Pistol
Gum-Gum Giant Whip
Gum-Gum Giant Bazooka
Gum-Gum Giant Stamp
Gum-Gum Giant Rifle
Gum-Gum Giant Axe
Gum-Gum Giant Jet Shell
---
Nightmare Luffy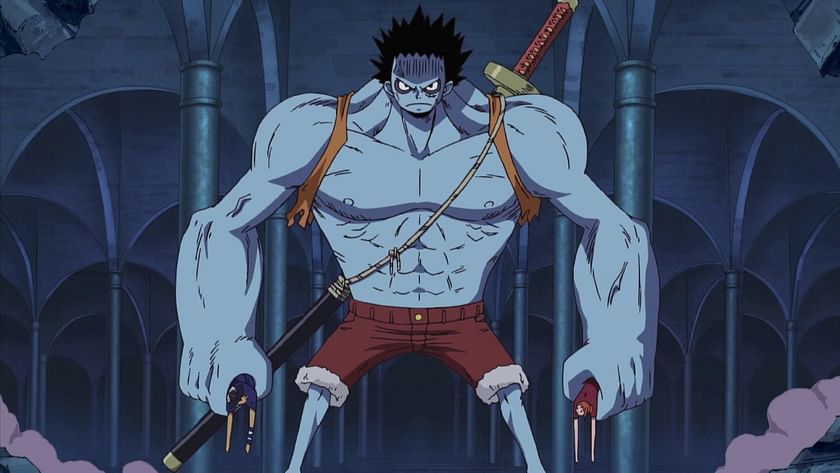 After Gecko Moria stole his shadow, Luffy underwent a very peculiar transformation. The Rolling Pirates brought him a hundred shadows which he absorbed, temporarily turning himself into Nightmare Luffy.
In this form, Luffy's body becomes bigger and bulkier, and his skin turns blue. While most people could only handle two or three shadows at a time, Luffy managed to take a hundred, obtaining an incredible boost of speed and strength that allowed him to completely pummel Moria and Oars.
---
Gear 2 (Post-Time Skip)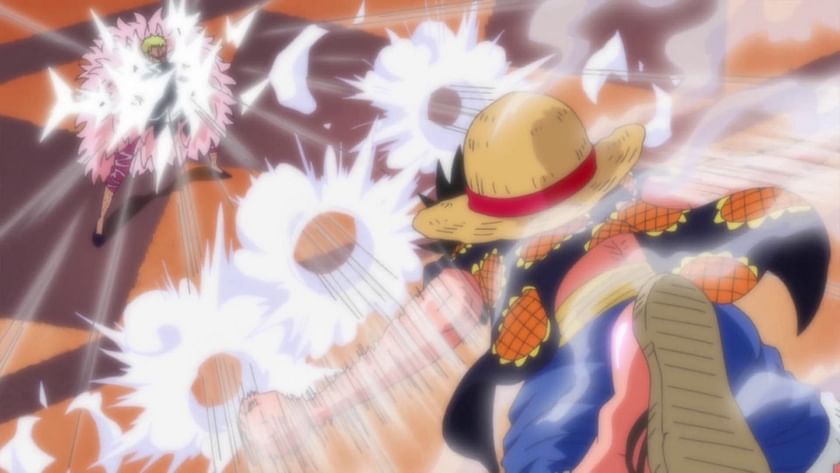 During the time skip, Luffy mastered the usage of Gear 2. His body wouldn't feel any drawbacks anymore, and he also learned to use the form in short, controlled bursts, activating it only in selected parts of his body.
Combining the Color of Armament with Gear 2, Luffy can strike with such force and speed that his fist ignites. Using the Advanced Armament Haki, Luffy can damage his enemies without directly touching them. With the further addition of Conqueror's Haki, his attacks have become inconceivably powerful.
Techniques:
Gum-Gum Jet Mace
Gum-Gum Jet Spear
Gum-Gum Jet Hammer
Gum-Gum Hawk Whip
Gum-Gum Hawk Stamp
Gum-Gum Red Hawk
Gum-Gum Hawk Gatling
Gum-Gum Hawk Rifle
Gum-Gum Eagle Bazooka
Gum-Gum Red Roc
Gum-Gum Roc Gatling
---
Gear 3 (Post-Time Skip)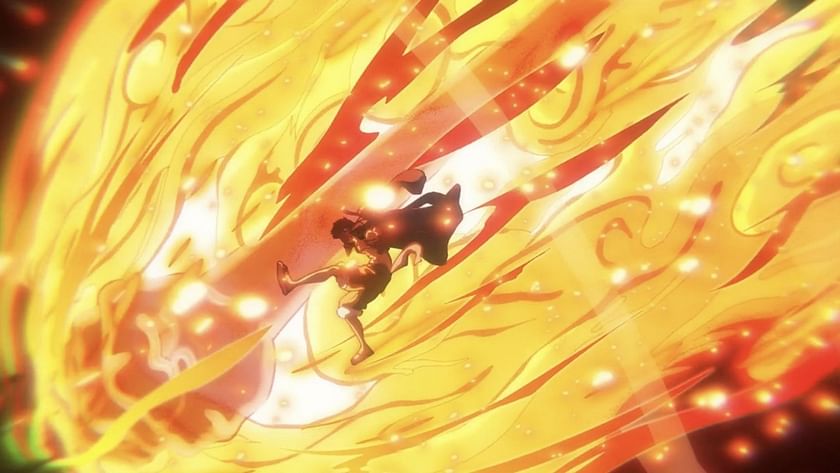 After the time skip, Luffy's body doesn't shrink anymore as a result of Gear 3. His moves are also much stronger due to the addition of the Color of Armament and, after the Wano Arc, the advanced versions of Armament Haki and Conqueror's Haki.
Techniques:
Gum-Gum Elephant Gun
Gum-Gum Thor Elephant Gun
Gum-Gum Elephant Gatling
Gum-Gum Red Roc
Gum-Gum Roc Gun
Gum-Gum Roc Gatling
---
Gear 4 Boundman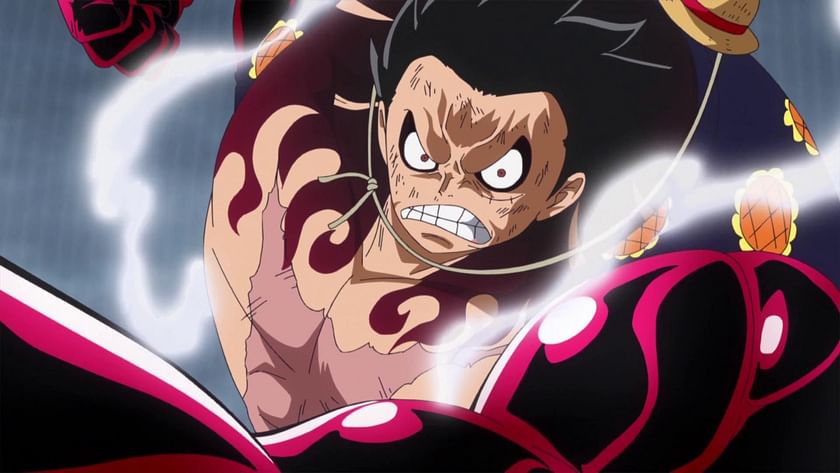 During his training under the tutelage of Silvers Rayleigh, Luffy created new forms based on his rubbery elasticity. By covering his body with Armament Haki and inflating his muscles, he can change himself into a sort of rubber ball that bounces continuously.
This form, called Gear 4 Boundman, allows Luffy to retract his arms and legs inside of his body and then suddenly discharge them, unleashing blows of tremendous power such as the destructive King Kong Gun.
Using Boundman, Luffy can immensely increase his quickness and power. Bouncing up and down in the air at speed, he can even perform some sort of Geppo. He also obtained a defensive boost, as most incoming attacks, even if clad in Haki, would just bounce off his body.
Gear 4 can only be used for a limited period of time, after which it runs out, leaving Luffy unable to use Haki for ten minutes. By the end of the Wano Arc, Luffy could freely deactivate Gear 4 before it reached the time limit.
Techniques:
Gum-Gum Culverin
Gum-Gum Rhino Schneider
Gum-Gum Kong Gun
Gum-Gum Leo Bazooka
Gum-Gum Kong Rifle
Gum-Gum Kong Organ
Gum-Gum Kong Gatling
Gum-Gum King Kong Gun
Gum-Gum Over-Kong Gun
---
Gear 4 Snakeman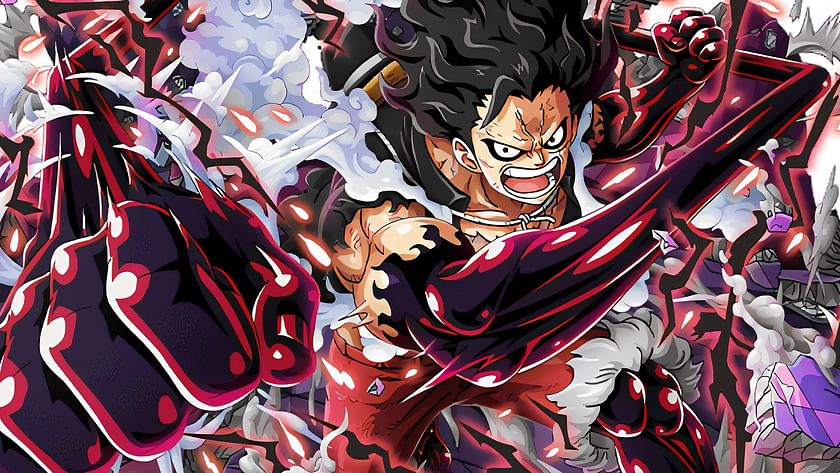 Unlike the other two Gear 4 forms, Snakeman doesn't change the normal proportions of Luffy's body. However, Luffy's hair becomes flame-shaped like his Haki and sticks up. This form is created to deal with agile opponents who specialize in dodging.
Gear 4 Snakeman allows Luffy to not only change the direction of his attacks, an ability he also possesses in his Boundman form, but also to force them into continuous acceleration, increasing the move's speed and power until the hit finally strikes the enemy.
Improving his attacking speed while keeping his body slender, the Gear 4 Snakeman makes Luffy extremely fast and unpredictable. However, it lacks the defensive capabilities of the other two Gear 4 forms, as it can't make blunt attacks bounce off.
Techniques:
Gum-Gum Jet Culverin
Gum-Gum Black Mamba
Gum-Gum King Cobra
Gum-Gum Hydra
---
Gear 4 Tankman
Gear 4 Tankman greatly increases Luffy's defensive abilities. By inflating his muscles, his physique morphs, becoming impenetrable and allowing him to blast the enemies away via the recoil from their own attacks.
Luffy's durability in this form is impressive. He tanked and even deflected Cracker's Armament Haki-enhanced sword, whereas the latter was able to wound Luffy when he was in his Boundman form.
Techniques:
---
Gear 5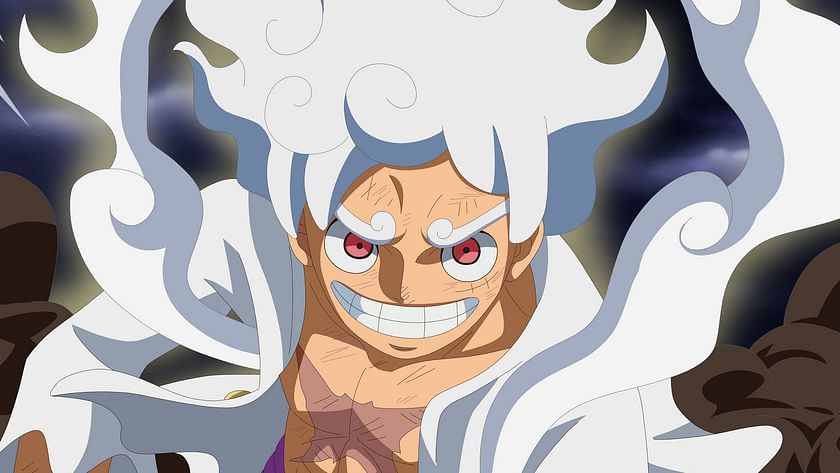 After being struck with Kaido's Thunder Bellow Bagua, Luffy passed out. Shortly after, his body started transforming, as he was unconsciously able to awaken the true powers of his Devil Fruit, thus becoming an incarnation of Nika, the legendary Sun God.
Luffy's previous Gears were limited transformations. The Devil Fruit's true power was dormant, making its abilities more akin to the Paramecia class. After achieving Awakening, Luffy unleashed the real nature of his Devil Fruit as a Mythical Zoan.
As a result of Luffy's new Gear 5 form, his hair and clothes turned white, his eyes glowed red with white ring-like pupils, and white clouds floated around his neck, making him similar to the mythical Sun God Nika.
The transformation significantly enhanced all of Luffy's physical capabilities, far surpassing those of his previous Gear forms. Moreover, it gifted him with unbelievable powers. He was indeed turned into a Warrior of Liberation, capable of fighting while bringing joy to those around him.
Luffy's new abilities literally enabled him to fight following his imagination with complete freedom. He was able to extend the rubbery nature of his body to the environment around him, reshaping and dominating the surroundings.
While in his Gear 5 form, Luffy can perform unreal actions, including crunching the floor, barehandedly catching thunderbolts, and creating sunglasses from his own hair. The Gear 5 was, unsurprisingly, called "the most ridiculous power in the world."
Luffy's body became cartoonishly malleable while simultaneously gaining durability. He was able to freely increase his body and limbs, making them as big as a giant's, without needing to use the bone inflation of Gear 3 and the muscle inflation of Gear 4.
Luffy was able to grab and manhandle Kaido despite the latter's enormous size as a fully transformed dragon. Combining the exceptional powers of Gear 5 with the usage of the advanced versions of Observation, Armament, and Conqueror's Haki, Luffy managed to overcome Kaido.
Even with Gear 5, Luffy remains vulnerable to cutting attacks. Moreover, the form consumes so much energy that when Luffy snaps out of it, he starts aging uncontrollably. To stop the process and reactivate Gear 5, he needs to force his heart back into the rhythm of the "Drums of Liberation."
Techniques:
Gum-Gum Mole Pistol
Gum-Gum Dawn Whip
Gum-Gum Dawn Rocket
Gum-Gum Jump Rope
Gum-Gum Lightning
Gum-Gum Giant
Gum-Gum Bajrang Gun
---
Final Thoughts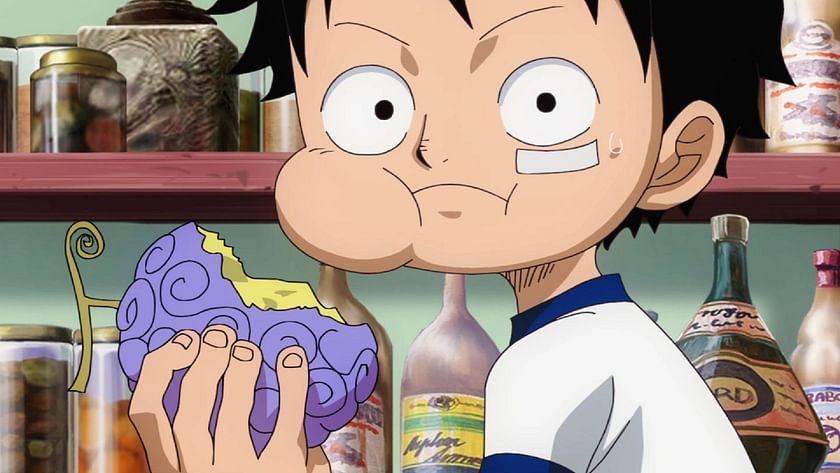 Luffy's Gear transformations have always been a trademark feature of the One Piece series. Fans will never forget the first appearance of Gears in Enies Lobby, as well as Luffy's Gear 4 Boundman against Doflamingo and Gear 4 Snakeman against Katakuri.
The recent reveal of Gear 5 left the One Piece fandom amazed. No one would have expected that Luffy's Gom-Gom Fruit was also a Mythical Zoan that allowed him to transform into the legendary "Sun God" Nika.
Fearing that this power could ever awaken again, the World Government reclassified this Devil Fruit as a Paramecia. However, the item was stolen by Shanks and his men and accidentally eaten by Luffy twelve years before the start of the present narration.
As of now, Luffy is a Yonko-level fighter. Factoring in his Future Sight abilities, the immense power of his Armament and Conqueror's Haki, as well as the unreal abilities of the Gear 5, he is able to gain an edge against almost every other character in the series.
Sportskeeda Anime is now on Twitter! Follow us here for latest news & updates.
Poll : Will Luffy unlock a Gear 6 transformation?
127 votes
Edited by Rachel Syiemlieh