Among the reasons that make One Piece a masterpiece is the author's incredible world building, which encompasses many different characters and organizations.
In the fictional world of the series, characters aren't just humans, but may belong to other races. Each race has its own features and special traits. Follow this thread to find out who is the strongest character for each race.
Disclaimer: This article contains major spoilers from the One Piece manga up to Chapter 1076 and reflects the writer's personal views.
---
Exploring the strongest representatives from each race in One Piece
1) Humans: Rocks D. Xebec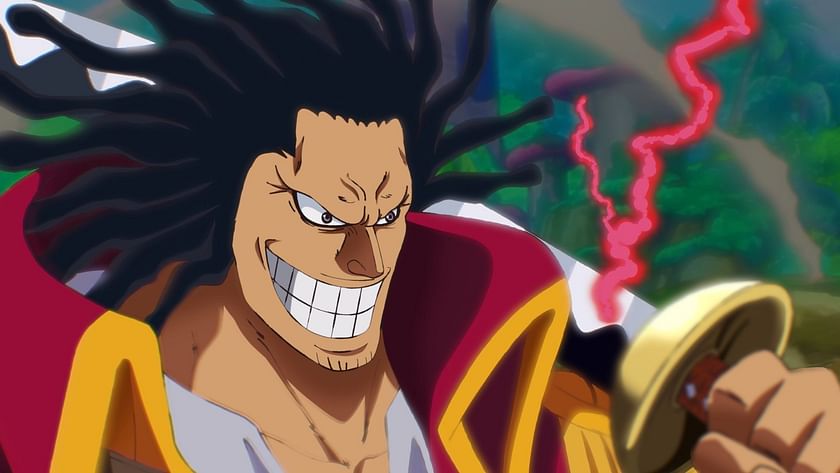 Humans are the most common race in the One Piece world. They do not possess special physical traits. Conversely, many others possess attributes that surpass those of humans.
However, these can significantly increase their strength through several assets: training, genetic enhancements, weapons, Devil Fruit abilities, and the usage of Haki.
Among the many humans who can be considered top-tier fighters in the series, the strongest should be Rocks D. Xebec, a man who the World Government feared to the point where they erased every trace of his life from history.
Xebec led the Rocks Pirates, an infamous crew that included Whitebeard, Kaido, and Big Mom, three of the future Four Emperors. To beat Xebec, Roger, the King of Pirates, and Garp, the Marine Hero, needed to combine their efforts.
---
2) Oni: Kaido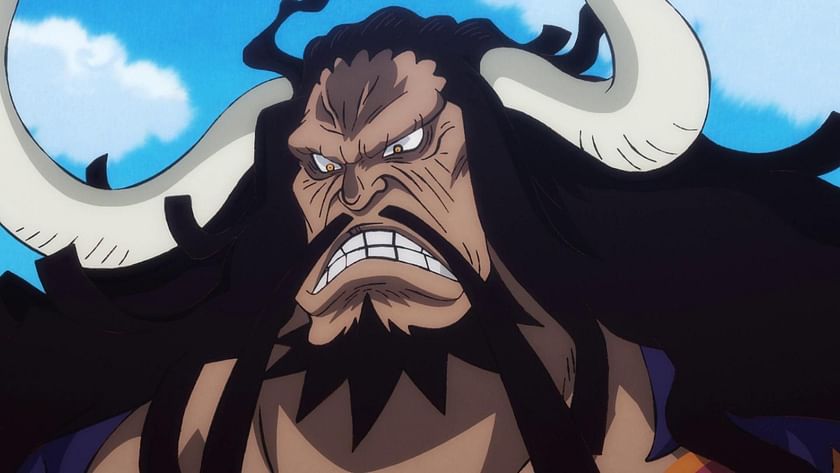 While some humans are larger than the rest, all Oni are bigger than normal humans, dwarfing them in size. Oni also have demonic features, such as sharp-point horns coming from the sides of their heads.
Oni are natural-born human but with superhuman physical capabilities. Their durability, endurance, strength, and speed are way beyond those of normal humans. Among the few Oni featured in the series, Kaido is certainly the strongest.
Kaido was the captain of the Beasts Pirates and one of the Four Emperors. Moreover, he was hailed as the World's Strongest Creature. Not only were his physical features outstanding, but he was also able to coat his attacks with the mighty Conqueror's Haki.
He ate the Fish-Fish Fruit Model Azure Dragon, enabling himself to turn into a dragon or a human-dragon hybrid. During the Wano Arc, Kaido inflicted several beatings on Luffy. He only ended up overpowered after Luffy combined his Awakened Nika-Nika Fruit with the power of his own Conqueror's Haki.
---
3) Lunarians: Alber, better known as King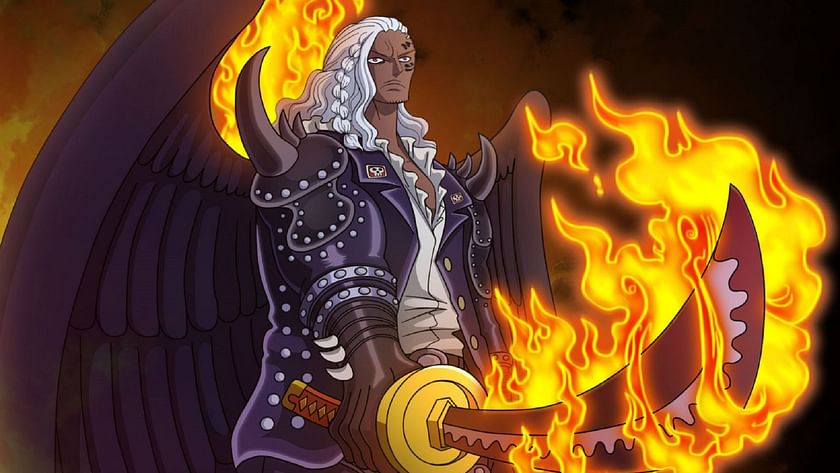 Native to the Red Line, the Lunarians have now disappeared under circumstances that are yet to be revealed. They have a special biology, featuring brown skin, white hair, black wings, and a flame burning on their backs.
Owing to the flame, the Lunarians could endure frightening attacks without receiving any injury. By switching off the flame, they could swap some of their toughness for a sudden speed boost. This earned them a reputation for being a race of gods who could survive anything.
To this day, Alber is the only known Lunarian survivor. Kaido recruited him, making him his right-hand man and giving him the name "King" to emphasize his fearsome capabilities.
During the Wano Arc, King was highlighted as Kaido's strongest and most loyal subordinate. He was hailed as "Wildfire" for his Lunarian ability to create and manipulate fames akin to magma, which in the One Piece world is stronger than normal fire.
Combining his Lunarian powers with the further boost of an Ancient Zoan, King displayed devastating attacks with enough might to destroy pieces of Onigashima, as well as a flawless defense that enabled him to withstand devastating attacks without shedding a single drop of blood.
The World Government seems to be very interested in Lunarians and their special abilities. When King was a child, they tested his resilience. Several years later, they used Lunarians' genetic traits to enhance the Seraphim Unit.
---
4) Fishmen: Jinbe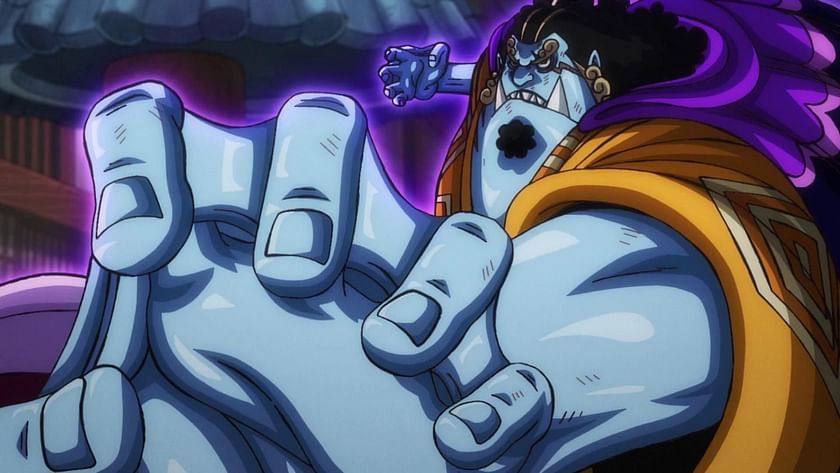 Fishmen are hominids that possess traits of water-breathing creatures, having both lungs and gills. Each one presents features of a type of fish or cephalopod, obtaining different abilities depending on the species.
The average fishman is 10 times stronger than the average human. Underwater, fishmen further amplifiy their strength. They also have the latent ability to manipulate water, which can be developed through martial arts training.
The strongest known representative of this race is Jinbe, a powerful whale shark fishman. Jinbe is the helmsman of the Straw Hat Pirates and one of the top fighters in the crew.
Being the former captain of the Sun Pirates as well as a former member of the Seven Warlords and subordinate of Whitebeard and Big Mom, Jinbe is an outstanding individual. He is a very experienced Armament Haki user.
Jinbe is a master of Fishman Karate, which allows him to control and manipulate any surrounding water source. He also displayed impressive endurance and toughness against characters such as Akainu and Big Mom.
A few years ago, Jinbe fought on equal grounds with Portgas D. Ace. Two years ago, he easily overpowered fellow Warlord Gecko Moriah in Marineford. After joining the Straw Hats, Jinbe fought and brutally beat Who's Who, one of the most prominent executives in the Beasts Pirates.
---
5) Giants: Oars or Loki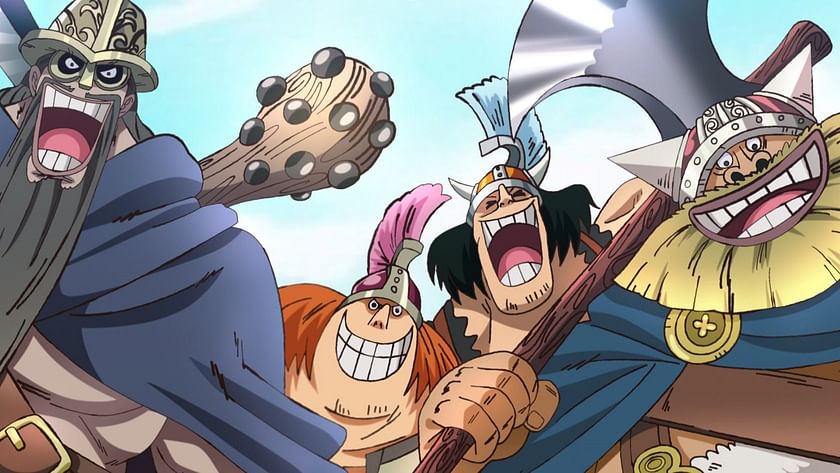 Giants are several times bigger than humans and the smallest one is 12 meters tall. Such large sizes grant them a tremendous amount of physical strength, making them hailed as the mightiest soldiers. The most famous giant homeland is Elbaf, whose inhabitants seem to be friends with Shanks.
The so-called "ancientnts" like Oars and his descendant Little Oars Jr possess horns on their heads, and sharp teeth. Moreover, they are much bigger than other giants. Other giants, such as the Yeti Cool Brothers, belong to a different tribe, with their bodies covered in white fur.
With the current state of knowledge, it's not possible to give a precise estimate regarding who is the strongest representative of the giant tribe. The "Continent-Puller" Oars certainly has remarkable hype.
An infamous ancient giant, Oars was born over 500 years prior to the current storyline and had unbelievable physical power. He died of cold, and hundreds of years later Gecko Moriah used his corpse to create the strongest zombie of his army.
Another giant with a notable reputation for strength is Loki, the current prince of Elbaf, with command over an entire military of giants, whose power was held in high esteem even by Big Mom, one of the Yonko. Loki is bound to be more powerful than Dorry and Brogy, who are fearsome in their own right.
---
6) Sky Island Residents: Enel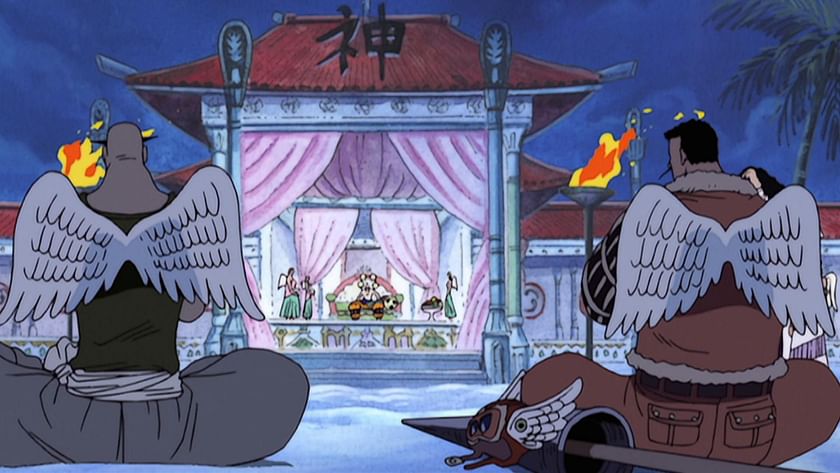 The One Piece universe features three tribes of humanoids native to the Moon, who later came to Earth. They are identical to humans, with the addition of a pair of small wings on their back, which still don't allow them to fly.
Sky People, also known as Skypieans, settled on Angel Island. They are friendly and have a rather civilized lifestyle. Conversely, Shandia are warrior people with primitive customs. They take immense pride in their heritage and physical might.
Shandia settled on a portion of Jaya, which was later shot up into the sky by Knock Up Stream, creating the Upper Yard. The third tribe is that of Birkans. Their island was destroyed by one of their fellow tribesmen, Enel, who later became the ruler of his surviving countrymen.
Enel aimed to reach the Fairy Vearth, a legendary land in the sky which was indeed the Moon. Considering himself to be a divine being, Enel imposed himself as the tyrannical God of Skypiea.
Enel had control over lightning due to the power of the Rumble-Rumble Fruit. He could transform his body into lightning, moving at extreme speeds and striking his foes with devastating bolts. Enel also had great skill with Observation Haki, which he used to refer to as "Mantra."
Enel was far more powerful than any other character featured in the Skypiea Arc. However, he ended up losing against Luffy, whose rubber body was completely immune to Enel's lightning.
Still, the Devil Fruit powers that Enel displayed were notable. Many One Piece fans would not despise his eventual comeback in the series. He would just need to become less overconfident and upgrade his physical abilities.
---
7) Minks: Inuarashi and Nekomamushi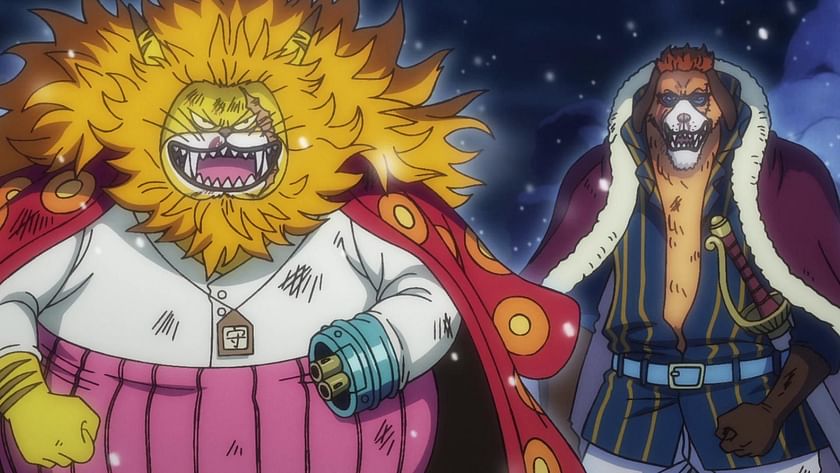 Minks are humanoids that have traits of furry mammalian animals. Minks are natural-born warriors who can use "Electro", the ability to discharge electric shocks. They were born in Zou, where most of them live.
Among Minks, Nekomamushi and Inuarashi are tied as the strongest. Hailed as "Dukes" they are the two leaders of Minks, being, respectively, "Ruler of the Night" and "Ruler of the Day." They are completely equal in both strength and authority.
Both served among the Nine Red Scabbards, Oden Kozuki's retainers. They have notable physical capabilities, further enhanced by the Sulong transformation, a form that Minks can achieve if exposed to moonlight.
Taking turns, Inuarashi and Nekomamushi fought on par with Jack, the fourth strongest member of the Beasts Pirates. In the Wano Arc, exploiting their Sulong form, Nekomamushi beat Perospero, while Inuarashi defeated Jack.
---
8) Longleg Tribe: Smoothie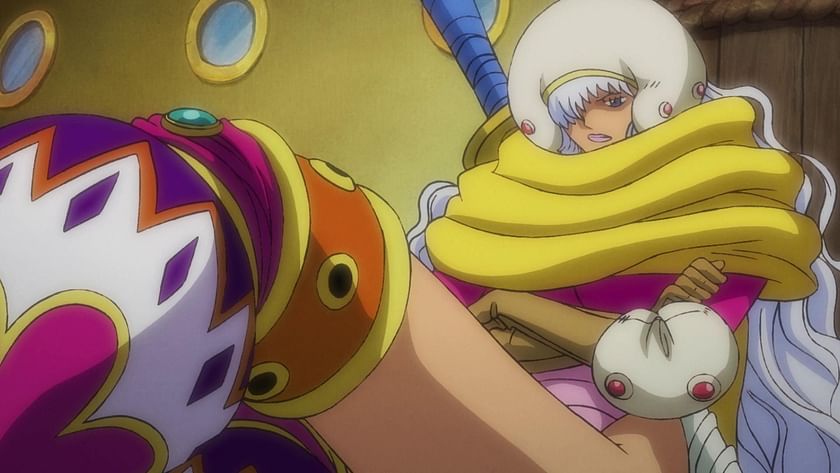 Longlegs are similar to humans, but feature extremely tall legs that augment their height. They possess great strength in their legs. However, depending on the situation, these limbs can turn into weaknesses as well.
The strongest representative of this race is Charlotte Smoothie, one of the three Sweet Commanders of Big Mom Pirates. Using her Wring-Wring Fruit, she can drain liquid from people and objects, transferring it into her body to enhance her capabilities.
---
9) Longarm Tribe: Scratchman Apoo
Longarms resemble humans, but possess significantly longer arms due to their bodies featuring extra elbows. The Longarm Tribe has been in conflict with the Longleg Tribe for over a millennium.
The strongest Longarm should be Scratchman Apoo, the captain of the On-Air Pirates. Being one of the Eleven Supernovas of the Worst Generation, Apoo is considered a "super rookie."
Apoo is very opportunistic, having betrayed Kid and Killer to join Kaido, and later double-crossed the latter's crew as well. In battle, Apoo highlights himself as a tactical fighter. He relies on the Sound-Sound Fruit to perform surprise attacks, delivering damage through the emission of sound waves.
---
10) Three-eyed Tribe: Charlotte Pudding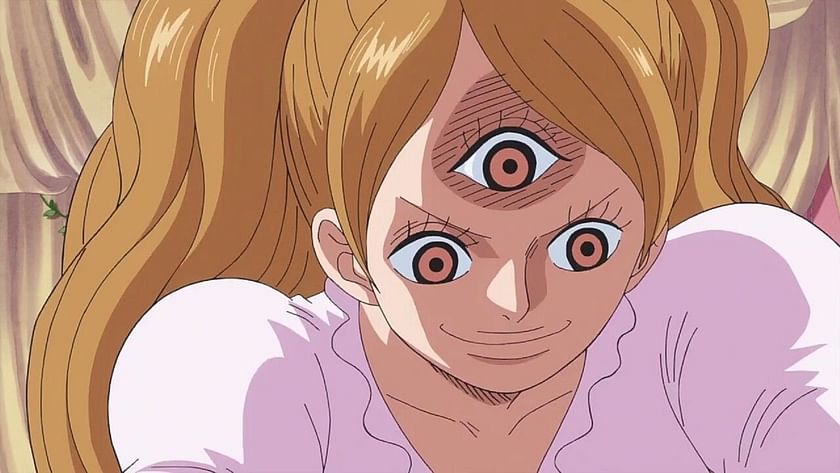 Three-eyed people are identical to humans, except for possessing a third eye on their forehead. Some exceptionally gifted members of this race can awaken their third eye to hear the Voice of All Things and read Poneglyphs.
Charlotte Pudding, the 35th daughter of Big Mom and one of the officers in the crew, is a hybrid between a human and a member of the Three-Eye Tribe. She usually covers the third eye on her forehead with her hair.
Pudding ate the Memo-Memo Fruit, which has allowed her to manipulate memories and extract them in the form of film strips. After being touched by Sanji's kindness, she seems to have truly fallen in love with him. Many One Piece fans believe her to be Sanji's main love interest in the series.
---
11) Dwarves: Leo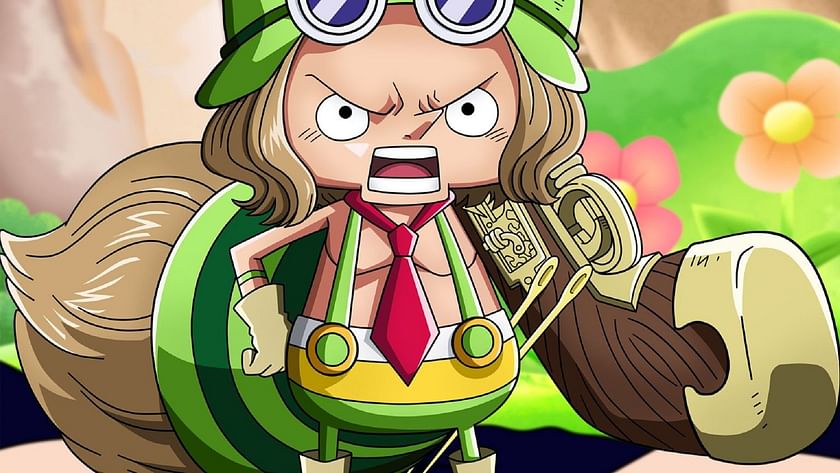 Dwarves are extremely small humanoids and can fit in the palm of an average-sized human hand. They have great physical strength for their size. Moreover, they are extremely fast and have the peculiar skills to be able to cultivate any kind of plant.
A colony of dwarves, the Tontatta Tribe, live on Green Bit. After the events of the Dressrosa Arc, they reformed as a pirate crew now known as the "Tontatta Pirates." Their leader is Leo, who is also the strongest known dwarf.
Leo possesses uncommon agility and physical strength. Exploiting his speed as well as the power of the Stitch-Stitch Fruit, he can use a needle to swiftly bind multiple opponents, knocking them unconscious.
---
12) Wotans: Big Pan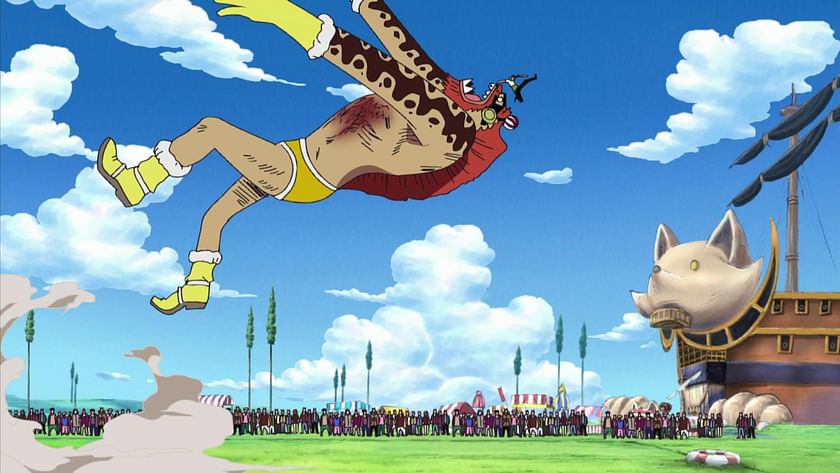 A hybrid race born from the union of a fishman and a giant, Wotans are smaller than giants but bigger than most fishmen. The strongest known member of the tribe, as well as its only known representative, is Big Pan.
Being a Wotan, Big Pan has the typical traits of both giants and fishmen. He possesses the massive size and physical strength of the giants, as well as the abilities of an underwater creature, from his fishman heritage.
Big Pan's skin is extremely slippery, making him resistant to blunt force physical strikes. As a member of the Foxy Pirates, Big Pan challenged the Straw Hat Pirates to the Davy Back Fight. However, Sanji kicked him high in the air, and Zoro finished him, slamming him to the ground.
---
Final thoughts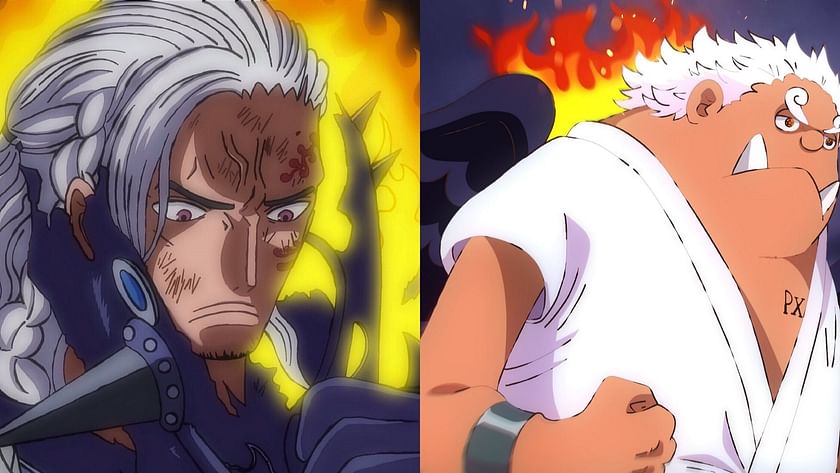 Eiichiro Oda's fervent imagination gifted One Piece fans with an incredibly varied world. Even in recent arcs, new races are still being revealed. Since its introduction in the series, the Lunarian race has been notably emphasized.
Despite Lunarians nearly disappearing, with King as the only known survivor of the tribe, their importance for the plot of One Piece is only rising. Their extraordinary powers, especially their resilience, fascinated the World Government.
The circumstances of the Lunarian race's demise are unknown. Still, the fact that the World Government rewards an enormous sum of 100 million berries to anyone with relevant information about the whereabouts of a survivor certainly comes as suspicious.
The World Government's scientists eventually replicated the Lunarians' natural-born abilities and used them to enhance the Seraphims, cyborgs who replaced the Seven Warlords. This further emphasized the Lunarians as the most powerful race featured in the One Piece series up to date.
Sportskeeda Anime is now on Twitter! Follow us here for latest news & updates.
Poll : Do you think that further races will be introduced in the series?
34 votes