Best Bowling Figures (History) ODI World Cup
| | | | | | | | | | |
| --- | --- | --- | --- | --- | --- | --- | --- | --- | --- |
| SR No. | Player Name | Ovrs | M | W | Runs | ER | Match | Match Date | Venue |
| 1 | Glenn McGrath (AUS) | 7 | 4 | 7 | 15 | 2.14 | Australia vs Namibia | February 27, 2003 | Senwes Park, Potchefstroom |
| 2 | Andy Bichel (AUS) | 10 | 0 | 7 | 20 | 2.00 | Australia vs England | March 2, 2003 | St. George's Park, Gqeberha |
| 3 | Tim Southee (NZ) | 9 | 0 | 7 | 33 | 3.66 | New Zealand vs England | February 20, 2015 | Sky Stadium, Wellington |
| 4 | Winston Davis (WI) | 10.3 | 0 | 7 | 51 | 4.85 | West Indies vs Australia | June 11, 1983 | Headingley, Leeds |
| 5 | Gary Gilmour (AUS) | 12 | 6 | 6 | 14 | 1.16 | England vs Australia | June 18, 1975 | Headingley, Leeds |
| 6 | Ashish Nehra (IND) | 10 | 2 | 6 | 23 | 2.30 | India vs England | February 26, 2003 | Kingsmead, Durban |
| 7 | Shane Bond (NZ) | 10 | 2 | 6 | 23 | 2.30 | Australia vs New Zealand | March 11, 2003 | St. George's Park, Gqeberha |
| 8 | Chaminda Vaas (SL) | 9.1 | 2 | 6 | 25 | 2.72 | Sri Lanka vs Bangladesh | February 14, 2003 | City Oval, Pietermaritzburg |
| 9 | Kemar Roach (WI) | 8.3 | 0 | 6 | 27 | 3.17 | West Indies vs Netherlands | February 28, 2011 | Feroz Shah Kotla, Delhi |
| 10 | Mitchell Starc (AUS) | 9 | 0 | 6 | 28 | 3.11 | Australia vs New Zealand | February 28, 2015 | Eden Park, Auckland |
Best bowling figures of ODI World Cup Year-wise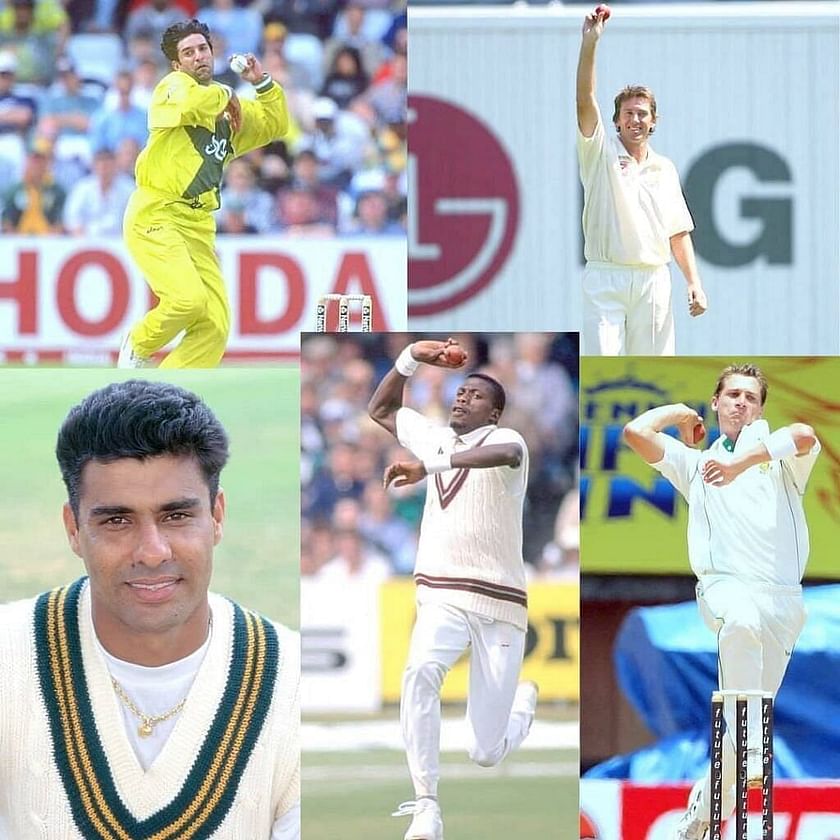 | | | |
| --- | --- | --- |
| Year | Player | BBI |
| 1975 | Gary Gilmour | 6/14 |
| 1979 | Alan Hurst | 5/21 |
| 1983 | Winston Davis | 7/51 |
| 1987 | Craig McDermott | 5/44 |
| 1992 | Meyrick Pringle | 4/11 |
| 1996 | Paul Strang | 5/21 |
| 1999 | Glenn McGrath | 5/14 |
| 2003 | Glenn McGrath | 7/15 |
| 2007 | Andrew Hall | 5/18 |
| 2011 | Kemar Roach | 6/27 |
| 2015 | Tim Southee | 7/33 |
| 2019 | Shaheen Afridi | 6/35 |
A bowler has to pull its socks up in the game of cricket which has often been reflected as the bowler's graveyard. However, a sharp-witted bowler can turn the tables by tottering in the opposition batting order with a parsimonious spell. The Cricket ODI World Cup has seen some exhilarating bowling performances in the last 12 editions and below we will talk about the best bowling figures in the World Cup history.
Who has the best bowling figures in the ODI World Cup overall?
Australia's best ever produced fast bowler Glenn McGrath ran through the feeble Namibia batting unit after Australia posted 301 during the 2003 World Cup league game in Potchefstroom. McGrath picked up seven wickets and conceded just 15 runs from seven overs as Namibia were bowled out for a paltry 45. McGrath, who is the leading wicket-taker of the World Cup with 71 scalps, also holds the best bowling figures of the tournament.
Click here for ICC World Cup 2023 Schedule.
Just two days after McGrath's sensational spell, Andy Bichel, another threatening pace weapon in the Aussie tank, shouldered the responsibility to restrict England to a below-par score of 204 for 8. Among the eight wickets, Bichel snared seven of them while giving just 20 runs from his full quota of 10 overs in Australia's thrilling two-wicket win. Three more pacers in the same tournament bowled stupendously to bag six wickets each in an innings.
Australian speedster Mitchell Starc registered 6 for 28 against trans-tasman rivals New Zealand in a low-scoring thriller at Auckland in the 2015 World Cup league fixture. Starc's figures went in vain with Blackcaps taking a one-wicket win home and that incredible spell turned out to be the 10th best bowling figures in the ICC World Cup history.
Click here for Indian Cricket World Cup 2023 Squad.
Interestingly, there aren't any spinners featured in the list of top 10 bowling figures in the quadrennial event at the moment. Perhaps the 2023 World Cup will present them the opportunity, given the spin-assisting conditions in India.