ICC ODI World Cup 2023 Points Table
ICC World Cup 2023 Points Table
ICC World Cup 2023 Points Table is going to see a lot of movement of the team's positions after every game. All 10 participating teams in the 13th edition of the Cricket World Cup will have a target to finish in the top four of the ODI World Cup 2023 points table in order to qualify for the second stage. The tournament will be played in the round-robin format followed by the knockout stage with a total of 48 matches scheduled in India.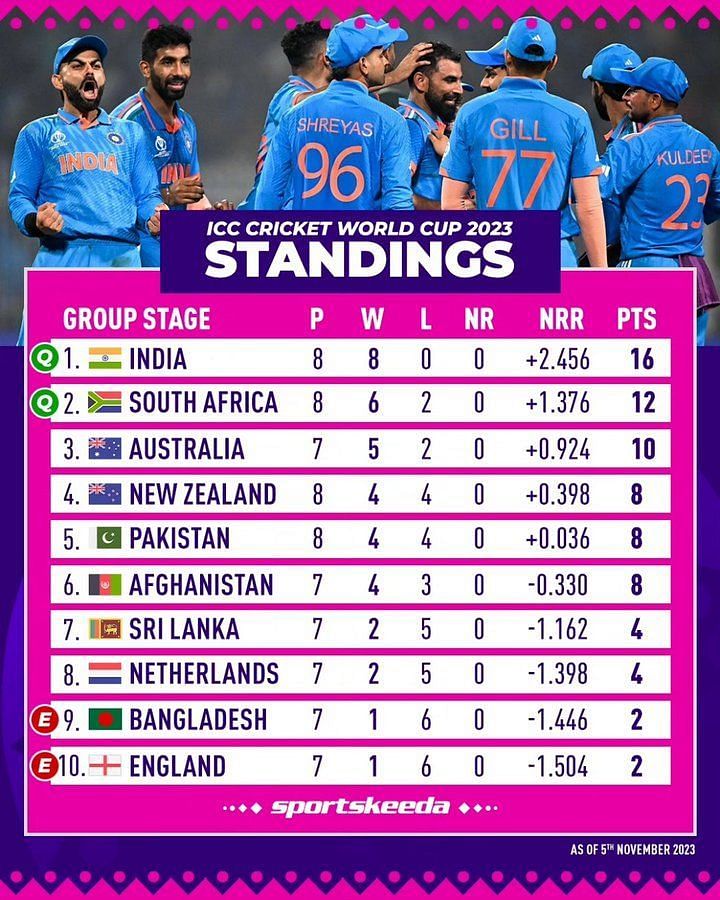 ICC World Cup 2023 Points Table Rules
The team winning a game will be awarded with 2 points in ICC World Cup 2023 Points table. Each of the 10 teams will play once against every opponent in the round-robin format. In other words, one team will play nine matches in the league stage, a similar format adopted in the previous edition in England.
The top four teams that finish will qualify for the semi-final round of the ICC World Cup 2023 Points Table. Every victory for a team will earn them two points while a loss will add nothing to the points table. Both teams will share one point each in case of a tied/no result match. Matches where the weather or any other unforeseen circumstances enforce the game to be abandoned fall under the category of no result with no points awarded in ICC World Cup 2023 Points Table.
Matches that end with both teams leveling the scores are considered under-tied results. Unless there is no knockout game, a tied match won't progress to a super over and hence both teams have to settle with one point only.
The Cricket World Cup 2023 points table will be based on the standing of the teams and they will decide which four teams advance to the semi-final stage or eliminate from the tournament. In case where two or more teams end up with same number of points, the team with a superior net-run-rate (NRR) will have the edge over the others.
Click here for ODI World Cup 2023 Teams & Squads
Where can you check the ICC Cricket World Cup points table for 2023?
The updated ICC World Cup Points Table for 2023 will be available on Sportskeeda after the completion of every match. Do follow us for more updates related to cricket and other sports news.
ICC World Cup Points Table in 2019
| | | | | | | | |
| --- | --- | --- | --- | --- | --- | --- | --- |
| Teams | Mat | Won | Lost | Tied | NR | Pts | NRR |
| India | 9 | 7 | 1 | 0 | 1 | 15 | 0.809 |
| Australia | 9 | 7 | 2 | 0 | 0 | 14 | 0.868 |
| England | 9 | 6 | 3 | 0 | 0 | 12 | 1.152 |
| New Zealand | 9 | 5 | 3 | 0 | 1 | 11 | 0.175 |
| Pakistan | 9 | 5 | 3 | 0 | 1 | 11 | -0.43 |
| Sri Lanka | 9 | 3 | 4 | 0 | 2 | 8 | -0.919 |
| South Africa | 9 | 3 | 5 | 0 | 1 | 7 | -0.03 |
| Bangladesh | 9 | 3 | 5 | 0 | 1 | 7 | -0.41 |
| West Indies | 9 | 2 | 6 | 0 | 1 | 5 | -0.225 |
| Afghanistan | 9 | 0 | 9 | 0 | 0 | 0 | -1.322 |
ICC World Cup Points Table in 2015
| | | | | | | | |
| --- | --- | --- | --- | --- | --- | --- | --- |
| Pool A | Mat | Won | Lost | Tied | NR | Pts | NRR |
| New Zealand | 6 | 6 | 0 | 0 | 0 | 12 | 2.564 |
| Australia | 6 | 4 | 1 | 0 | 1 | 9 | 2.257 |
| Sri Lanka | 6 | 4 | 2 | 0 | 0 | 8 | 0.371 |
| Bangladesh | 6 | 3 | 2 | 0 | 1 | 7 | 0.136 |
| England | 6 | 2 | 4 | 0 | 0 | 4 | -0.753 |
| Afghanistan | 6 | 1 | 5 | 0 | 0 | 2 | -1.853 |
| Scotland | 6 | 0 | 6 | 0 | 0 | 0 | -2.218 |
| Pool B | | | | | | | |
| India | 6 | 6 | 0 | 0 | 0 | 12 | 1.827 |
| South Africa | 6 | 4 | 2 | 0 | 0 | 8 | 1.707 |
| Pakistan | 6 | 4 | 2 | 0 | 0 | 8 | -0.085 |
| West Indies | 6 | 3 | 3 | 0 | 0 | 6 | -0.053 |
| Ireland | 6 | 3 | 3 | 0 | 0 | 6 | -0.933 |
| Zimbabwe | 6 | 1 | 5 | 0 | 0 | 2 | -0.527 |
| United Arab Emirates | 6 | 0 | 6 | 0 | 0 | 0 | -2.032 |
ICC World Cup Points Table in 2011
| | | | | | | | | |
| --- | --- | --- | --- | --- | --- | --- | --- | --- |
| Group B | Mat | Won | Lost | Tied | NR | Pts | NRR | |
| South Africa | 6 | 5 | 1 | 0 | 0 | 10 | 2.03 | |
| India | 6 | 4 | 1 | 1 | 0 | 9 | 0.9 | |
| England | 6 | 3 | 2 | 1 | 0 | 7 | 0.07 | |
| West Indies | 6 | 3 | 3 | 0 | 0 | 6 | 1.07 | |
| Bangladesh | 6 | 3 | 3 | 0 | 0 | 6 | -1.36 | |
| Ireland | 6 | 2 | 4 | 0 | 0 | 4 | -0.7 | |
| Netherlands | 6 | 0 | 6 | 0 | 0 | 0 | -2.05 | |
| Group A | | | | | | | | |
| Pakistan | 6 | 5 | 1 | 0 | 0 | 10 | 0.76 | |
| Sri Lanka | 6 | 4 | 1 | 0 | 1 | 9 | 2.58 | |
| Australia | 6 | 4 | 1 | 0 | 1 | 9 | 1.12 | |
| New Zealand | 6 | 4 | 2 | 0 | 0 | 8 | 1.13 | |
| Zimbabwe | 6 | 2 | 4 | 0 | 0 | 4 | 0.03 | |
| Canada | 6 | 1 | 5 | 0 | 0 | 2 | -1.99 | |
| Kenya | 6 | 0 | 6 | 0 | 0 | 0 | | -3.04 |