| Pos | Player | Team | | | | | | | | | |
| --- | --- | --- | --- | --- | --- | --- | --- | --- | --- | --- | --- |
| 1 | | | 7 | 7 | 48.5 | 24 | 5.26 | 10.71 | 1 | 3 | 7/57 |
| 2 | | | 11 | 11 | 96 | 23 | 5.36 | 22.39 | 3 | 0 | 4/8 |
| 3 | | | 9 | 9 | 78.2 | 21 | 6.70 | 25.00 | 1 | 1 | 5/80 |
| 4 | | | 11 | 11 | 91.5 | 20 | 4.06 | 18.65 | 1 | 0 | 4/39 |
| 5 | | | 8 | 8 | 63.3 | 20 | 6.24 | 19.80 | 1 | 0 | 4/44 |
| 6 | | | 9 | 9 | 81 | 18 | 5.94 | 26.72 | 0 | 1 | 5/54 |
| 7 | | | 9 | 9 | 69 | 17 | 6.52 | 26.47 | 0 | 0 | 3/31 |
| 8 | | | 11 | 11 | 93.3 | 16 | 4.26 | 24.88 | 0 | 1 | 5/33 |
| 9 | | | 11 | 11 | 93.1 | 16 | 4.82 | 28.06 | 0 | 0 | 3/38 |
| 10 | | | 10 | 10 | 92.4 | 16 | 4.85 | 28.06 | 0 | 1 | 5/59 |
| 11 | | | 10 | 10 | 87 | 16 | 6.07 | 33.00 | 0 | 0 | 3/34 |
| 12 | | | 9 | 9 | 79 | 16 | 6.75 | 33.31 | 0 | 0 | 3/43 |
| 13 | | | 9 | 8 | 67 | 16 | 7.27 | 30.44 | 1 | 0 | 4/62 |
| 14 | | | 10 | 10 | 89 | 15 | 4.16 | 24.67 | 1 | 0 | 4/46 |
| 15 | | | 11 | 11 | 95.1 | 15 | 4.46 | 28.27 | 0 | 0 | 2/7 |
| 16 | | | 9 | 9 | 79.4 | 15 | 5.18 | 27.53 | 0 | 0 | 3/42 |
| 17 | | | 11 | 11 | 89.3 | 15 | 5.75 | 34.33 | 0 | 0 | 3/51 |
| 18 | | | 10 | 10 | 91 | 14 | 5.54 | 36.00 | 0 | 0 | 3/37 |
| 19 | | | 11 | 11 | 82.3 | 14 | 5.68 | 33.50 | 0 | 0 | 3/16 |
| 20 | | | 9 | 9 | 72.5 | 13 | 5.00 | 28.00 | 0 | 0 | 3/33 |
Most Wickets in Cricket World Cup 2023
Most Wickets in World Cup 2023
The ICC Cricket World Cup 2023 is in full flow across the length and breadth of India. The bowlers are expected to have a good run and will aim at finishing with the most wickets in World Cup 2023 in their kitty.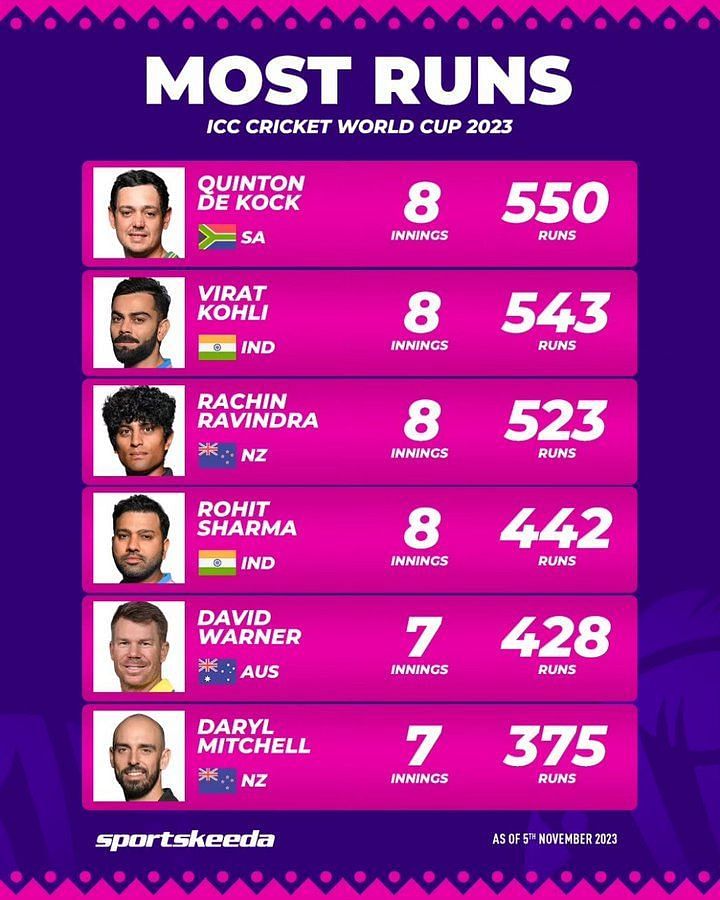 There are several big names, who will ply traits for their respective country with the ball in the ICC World Cup 2023. With the likes of Jasprit Bumrah, Mitchell Santner, Shaheen Shah Afridi, Trent Boult, and others, it will be interesting to watch which bowler will end up finishing on the top in ICC World Cup 2023 for Most wickets
While batsmen from nearly all participating nations have made merry on easy-paced pitches, skillful bowlers have found a way to make their mark.
Rules for Most wicket-taker in ICC ODI World Cup 2023
The award for top wicket-taker of the ICC ODI World Cup 2023 will be given to the bowler, who will end up taking the most wickets adding all the games played by the player. Every team will get equal games to play and bowler will look to use the opportunity to the best of their abilities.
Most wickets in ICC ODI World Cup 2023 FAQs
1) Will the wickets taken in the first stage of ICC ODI World Cup 2023 round count for most wickets?
Yes
2) Who took the most wickets in ICC ODI World Cup 2019?
Mitchell Starc