Book Review: Wisden India Almanack 2013
905 //
24 Mar 2013, 00:35 IST
One of the things that I've said to our two children over the years is to treat every day as an opportunity to learn something new. I subscribe to the theory myself, of course and enjoy learning something different in relation to subjects old and new.
That being the case, I found the first edition of the Wisden India Almanack, edited by Suresh Menon, an absolute delight. I'd suggest that most cricket fans are parochial, more aware of things in their own 'backyard' than elsewhere. It is understandable, as is the decision to publish the first of what I am sure will be a long run of the book. India is now, whether some may like it or not, the epicentre of the world game. It has been so since the advent of the IPL and will doubtless continue in years to come. Money talks, after all.
Though understandably less weighty than its parent, which is preparing for its 150th edition, the book still weighs in at an impressive 756 pages and contains an array of excellent writing. It is ironic yet somehow appropriate that the book's debut allows for a fond farewell to two of the greats of the Indian game, Rahul Dravid and VVS Laxman, but its greater joy is in highlighting some of the many things that I didn't know about the Indian game.
Thus, we read about S Thiyagarajan, better known as Thiyagu, who earned himself a million rupee IPL contract at the age of 28, despite never having played first-class cricket. Royal Challangers Bangalore were rewarded with 161 runs in five matches for only once out, a rags to riches story to gladden the heart. There's also a fine article by Akash Chopra of Rajasthan, a side with 'not a reputation to honour, not a score to match up, not even an expectation to live up to'. They had been also-rans for years, 76 seasons without a trophy, yet won back to back Ranji Trophies in 2010-11 and 2011-12. If it was baseball, they'd be turning into a film sometime soon. It also rings very true to a Derbyshire fan.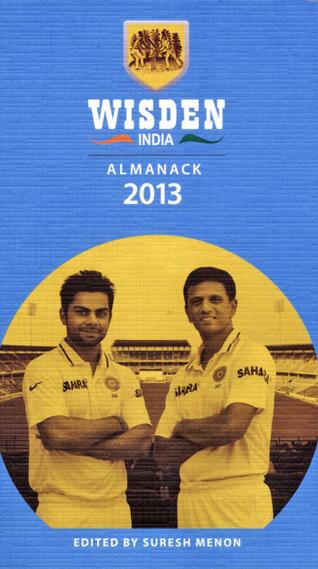 It is a delight to read new writers, some of them very familiar names. Bishan Bedi writes an excellent piece on the late Nawab of Pataudi, while Javagal Srinath and Sanjay Manjrekar do the same for Kapil Dev and Sunil Gavaskar. The six cricketers of the year are all from the sub-continent, but Kumar Sangakkara, Saeed Ajmal and Shakib-Al-Hasan are deserving of the honour, alongside Rahul Dravid, Virat Kohli and Umesh Yadav.
Some of the staples of the original are here, including obituaries and book reviews, but the more detailed write up of the IPL and domestic cricket is useful and worthwhile to the enthusiast. Meanwhile, coverage of the international series around the globe is good, though there is a certain curiosity value in seeing county cricket's events condensed to a mere two paragraphs. If I'm honest, seeing Lancashire and Middlesex presented as divisional champions came as a surprise, but the publication schedule dictated that the book does not cover the current season at home, so doesn't cover the English one that preceded it. The overseas trophy winners are thus those of 2011, rather than 2012.
This is India's almanack though. If you want to broaden your cricket knowledge, widen your horizons and read some excellent writers, many of who will be new to you, I would recommend it. For many cricket fans in the UK, it is no replacement for the 'big Wisden', but there will be plenty of interest from Asian fans here, while those in India will undoubtedly find the book an essential purchase.
It should be a best-seller and deservedly so. Warm congratulations to everyone involved in a new initiative that looks set to run and run.
Wisden India Almanack 2013 is edited by Suresh Menon and published by Bloomsbury India. It is available in all good book stores, priced £25 and is currently £21.25 on Amazon.