Interview with Kings XI Punjab captain George Bailey – "In Miller and Maxwell we have the firepower that makes us a strong chasing side"
4.69K //
03 May 2014, 19:27 IST
Winning the first 5 games, competing for the top of the table spot with his former franchise Chennai Super Kings and Glenn Maxwell in surreal form – leading Kings XI Punjab in this IPL season, George Bailey couldn't have asked for more.
After doing some good business in the auctions, KXIP have enjoyed a rather near perfect start to the new campaign, emerging as one of the top contenders for the IPL 7 crown.
With the likes of David Miller and Maxwell living up to the expectations and the pool of youngsters surprising everyone with some top notch performances, Bailey looks pretty confident about his side's chances to go all the way this season.
Recently, Sportskeeda caught up with Bailey as he reflected on KXIP's impressive start to this IPL season, captaining the franchise and more.
This being the best ever start for the KXIP in IPL, and also being the first time the tournament is played in UAE, do you think starting the tournament away from home has somehow been an advantage for your side?
Not at all. All teams begin each season equal and what has gone before counts for nothing. Particularly in the years after a major auction where there has been lots of team movements from players.
This is your first year with KXIP and you're also being appointed as their captain. Did you expect the role coming your way ahead of several other senior pros in the team?
I didn't expect it, but I am aware of the fact that captaincy is something I have done a bit of and is one of the reasons teams may be interested in me. Having the experience of senior guys around you just makes things easier as they all contribute ideas and set the standards for the group.
How different is the role of captaining an IPL side when compared to the national side? What remains the biggest challenge in leading a side with cricketers from different cricketing backgrounds?
In T20s, captaining an IPL side is much more enjoyable than captaining a national team, simply due to the fact you spend more time together as a group. You have a chance to build up a strong team ethos and enjoy each others company off the field a lot more. The biggest challenge for me was getting to know the players as quickly as possible, not so much their cricketing skills but more characters and how they think about the game and they respond to different scenarios. When players are under the pressure of a game, it is important to know how you can best help them play the as well as possible.
Was it difficult to pick the uncapped Indian youngsters into the side considering how difficult it must be to assess them in limited preparation time ahead of the season?
That may have been an advantage from my point of view – my lack of knowledge of which players were uncapped, or supposed to be the better players meant I was very open minded about trying to pick the best XI and best balanced team we could. We had lots of knowledge in the coaching staff in the forms of Sanjay, Sridhar and Joe Dawes on the local players anyway. So we put all those ideas together.
With Maxwell and Miller in top form right from the very first game, do you back your side chasing any score, against any opponent this season?
They both started the tournament amazingly well and those first two chases were phenomenal – I think we have lots of firepower that makes us a strong chasing side. Having said that, we hope our bowling and fielding will be good enough that we don't have to chase too many big scores too often.
How important is it to have Preity Zinta and Ness Wadia – the owners of KXIP – around for almost every game, supporting the team. Do you see it as added pressure or a morale booster for the side?
They add no pressure. They are at the games because of their passion for the team and as supporters. As owners they are fantastic because they allow the cricket people to make the cricket decisions. They just add value and support wherever it is possible for them. It is great to win a game and see the big smiles on their faces in the stands.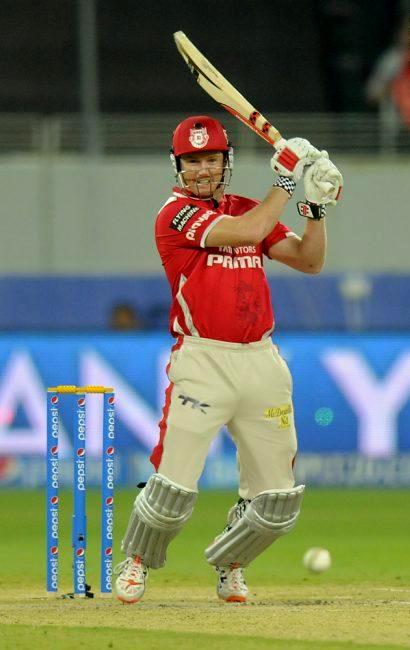 You've been a part of the CSK dugout over the last couple of years. However, you never really got the number of opportunities to perform that you might have expected. Would you wish to have played more games in the past couple of seasons?
Of course – I am a cricketer, so I like to play the game. But I never expected to play more at CSK. I had much better players ahead of me and so it was just a case of trying to learn as much, experience as much and absorb as much as I could whilst I was there.
You still haven't got enough opportunities to bat, thanks to some incredible outings from Miller and Maxwell. Do you see that as a matter of concern that you haven't spent enough time on the crease so far?
In an ideal world I wouldn't bat in any game – I hardly see it as a concern that your middle order don't have to bat too much! Something must be going well at the top if that is the case.
Of course as a unit, you'd still find ways to better your previous performances. What are the key areas that you'd still want your side to improve before the key fixtures back on the Indian pitches?
Everywhere! As a team and as individuals we are hopefully never fully happy with our performance. That is the driver to continue playing and training as hard as we do. To get better.
Do you think the team composition would change significantly when you're back in India?
Yes, we see the tournament for us as being in three stages. The UAE leg, this first period in India where we travel quite a bit and the third leg at home in Mohali. I think our composition will change at different stages in these legs depending always on performance, team balance and the pitches.
How crucial is the role of the batting coach Sanjay Bangar to the progress KXIP have made so far in the season?
It has been great working with Sanjay. He is highly respected by our team and our opponents alike. He is a deep thinker, who has a great insight into the tactics of the game, and also the mindset. He is very calm and rational and does not get too flustered or too excited regardless of the outcome. He is very focused on how we play rather than the outcome – I like that approach.