Top 5 innings by MS Dhoni in T20 cricket
Dhoni was the captain of the Indian team that won the inaugural T20 world cup in the year 2007. He is also the most successful captain among all IPL playing teams, leading the Chennai Super Kings to victory in three tournaments, twice in the IPL (2009 and 2011) and once in the Champions League (2010). Captaincy comes naturally to this man, as does striking huge sixes and taking stunning catches behind the stumps.
He offers so much to a team in so many departments. He can keep wickets, can bat at no. 5 or 6 to give the late impetus to the innings which is almost always required, and captains his side, being the most successful captain in the world at that.
He has played in 159 Twenty 20 games till date and has a batting average of 35.7 and a strike rate of over a 135. He has also affected 117 dismissals as wicket-keeper.
Here is a compilation of his best T20 performances, and it does not need telling that he is able to tilt the game in his team's favour whenever he plays well.
5. 45 (33) vs South Africa (ICC World T20, Durban, 2007)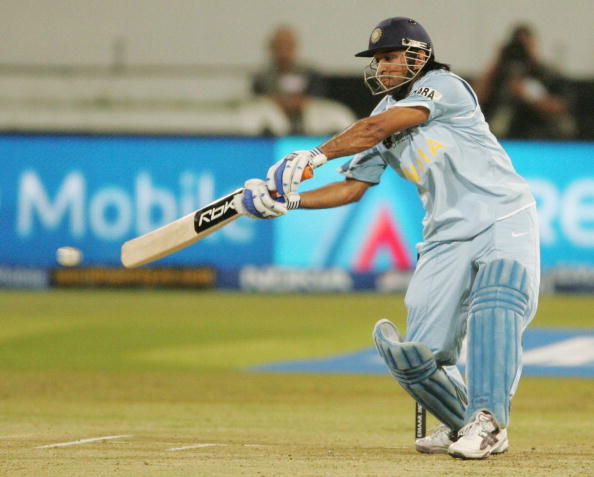 This was a significant performance considering that it was the first ever T20 World Cup and India had had a bad start in the match batting first, losing 4 wickets in the first 10 overs with only close to 60 runs on the board.
Dhoni, along with Rohit Sharma, starred in an 85-run partnership to ensure that India reached a defendable total of 153, which they did defend, knocking South Africa out of the tournament and securing a place in the semi-finals.
Dhoni played a useful hand, not going for boundaries initially but rather focussing on settling down and building his innings. He hit 4 fours and a six. Dhoni and Sharma added 85 in 61 deliveries after the initial slump of the batting order.
The bowlers were able to restrict South Africa to 109 thanks to some brilliant bowling by RP Singh who picked up a 4-wicket haul.