"Virat Kohli and I used to exchange Punjabi songs" - Mandeep Singh
8.77K //
18 Dec 2012, 13:05 IST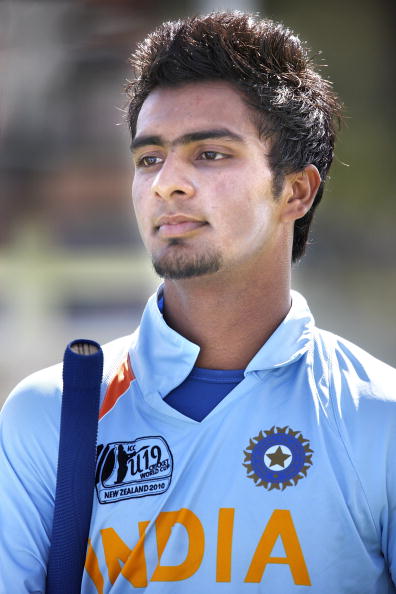 Mandeep Singh is an explosive cricketer who plays for the Punjab Ranji team and Kings XI Punjab in the IPL. He is one of the most promising young cricketers in the country today. He loves Bhangra and Punjabi music just as much as he loves thrashing the bowlers all around the park.
Q. Punjab is on top of the points table in Ranji Trophy.What do you think is the reason for this result?
First of all, I think it's the effort of Vikram Rathore (ex-Ranji coach now an Indian selector). He has worked really hard with the players for the last 2 years, especially on the technical aspects. He has also been able to instil self- confidence in players. We as a team believe that we can win the Ranji trophy which is the most important thing. Players have belief in each other's ability and themselves, and most importantly, in the team as well. We usually see this kind of belief in Punjab's junior teams, but now we are seeing it in our senior team as well.
Q. How much has your IPL stint with the Kings XI Punjab helped you?
The IPL is a pretty good platform and playing with likes of Adam Gilchrist, David Hussey and Azhar Mahmood is just amazing. Playing with international cricketers always helps as you get to learn a lot from them- how they train, how they keep themselves fit on and off the field, what their diet is, etc. It's amazing. Kings XI has given me very good opportunities which I grabbed with both hands. Opening the innings with likes of Gilly n Marshy was just wonderful !
Q. You were also awarded with the "Rising Star of the Tournament." Do these kinds of awards help in boosting confidence?
These awards definitely help. It is a real confidence-booster when you get an award in such a big tournament or you perform well against big players.
Q. The IPL has been criticized a lot. Is it a good platform or has it brought down the level of the game? What are your views as a player?
Playing with likes of Gilchrist, Azhar Mahmood, Hussey and Ryan Harris is just amazing and is a great learning experience. It's like a dream and you get to share the dressing room with them and learn so much from them. I think the IPL has made it easier for budding cricketers to have a career in the game. I mean, there is nothing better than playing with Gilchrist at the age of 20 and playing against your idol Sachin Tendulkar; and if a chance comes, you can get to meet Sachin and ask him whatever you want to ask after the game.
Q. So did you ever get a chance to meet Sachin and talk to him?
I have met him but unfortunately, I never got a chance to talk about cricket. Before the U-19 World Cup in 2010, we did have a small session talk with him as a team which was really encouraging. I do hope I get a chance to talk to him about cricket some day.
Q. You scored a double century against Mumbai recently. Would you rate it as your best innings so far ?
No it wasn't my best. It was good to score a double hundred against a team like Mumbai, but it wasn't my best innings.
Q. Do you change your game according to the format? If yes, then what changes do you bring to your game?
I do. I believe a good player is one who changes his game according to the situation. For example, when I play T20 cricket my backlift is much higher than when I play four-day matches, where I need to cut down on my backlift.
Q.You were the vice-captain of the India U-19 team which played in the 2010 World Cup. Many current players in the Indian team have been part of the India U-19 team. Are you hoping to play for India soon?
Every cricketer dreams to play for India whether or not he plays for the U-19 team. But yes, many players have graduated to the senior team from the under 19s, which is great. I hope I'll get the opportunity to play for India soon.
Q.Virat Kohli was the captain of the U-19 team and now is an important part of the national team. Do you both still keep in touch? Do you feel a little left behind?
Viral Kohli was the captain in the 2008 World Cup while I was the vice-captain of 2010 World Cup, so there is no question of being left behind. But yes, I know him since the 2008 world cup. We used to exchange Punjabi songs as we both love to listen to music, especially Punjabi music. I think he is one of the best talents in India and his confidence is amazing !