Football is a sport of emotions. Audiences show it more than the players themselves. Sadness and happiness can both be visible, one section of the crowd seems full of joy, hugging each other and shouting with tears of joy dripping, while another section is full of sadness, finding ways to control tears rolling down their eyes like a downpour of rain. Football matches are bound to be an emotional affair however small they may be. And when it comes to a final, emotions go beyond expectations. Champions League 2005 was one of those spectacular tournaments which people will remember even 50 years down the lane.
Liverpool and Milan probably played the the most tiring, emotional and praiseworthy football match of their lifetimes.
25 May, 2005. The Ataturk Olympic stadium in Istanbul, Turkey was jam packed with an approximate audience of over 70,000. Flocks of football fanatics arrived from Italy and England to witness what was going to be a final to remember. There was a lot at stake for both the teams. The pressure was immense. That's what happens in finals of huge championships like these. The whole pride of the nation rides on the shoulders of the 11 players who have to step out from either sides and show why they are where they are and why they deserve to play this match. On that day, Istanbul had a different atmosphere altogether and was about to host a spectacular evening.
The lead up to the final was very interesting. Let's start with Liverpool. Liverpool hadn't been to any European league since they last played Juventus. That was 20 years ago, which lead to arguably one of the darkest chapters in their history, leading to around 40 fans getting killed in a scuffle following their loss.
For Liverpool fans, this was their chance at redemption. They had already lost a lot of respect following that incident and wanted to support their team in the safest manner possible. That night also seemed as if it was tailor made for them. Istanbul had a lot of Liverpool followers and the red waves almost covered 70 percent of the stadium. They had played the whole tournament as underdogs.
The journey for Milan was a lot more simple. They made it to the Champions League courtesy their second position in Serie A that season.They had played very well throughout and were deservingly in the finals, with majority of former football stars and pundits calling them favourites. However, they were deemed physically and mentally tired, physically due to their long overhauls of matches throughout the tournament and mentally due to their Serie-A final loss. Still, for many, Milan were the favourites.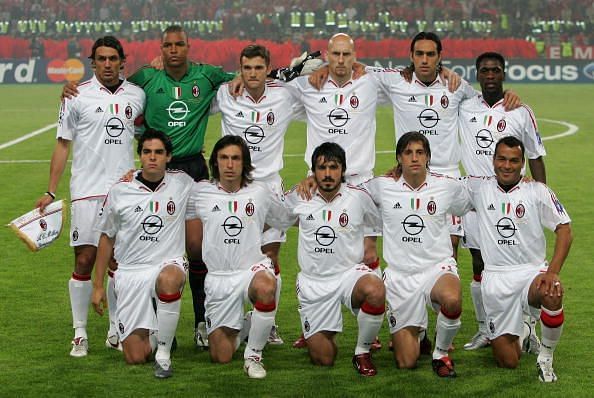 Teams
| | |
| --- | --- |
| MILAN | LIVERPOOL |
| | |
| Dida | Jerzy Dudeck |
| Cafu | Steve Finnan |
| Jaap Stam | Jamie Carragher |
| Alessandro Nesta | Sami Hyypia |
| Paolo Maldini(C) | Djimi Traore |
| Andrea Pirlo | Xabi Alonso |
| Gennaro Gattuso | Luis Garcia |
| Clarence Seedorf | Steven Gerrard(C) |
| Kaka | John Arne Riise |
| Andriy Shevchenko | Harry Kewell |
| Hernan Crespo | Milan Baros |
| | |
| MANAGER | MANAGER |
| Carlo Ancelotti | Rafael Benitez |
The game started in the best possible manner as captain Paolo Maldini volleyed a Andrea Pirlo free kick inside the very first minute. Half of the Liverpool fans were almost shattered. This was something they didn't want given their overall performance. Their hopes were further shattered when Harry Kewell picked up a groin injury and left the field in just the 13th minute. Liverpool created chances, but would fail every single time. The same happened with Milan. However, they soon made it 2-0. It was in the name of Hernan Crespo, but the goal was made by Kaka, the man who was easily their best player on display, outclassing the defenders with class and finesse. He continued the show, assisting Chevko again for the third goal. Going into half time 3-0, a Milan victory inevitable. There was absolutely no answer from the Reds, who probably were unlucky to some extent, but still it was Milan's class which got them that lead.
The next half showcased what was arguably one of the best turnarounds in football history. The only thing in every Liverpool fan's mind during the half time was to stop the embarrassment. Any further goal and it would have been the end, although it looked highly possible with the current score itself. But fate had other plans. About a handful of Reds, who had left the stadium as soon as the third goal hit the net, would have only dreamt of coming back to watch the invincible comeback. Probably, God listened to them.
A few changes in the field, some new formations and with new plans in their minds, the Reds made it to the field. Dejected fans could see the determination in the players' eyes. Rafael Benitez believed in his side.
Liverpool came back like roaring lions. A six minute waiver and soon everyone witnessed what could be rightly termed as a miracle- 3-3. Call it lack of concentration, over confidence or simply majestic class displayed by Liverpool, the score was reflected on the giant board. No one could believe what had just happened.
The onslaught started with captain Gerrard, who made it 3-1 courtesy a finely crafted cross from Riise. Soon afterwards, Liverpool scored again as Šmicer beat Dida with a long-range shot into the bottom left-hand corner to leave Liverpool a goal behind. Three minutes later, they were awarded a penalty. Luckily, Xabi Alonso, whose penalty was saved, scored from the rebound to equalise for Liverpool. Chances further came and went, and the score was level till the 90th minute.
The story continued for another 30 minutes as extra time started. Few shots off the crossbar, some poor execution of well crafted corners and some unlucky freekicks later, it was decide that penalty shootouts would decide the winner. The stadium was jam packed. No one moved. The whole football world witnessed what was a dramatic turnaround. To make it 3 all itself was such a big thing for Liverpool. But the way they played was utter magic.
Jerzy Dudek and Dida were probably the most nervous people out there. Now two teams' hopes rested on the shoulders of two individuals, whose glovework would ultimately decide the winner. The shootout wasn't an easy affair either. Liverpool made it 2-0, courtesy goals from Hamman and Cisse, only to be levelled after four more shots. Tomasson and Kaka scored, getting the Milan crowd back to shout and celebrate. Smicer scored the next to make it 3-2 for the men in red. Dudek made a dramatic save, moving to his right and blocking a low left shot from Shevchenko, winning them the Championship. Dudek became the hero for the Reds, who were waiting for the past 20 years for the Cup to come back home. It came, in probably the most unusual yet classy way. The atmosphere was magical. Carlo Ancelotti couldn't believe what had happened. They were simply- beaten, in the most dramatic way possible.
Liverpool outclassed their opponents in style. From almost getting decimated to returning as heroes, they earned every fan's heart. Dudek did emerge as the star of the show, but his fantastic display was due to the real hero of the night- Rafael Benitez. His positive attitude was what made them win the title. The whole footballing world witnessed magic that day, a day which would forever be etched in the memories of every football fanatic.