Find the Ashes Stats of all time ashes series below :
Ashes Batting Stats (All-Time)
Ashes Most Runs
Sir Donald Bradman of Australia cricket team is the highest run-getter in Ashes history. He has scored 5028 runs in 63 innings at an average of 89.79. He is the only batsman to score more than 4000 runs in Ashes. The next two on the list are England's Sir Jack Hobbs and Australian Allan Border with 3636 and 3548 runs respectively.
Ashes Highest Individual Score
The highest individual score in an Ashes innings is 364 by Sir Leonard Hutton of England. His innings included 35 boundaries He scored those runs off 847 balls in the 1938 series and powered England to their highest ever Test total of 903/7 dec. There have been four more triple centuries in Ashes cricket. They were scored by Sir Donald Bradman (334), Bob Simpson (311), Bob Cowper (307) and Bradman (304) again.
Ashes Highest Batting Average
The man with most Ashes batting records to his name, Sir Donald Bradman, also has the highest batting average versus England in Tests. He averaged 89.79 in 63 innings scoring 5028 runs. England's Eddie Paynter who averages 84.42 is the only other batsman to have an average above 80 in Ashes.
Ashes Most Hundreds
Once again, the record holder for the most Ashes hundreds is Sir Donald Bradman with 19 hundreds to his name. England's Sir Jack Hobbs and Australia's Steve Waugh are next on the list with 12 and 10 centuries respectively.
Ashes Most Fifties
Australia's Allan Border has scored 19 half-centuries in Ashes history which is the most by any batsman in the competition. England's Ian Bell is second on the list with 18 fifties. England's Herbert Sutcliffe and Australia's Clem Hill are next with 16 fifties each.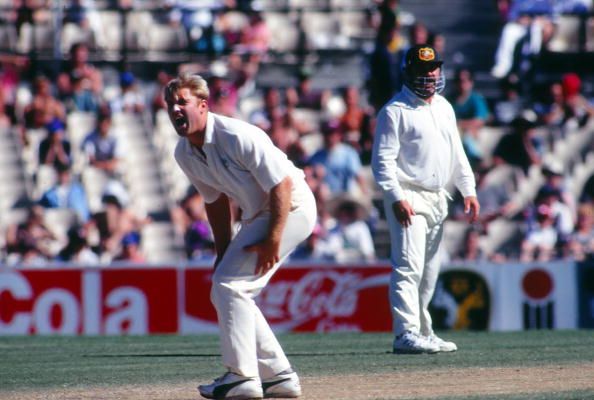 Also see - Ashes records
Ashes Bowling Stats (All - Time)


Ashes Most Wickets
The highest wicket-taker for Australia in Tests, Shane Warne, is also the highest wicket-taker in Ashes history with 195 wickets under his belt. The only other bowler with more than 150 wickets in the competition is his fellow teammate Glenn McGrath with 157 wickets.
Ashes Most 5-wickets in an innings
Sydney Barnes of England cricket team has taken a five-wicket haul 12 times in an Ashes innings which is the most by any bowler. The five other bowlers to take 11 five-wicket hauls are Tom Richardson from England, Terry Alderman, Charlie Turner, Clarrie Grimmett and Shane Warne from Australia.
Ashes Most 10-wickets in a match
England's Tom Richardson and the Australian Shane Warne have both taken 10 wickets in a match 4 times. Four other bowlers have achieved the feat 3 times. They are George Lohmann and Johnny Briggs from England; and Bill O'Reilly and Hugh Trumble from Australia