An alleged map of GTA 6's Vice City has surfaced online. While this latest leaked version is smaller than those shown in previously leaked videos, it nonetheless depicts a size larger than GTA 5's Los Santos and Blaine County map.
GTA 6 is one of the most talked-about topics in the Grand Theft Auto community, and the discussion is far from over. Rumors about the upcoming title being set for a return to Vice City were further bolstered by media from the September 2022 leaks.
Although Rockstar Games is yet to make an official statement about the game's plot or location, fans and data miners have unearthed a wealth of leaked information on the matter.
---
Vice City's leaked map from GTA 6 appears to be larger than Los Santos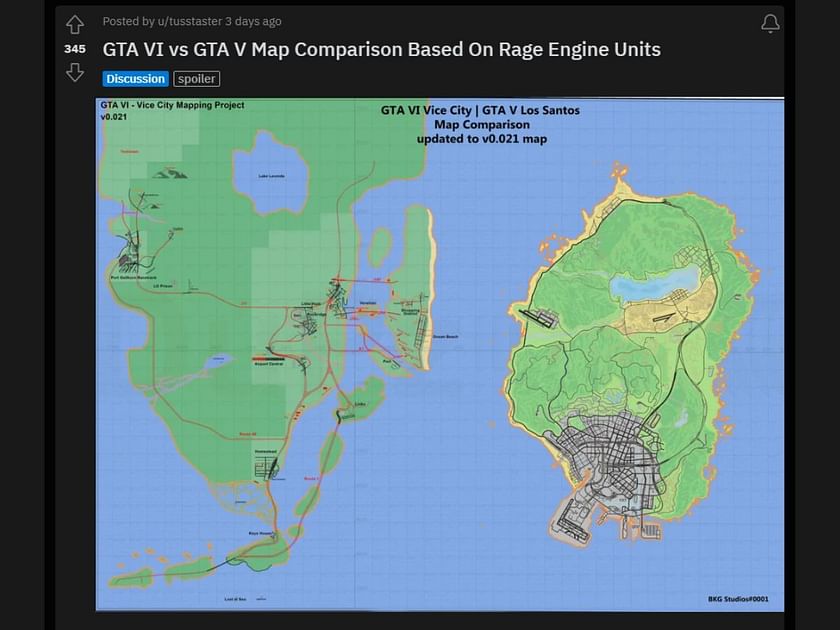 On March 16, 2023, a Redditor named tusstaster (Reddit: u/tusstaster) shared a post comparing the map of Grand Theft Auto 5 to a leaked map claimed to be from Grand Theft Auto 6. The user placed both maps side by side, with the State of San Andreas appearing significantly smaller than the map we may see in the upcoming game.
This new map features the iconic Vice City Beach Island and Starfish Island from GTA Vice City. The Vice City Mainland Island appears to have expanded to the massive landmass depicted in the image.
Several smaller islands can also be seen below the Vice City Mainland Island, along with two lakes, two mountains, and a swamp. The Redditor went on to say:
"There are countless Cities/Towns such as York Town, Red Hill, etc found in the files. Most of these locations point towards north of Port Gelhorn, making the map expand even further north."
While the map looks sizable and features more green areas, on March 5, 2023, Tez2 (Twitter/TezFunz2), a well-known Rockstar Games insider and data miner, revealed that the gaming studio might consider cutting the day-one release content from the game and release them later as DLCs.
Tez2 said the decision came into consideration after GTA 6 was delayed several times in the past few years, leading the company's upper management to set a Holiday 2024 deadline.
---
Readers should take the above information with a grain of salt, as none of it has been officially confirmed by Rockstar Games. However, DLC fragmentation appears imminent, as many insiders have expressed their thoughts on the subject.
Edited by Sandeep Banerjee