The Issi Rally is officially the fastest SUV in GTA Online when equipped with HSW modifications. Normally, its top speed would be 116.8 mph (188 km/h), but Hao's Special Works pushes it to 138.3 mph (222.5 km/h). For reference, the previous fastest SUV in this game was the Astron Custom, and it also had HSW modifications. The Astron Custom is 1.3 mph slower than the Issi Rally.
It is worth noting that this record only applies to top speed. In terms of lap time, the Issi Rally with HSW modifications is only in third place, achieving a time of 1:06.066. Still very impressive, but something that GTA Online players should know nonetheless.
---
Everything you need to know about GTA Online's latest SUV: Issi Rally (performance, price, and more)
Broughy1322 recently covered the top speeds of the newly debuted Issi Rally, which is where the 138.3 mph (222.5 km/h) data comes from. Here is a list of all the relevant data for GTA Online players to know about this car:
Price: $1,835,000
HSW Conversion Cost: $650,000
Top Speed (no HSW): 116.8 mph (188 km/h)
Top Speed (with HSW): 138.3 mph (222.5 km/h)
Lap Time (no HSW): 1:09.219
Lap Time (with HSW): 1:06.066
Vehicle Class: SUV
Vehicle Capacity: Four people
Drive Train: AWD
One can use this SUV in races, but it should be noted that the host can always opt to disable HSW modifications. There is an easy way to avoid that issue. Simply be the host for the race and choose not to disable it.
Ultimately, the Issi Rally is a solid new car with excellent all-around performance for its vehicle class.
---
How to purchase the Issi Rally in GTA Online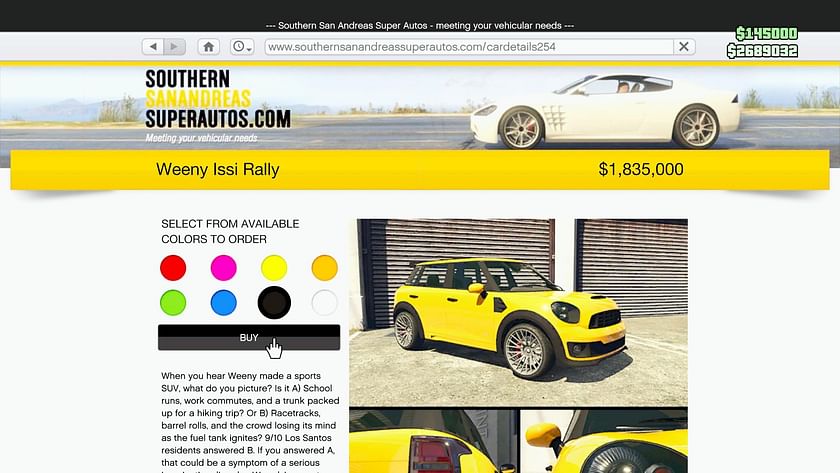 Note: The Issi Rally is only available until February 1, 2023. You might wish to buy it before then since it's one of the best SUVs in the game.
One can purchase this vehicle by doing the following:
Access the in-game Internet (either by computer or phone, although the latter is more accessible).
Go to 'Travel & Transport.'
Go to 'www.southernsanandreassuperautos.com.'
It should be the first featured vehicle that you see. Click on it.
Choose any of the eight colors.
Click on the 'Buy' button.
It costs $1,835,000, and it has no Trade Price. Gamers should also know that there is no discount associated with the car this week, and it's currently unknown when it will return. For reference, the limited-time 300R became unavailable to buy on December 29, 2022, and has not come back since then.
---
Other notes about this vehicle
Only PS5 and Xbox Series X|S players can utilize the HSW upgrades for this vehicle, which means that it's only the fastest SUV on those two consoles. That's the main reason for this ride. By comparison, the PC, PS4, and Xbox One ports of GTA Online lack HSW modifications, meaning that this car is rather unremarkable on those platforms.
Regardless of the console you use, this car will only be available until February 1, 2023. Some players are unhappy about yet another example of "fear of missing out" being implemented in GTA Online. However, it is worth noting that those who bought this vehicle can keep it forever.
Poll : Are SUVs one of your favorite vehicle classes in GTA Online?
5 votes
Edited by Sijo Samuel Paul