On Monday, January 6, Florida teen Aiden Fucci pleaded guilty to the brutal 2021 murder of 13-year-old cheerleader Tristyn Bailey. Fucci is accused of stabbing Tristyn Bailey 114 times and leaving her body in a quiet area near their community in Jacksonville.
In a brief statement to the court, the now 16-year-old said:
"I just want to say I plead guilty and I'm sorry for the Bailey family and my family."
Fucci is reportedly being charged as an adult but will not be eligible for the death penalty because he committed the crime when he was a 14-year-old minor. Prosecutors added that the convict was not offered any leniency in sentencing as part of the plea deal.
As per Fucci's friends, the teen allegedly fantasized about violence and murder several months prior to Bailey's murder. He allegedly drew pictures of mutilated bodies and told close friends that he heard voices asking him to kill innocent people.
His friends also shared that Fucci killed Bailey "in a fit of rage." Reports suggest that an email sent to a school resource officer, and obtained by WJXT-TV, claimed that Fucci's attack on Bailey was "100% premeditated" as the teen often spoke about wanting to kill someone in the woods.
According to court documents, Aiden Fucci initially offered different, changing stories following his arrest but eventually admitted to being with Bailey and getting into an argument with her on the night of her disappearance.
---
A look into the evidences that led to Aiden Fucci's arrest over Tristyn Bailey murder
On May 9, 2021, 13-year-old Patriot Oaks Academy student and cheerleader Tristyn Bailey was reported missing by her family.
The St. Johns County Sheriff's Office put out an urgent missing person's alert and said that the teen was last seen at 1:15 AM that same day near the Durbin Amenity Center and was wearing a white cheerleading skirt and dark shirt.
Surveillance video later revealed Bailey walking with her schoolmate Aiden Fucci. The CCTV video also showed Fucci walking back alone nearly an hour after his sighting with Bailey.
The former's body was found around 6 PM in the evening near a retention pond at the end of Saddlestone Drive, Jacksonville. Sheriff Rob Hardwick told The St. Augustine Record that it was a case of horrific and brutal murder.
He also shared that the victim had been stabbed 114 times and had 49 defensive stab wounds on her arms and right hand. The-then 14-year-old Fucci, who lived half a mile from the crime scene, was arrested the same night of Bailey's murder shortly before the latter's body was discovered.
Fucci shared several chilling Snapchat videos from the police car, with one caption saying,
"Hey guys has anybody seen Tristyn lately?"
In the wake of Fucci's arrest, investigators searched his house and allegedly found a sheath of a buck knife in his bedroom. They also found a T-shirt with blood on it, a pair of white Nike shoes with bloodstains, and a white piece of paper with possible blood on it.
Meanwhile, a buck knife was recovered from a pond near which officials found Bailey's remains. The knife was reportedly consistent with stab wounds on the victim's body. Aiden Fucci was then charged with second-degree murder and held without bail.
According to court documents, Fucci and his family owned "several knives of various types." At least two of the suspect and victim's mutual acquaintances said that Fucci regularly kept the knives with him and nicknamed the weapons as "picker" and "poker."
As per an interview with Fucci's ex-girlfriend Zofie Bauman, Fucci carried two different knives. She said that he received the gray and black knife with a skull on it from his step-dad and named it "picker" for having a serrated blade.
She added that Fucci's other knife was named "poker." It was reportedly yellow in color and made out of wood. Law enforcement officials said that the "poker" knife was found in the retention pond where Bailey's body was discovered.
Meanwhile, the "picker" knife was found in Bauman's home several days after the murder.
Additionally, hundreds of emails related to the incident were sent to the principal of Patriot Oaks Academy. As per the redacted documents, some of Fucci's friends said he became infuriated prior to the murder. However, the reason behind his anger was redacted.
One email claimed that Fucci often spoke about wanting to kill someone in the woods and allegedly threatened Bailey with a knife out of jealousy. Another friend wrote that Aiden Fucci's attack on Tristyn Bailey was "100% premeditated."
According to the arrest warrant, Fucci's mother Crystal Smith was eventually charged with tampering with evidence for allegedly washing blood off the teen suspect's jeans. A surveillance video from inside the home showed Smith washing the jeans. Officials later found traces of blood in a sink drain.
Nearly three weeks after his arrest, Aiden Fucci's charges were upgraded to first-degree murder.
---
What was Aiden Fucci's motive behind Tristyn Bailey's murder?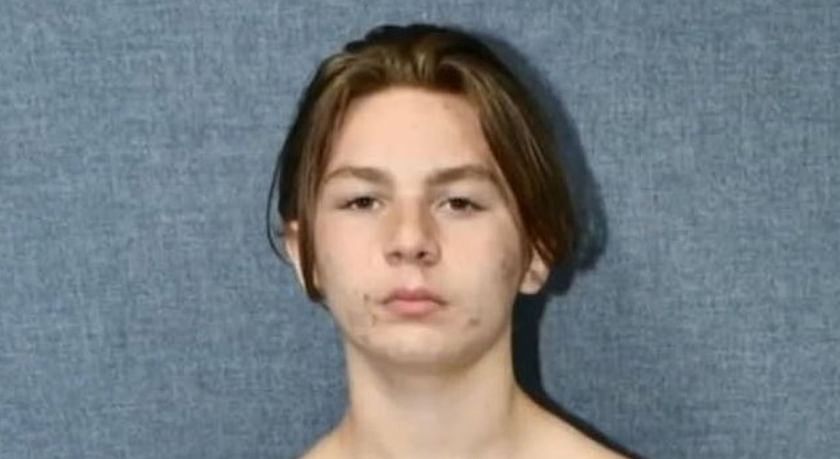 Aiden Fucci entered a surprise plea deal and confessed to killing Tristyn Bailey nearly two years after stabbing the latter to death.
Following Fucci's arrest, officials told The Florida Times-Union that the "defendant's story changed several times but [he] ultimately made several admissions."
Fox News reported that Fucci admitted to being with Bailey on the night she went missing and confessed about getting into an argument with her.
At the initial hearing, Fucci was reportedly heard mumbling about demons in the courtroom, per WJXT-TV. The defendant said:
"Please don't let the demons take my soul. The demons are going to take my soul away.Why am I here? I just want to talk to my mom and dad. What's going on? What's going on?"
Bailey's "close friend" Shyla Holmes had an interview with investigators and said that the former had a close relationship with a boy named Doffis "Tre" Absher. She said that the duo were allegedly "more like friends with benefits and didn't really talk to each other in school."
During one of their alleged encounters, Absher allegedly captured their tryst on video and sent the file to Aiden Fucci. The report said:
"Shyla stated Tre had video of him and Tristyn having s*x and he had facetimed Aiden while doing it. Aiden screen recorded the entire thing and had begun blackmailing her with the video, showing seventh and eighth grade students the video."
Fucci's friend Caleb Montanez, who had moved to the area at the time of the murder, told police that the former was "jealous" and believed that girlfriend Zofie Bauman had cheated on him with Absher.
At least two of Bailey and Fucci's mutual friends have also claimed that the murder took place due to the latter's "anger issues." Montanez allegedly discussed his theory behind Aiden Fucci murdering Tristyn Bailey. The former thought:
"Aiden and Tristyn had s*x and afterwards Tristyn threatened to tell Zofie which led to Aiden snapping."
Shyla Holmes also told the officers that Fucci's eyes were reportedly "glossy" and he had "no feelings":
"The textbook definition of what you would call a numb kid. He has no feelings towards anyone, no feelings towards himself. He is the type of person you would see as a murderer. He just doesn't care."
Aiden Fucci's girlfriend Zofie Bauman told authorities that the former "had a lot of issues" and "was having a really tough time at home" when he killed Bailey. Bauman alleged that Fucci felt he was the least favorite in his family and was neglected by his parents.
He allegedly told Bauman that his mother often told him he was a disappointment to her family. Fucci also said that his father never let him show emotions and would also hit him at times. Bauman stated that Fucci had anger issues and "he hated getting angry."
Speaking about the motive, Bauman alleged that Aiden Fucci told her "the murder was going to happen soon, and she should expect it within the month." The interview further showed:
"Zofie advised Aiden stated he would act innocent after the murder and continue killing people. Zofie advised Aiden would then run away, make people believe he was dead, and continue killing people."
Associates echoed similar statements while speaking to detectives and said Aiden Fucci had a turbulent life at and indulged in dark fantasies as a way to cope with his issues.
Aiden Fucci continues to remain in custody and is scheduled to be back in court on February 23. Reports suggest he is likely to face a possible life sentence with a minimum of 40 years in prison.