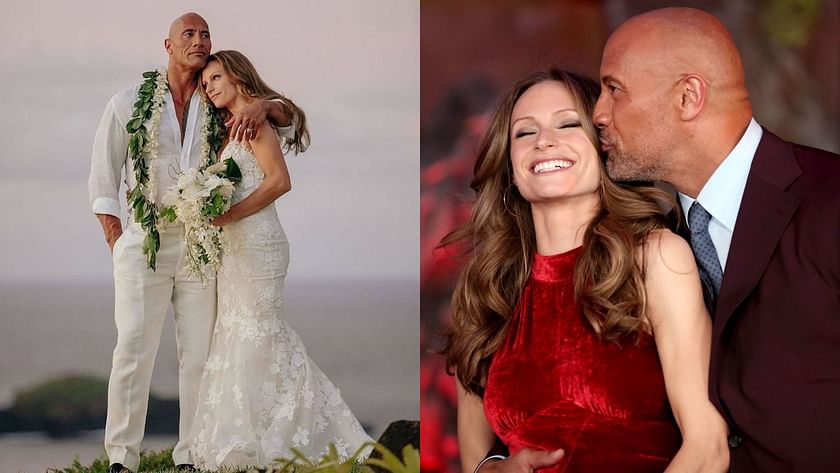 Although The Rock is a legendary WWE Superstar and a famous actor, there are things that fans might not know about his personal life.
The Brahma Bull has been married twice. He met his first wife, Dany Garcia, in college. The two dated for a few years before tying the knot in 1997. Nonetheless, they got divorced 11 years later. The couple's daughter, Simone, is currently training at WWE's Performance Center.
Following his breakup with Garcia, The Rock dated singer and musician Lauren Hashian. The couple are now married. In the past few years, the former WWE Champion has revealed some details about his relationship with his current wife. Some of these details might be little-known to fans.
Here are five things you may not know about The Rock and Lauren Hashian's relationship.
---
#5. The Rock liked Lauren Hashian in only 30 seconds
The Rock first met Lauren Hashian in 2006 while filming his movie The Game Plan. At the time, he was still going through his breakup with his first wife.
In an interview with WSJ Magazine, The Great One disclosed that he instantly liked Hashian when they first met.
"Within 30 seconds, I thought, 'Wow, this girl's stunning.' At the time, I was going through my breakup with Dany, and she was just coming off a big breakup too. Ironically, when you're not looking for something, the power of the universe kind of takes over," The Rock said.
The couple started dating in 2007, a year before The Rock finalized his divorce from his first wife. A few years later, the Hollywood mega-star told People Magazine that he considered himself lucky to find love again.
"I was so fortunate to have fallen in love once. To fall in love again? That's a hard thing to do twice in the position I'm in. I'm one lucky son of a b*tch," he said.
The Brahma Bull and Lauren Hashian have been together for nearly a decade and a half now. They are also still very much in love. The two occasionally post photos together on their Instagram accounts, expressing their love for each other.
#4. The Rock proposed to Lauren Hashian only three days before their wedding
After dating for several years, The Rock proposed to Lauren Hashian. In an interview with WSJ Magazine, the former WWE Champion disclosed that his marriage proposal came only three days before their wedding.
According to The Rock, Hashian technically never said "yes" to his proposal. Instead, she burst into laughter then cried. The couple tied the knot in a secret ceremony in Hawaii in August 2019.
In his interview with WSJ Magazine, The Brahma Bull revealed that he had a plan to keep the wedding away from the public eye.
"We had a full security detail in case there were helicopters. But there was no press, no paparazzi. No one knew. I was shocked but so grateful. My life is so loud and noisy; the fact that it was quiet was a big win," he explained.
His plan worked. Only nine adults attended his and Lauren Hashian's wedding ceremony. The couple have now been married for more than two years.
On their first wedding anniversary, The Rock and his wife shared highlights from their wedding on their Instagram accounts. They also wrote romantic messages for each other.
#3. The Rock was hesitant about marrying Lauren Hashian
The Rock and Lauren Hashian lived together for several years. In 2015, they welcomed their first daughter, Jasmine. Nearly three years later, they had their second daughter, Tiana. However, The Brahma Bull still had some hesitation about marrying Hashian.
Nearly a year before they tied the knot in August 2019, the WWE legend told Entertainment Tonight that he was not in a hurry to marry his then-girlfriend.
"I just refer to her as my wife all the time. So a lot of people are like, 'Oh, did you get married?' I'm like, 'No. Easy. Don't rush big daddy,'" The Rock said.
In an interview with WSJ Magazine, The Rock explained why he had doubts about marrying Lauren Hashian. He also disclosed that his now-wife was very patient with him.
"My divorce did a number on me. I wasn't fearful of getting married again, there was just some hesitancy. But Lauren was incredibly patient: 'I love you, you love me, we have this amazing life together—no presh,'" he said.
Luckily for the loving couple, The Great One put his hesitancy behind him and married his long-time girlfriend.
#2. Lauren Hashian plays a crucial role in The Rock's success
The Rock is currently one of the most successful stars in Hollywood. However, he thinks he does not deserve all the credit for his accomplishments. The Brahma Bull believes his wife, Lauren Hashian, has also played a crucial role in his success over the past few years.
In an interview with Esquire Magazine in 2015, he disclosed how Hashian has contributed to his success.
"I've lived with my longtime girlfriend, Lauren Hashian (...) We spend a lot of time with my daughter in Florida (...) We do these stories and we talk so much about the business end, the success end, but then Lauren isn't mentioned and my daughter isn't mentioned. I always like making sure we find the balance and my home life is in there and Lauren Hashian is in there and my daughter is in there. You gotta get the better half in there. With all the cool sh*t and success that I've been lucky enough to get? That doesn't happen unless the home life is solid," The Rock said.
The 10-time world champion is currently one of the highest-paid actors in the world. He has starred in a few movies in 2021, including Jungle Cruise and Red Notice. He has also starred in the Young Rock TV series.
#1. The Rock and Lauren Hashian's relationship improved during quarantine
Quarantine has impacted The Rock and Lauren Hashian's relationship positively. Despite going through a tough time, The Brahma Bull and his wife learned a valuable lesson.
During an Instagram Q&A session, a fan asked The Rock about how the quarantine had affected his marriage.
"Helluva question! The effect the quarantine has on my marriage. We realized kinda quickly how critical it was for us to be ultra considerate, caring and empathetic of one another. Be even better listeners. Even better communicators," The Rock answered.
Despite admitting to being "really wobbly at times" during the first two weeks, The Great one later explained that quarantine had a very positive effect on his relationship with his wife.
The former WWE Champion also disclosed that he found himself consistently apologizing to Hashian every other day as spontaneous arguments went "from zero to 10 very quickly."
"We try to go easy on each other, we try to make things light, not too judgy (...) Now is the time to really try and do your best to communicate and articulate your feelings as best you can," he added.
Having better communication with his wife was not the only silver lining for the time The Rock spent in quarantine. He also got a chance to spend more time with his children, as he stated in a few posts on Instagram.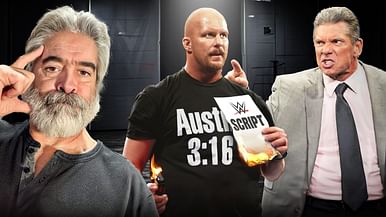 How Stone Cold was born in 2 minutes