After spending nearly three years in WWE, Sable left the company in 1999. Despite having a rocky relationship with Vince McMahon, the former Women's Champion returned to the company in 2003. Following her comeback, she became Vince McMahon's on-screen mistress. Meanwhile, she had an intimate scene with former WWE star Zack Gowen.
In an interview with The Hannibal TV in 2020, Gowen opened up about his experience getting intimate on-screen with Brock Lesnar's current wife:
"I think with Sable was just, it was uncomfortable because here is a woman that I just grew up like idolizing. Hugest, you know, I mean I came of age and Sable was the wrestling woman, you know, for guys it was Sunny and it was Sable. And when Sable she was shhh. So, but I'm sitting there and I have to like remember my lines. There's producers everywhere. There's camera people everywhere. The lights are on me. It's hot, it's uncomfortable, and like, I don't know, it was just weird. It wasn't as fun as you would think just because of all the added pressure and all the extracurricular activities that were going on around me with the cameras and the lights and the writers and everybody else in the room when that shot was happening," he said. [1:03 - 1:50]
While she was still married to Marc Mero, Sable entered a romantic relationship with Brock Lesnar after returning to WWE in 2003. In the same interview, Gowen addressed if the former Women's Champion was publicly dating The Beast Incarnate he made out with her on-screen:
"Nah, it wasn't public at all. And it was, we weren't supposed to know about it. But you know how the boys are man. Once word kind of gets out and it's everybody knows it and then we're all kind of looking out for it but nobody's saying a thing to, you know. You're not gonna say anything to Brock. You're not gonna say anything to Sable. It's something that the boys talked about amongst themselves but never out, never like in a public forum, no," he explained. [1:55 - 2:21]
Vince McMahon once joined Sable's "Kiss My A**" club. Watch the photos and check out the story here.
---
Sable left WWE because of Brock Lesnar
In 2004, Brock Lesnar left WWE to pursue other options. In his book "Death Clutch: My Story of Determination, Domination, and Survival," The Beast Incarnate disclosed that he did not like that Sable was still working in WWE after his departure.
The 10-time world champion also revealed in his book that he asked his current wife to leave the company:
"I wanted to marry Rena (Sable). However, before I could do this, I needed her to get out of WWE. 'If we want a relationship,' I told her, 'neither one of us can work for that company. We both know the long-term side effects of everything there.' That was my only demand. Nothing else. Just that. And so she left World Wrestling Entertainment. She had worked so hard to get back into that company, and now she was leaving it again, except this time she was giving up her career for me. It couldn't have been an easy decision," he wrote.
Brock Lesnar once fought a co-worker for "touching his girlfriend." Check out the story here.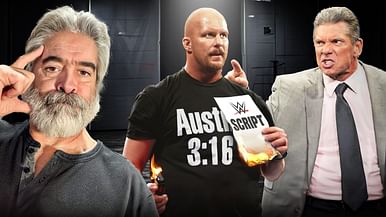 How Stone Cold was born in 2 minutes