Although eventually becoming performers in the professional wrestling industry, a few WWE Superstars dreamed of working as CIA or FBI agents before finding their calling in the ring.
Several WWE Superstars have served in their country's military. Bobby Lashley, for example, joined the army after graduating from college in 1999. He spent a few years in the U.S. military before leaving and signing with WWE in 2005.
Former and current WWE Superstars have wanted to serve their country, but instead of through the military, they dreamed of working for the Federal Bureau of Investigation (FBI) which is the United States' domestic intelligence and security service. Other superstars wanted to join the Central Intelligence Agency (CIA) which is the United States' foreign intelligence service.
Some of these former and current WWE Superstars have opened up about their unfulfilled dreams in the past few years. Even going as far as disclosing why they failed to become FBI or CIA agents.
Here are five WWE Superstars who wanted to work for the CIA or FBI.
---
#5. Former WWE Superstar Raven
Before getting into professional wrestling, former WWE Superstar Raven dreamed of becoming a CIA agent. As a young man, the multi-time Hardcore Champion wanted an action-packed job.
"My two childhood dreams were becoming a professional wrestler and joining the CIA, because I thought that would be the most action-packed adventure job you could find," he told RAW Magazine in 2002.
The former WWE Superstar was determined to make it into the CIA. Hence, he joined the University of Delaware to study criminal justice. During his college days, Raven enlisted in the United States Marine Corps.
After graduating from college, Raven decided to ditch his dream of becoming a CIA agent and pursue a professional wrestling career instead. The 57-year-old later explained that he did not like the idea of being bogged down in paperwork or stuck behind a desk.
As he became a WWE Superstar, Raven stated that he does not regret turning his back on his dream of working for the CIA.
"I don't have any regrets. I'm glad I made the choices I did. Being in the CIA or FBI would have been my second choice, anyway. This was my first choice, and it's first by a lot," he added in his interview with RAW Magazine.
Raven left WWE in January 2003. He then joined Total Nonstop Wrestling, where he spent nearly seven years. After leaving TNA, the former Hardcore Champion competed on the independent circuit. However, he has not wrestled since February 2020.
#4. WWE Superstar Happy Corbin
Happy Corbin joined WWE in 2012 and has been one of the best heels in the company ever since. However, before deciding to pursue a career in professional wrestling, the former United States Champion wanted to work in a different field.
In an interview with Metro.co.uk, Corbin disclosed that he was interested in serial killers and understanding human nature growing up. Hence, he dreamed of working in the FBI.
"When I was a kid, I really wanted to go to the FBI and become a profiler. I think the outside the box people fascinate me when they're just super weird and creative – in a good way, sometimes," he said.
Corbin now holds two degrees in psychology and sociology. Ultimately, he did not pursue a career in the FBI. Instead, he played professional football for a few years before entering the professional wrestling industry.
The 37-year-old is currently active on SmackDown. However, he last competed on the Blue Brand last month when he participated in the Black Friday Invitational Battle Royal to determine a new challenger for Roman Reigns' WWE Universal Title. The former United States Champion failed to seize the opportunity as Sami Zayn won the Battle Royal.
#3. WWE Hall of Famer Chyna
WWE Hall of Famer Chyna had an interest in learning languages growing up. She studied French and German at the University of Tampa and graduated with a major in Spanish in 1992.
In an interview with Wrestling Digest in 2000, the former WWE Women's Champion disclosed that she wanted to work for the FBI or the United States Drug Enforcement Administration (DEA) after graduating.
"I got into learning languages in school, because I thought I wanted to be in the FBI or the DEA. I prided myself on education, and I worked hard (...) I can speak Spanish, French and German well enough to hold a conversation. After I got out of school, I quickly found out I couldn't be an international spy. That's when I turned to the entertainment world and found that wrestling was the best place for me," she said.
Instead of working for the FBI or the DEA, Chyna joined the Peace Corps. After spending a few years in the Peace Corps, the former Intercontinental Champion left to work a few different jobs before entering the professional wrestling industry in the mid-1990s. The Ninth Wonder of the World made her WWE debut in 1997.
Chyna became one of the greatest superstars in WWE history. She spent nearly four years in Vince McMahon's company, during which she won the Women's Championship once and the Intercontinental Title twice. The Ninth Wonder of the World left WWE in November 2001.
The former Women's Champion tragically passed away in April 2016. In 2019, she entered the WWE Hall of Fame as part of D-Generation X.
#2. Former WWE Superstar Ezekiel Jackson
Ezekiel Jackson signed a developmental contract with WWE in 2007 and made his main roster debut a year later. The 43-year-old spent nearly seven years in Vince McMahon's company, during which he won the Intercontinental Championship and the ECW Title.
WWE released Jackson from his contract in 2014. Following his WWE departure, the former ECW Champion competed in a few promotions before announcing his retirement from professional wrestling in October 2015.
A few years before his retirement, Jackson answered a fan's question on Twitter about his dream job if he did not become a professional wrestler. The former WWE Superstar disclosed that he would have wanted to work in the law enforcement field.
"RT @Kobeochowens @ezekielwwe if u weren't a wwe superstar what would u want to be? Law enforcement (Marshall, FBI, sheriff or police)," he tweeted.
After his retirement, the former Intercontinental Champion became a trainer. Jackson is currently very active on social media. He regularly posts his workouts and training sessions on his Instagram account. The former ECW Champion also spends a lot of time with his wife of 17 years and two children.
#1. WWE legend The Rock
The Rock is arguably the greatest WWE Superstar in history. However, professional wrestling was not the career he initially wanted to pursue.
Before becoming an in-ring performer, the former WWE Champion studied criminology and physiology at the University of Miami to prepare himself to become a CIA agent, as he revealed in an Instagram post a few years ago. Ultimately, the former WWE Champion later decided to ditch his dream.
"My criminal justice professor and advisor (Dr. Paul Cromwell) convinced me that the best operative I could become for the agency is one that also had a law degree. I thought that's a great idea until I realized no respectable law school would ever let me in with my pile of steaming s**t grades. End of story," he explained in his Instagram post.
The Rock joined WWE in 1996 and spent nearly eight years as a regular competitor. During that time, he won many titles, including 10 World Championships. The 49-year-old left the company in 2004 to pursue an acting career in Hollywood.
Over the past few years, The Rock has made several sporadic WWE appearances. He has also competed in a few matches, his last bout coming at WrestleMania 32, in which he defeated Erick Rowan.
The Brahma Bull is currently a Hollywood mega-star and one of the highest-paid actors in the world.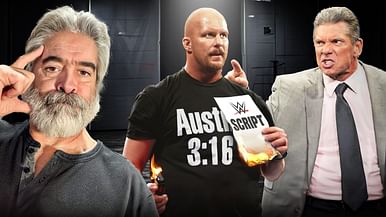 How Stone Cold was born in 2 minutes
Poll : Would you prefer to be an agent or a WWE Superstar?
76 votes