Welcome to another edition of the daily WWE rumor roundup where we try and bring you the latest updates and rumors from the world of WWE. While the wrestling world is busy talking about AEW's Double or Nothing, we will keep our focus squarely on WWE.
On today's edition, we will talk about what the future may hold for Brock Lesnar upon his return. WWE being very pleased with Superstar who recently left the company and what the future may hold for Seth Rollins' faction on RAW.
So without further ado, let us jump in to see the biggest stories from the day:
---
#5 Brock Lesnar to have dream match with Bobby Lashley in WWE
Brock Lesnar is one of the most powerful athletes in WWE today. The former WWE Champion has solidified his legacy as one of the most dominant performers in the WWE. While The Beast has defeated many big Superstars such as The Big Show, John Cena and The Undertaker among others, the one Superstar he hasn't faced is Lashley.
Much like Lesnar, Lashley is a powerhouse performer and has a background in MMA. While Lesnar was a top star in UFC, Lashley made his mark in Bellator. SportsKeeda's Tom Colohue has stated that a match between Bobby Lashley and Brock Lesnar could very well be on the cards this year.
"The match with Lesnar is definitely still coming. Lashley has been very open, anytime he's asked anything. He returned to the WWE because he wants to take on Brock Lesnar. And the fact is, that this was something that he took into contract negotiations with the WWE when he made his return. He wanted that to be respected. It's definitely still coming."
When it comes to raw power, it can be argued that Lesnar and Lashley would be equally matched, so a contest between these two giants would be very entertaining to see.
#4 Vince McMahon removed Chris Jericho from WrestleMania main-event
It is a known fact that Vince McMahon prefers his Superstar to be tall and bulky. While there have always been exceptions to the rule that only bigger guys can be main-eventers such as Shawn Michaels, Daniel Bryan and Chris Jericho, these Superstars have had to struggle more for their success.
As per a recent report by Jim Ross, Chris Jericho was initially set to be part of the WrestleMania 2000 main-event, but was later replaced by Mick Foley as Vince McMahon thought Jericho was too short. Here is what Cagesideseats stated:
On his podcast, Jim Ross said that Chris Jericho was supposed to be in the 4-Way main event at WrestleMania 2000, but Vince McMahon replaced him with Mick Foley, because he thought that Jericho was too short.
It is surprising that Vince McMahon did not give Y2J an opportunity to main event the Grandest Stage Of Them All. Even so, Chris Jericho managed to make a major name for himself in WWE and went on to win the World Championship on multiple occasions.
#3 New member in Seth Rollins' faction?
The Monday Night Messiah Seth Rollins has been making major waves on RAW thanks to his faction. The faction earlier included Murphy and the Authors of Pain but with the former RAW tag-team Champions being out of action, Rollins has been recruiting new members.
The latest to be added in his faction is young Superstar Austin Theory who was discarded by Zelina Vega from her band. As per SportsKeeda's Tom Colohue, there is a high chance that a female Superstar may be next to join the group. Who could that Superstar be? Ruby Riott has a strong chance but she might not be the chosen candidate.
It's not impossible but you have to ask certain questions. For example, about a woman travelling alone in the big group of guys is uncommon, so there would be questions about comfort levels there.
On why Ruby Riott may not make the faction:
The question does come up a lot. Ruby Riott is definitely the fan favorite for the spot but I don't think the education that Seth Rollins is offering to Murphy and Theory is necessary given the level of experience that Ruby Riott has and also I think that's just too close to being the Straight Edge Society because there are obvious similarities between Riott and Serena there.
#2 Triple H high on RAW Superstar
Talking about Austin Theory, there is a lot of speculation on what the future holds for him. The initial plans for the NXT Superstar was to have him return to the black and gold brand after his match at WrestleMania 36. However, the top brass sees big potential in him and that is why he was retained on RAW instead of being sent back.
Tom Colohue has stated that even Triple H and Paul Heyman are mighty impressed with the Superstar and desperately want to see him succeed.
We've called Theory lucky before but right now he's taken every opportunity and people backstage love this guy.
Triple H and Paul Heyman are huge fans of Austin Theory:
They are desperate to see him succeed otherwise he wouldn't have even come up from NXT in the first place. It's not just Zelina Vega singing his praises, you've got Triple H and you've got Paul Heyman expecting great things. When you pair him with Seth Rollins, I think I do as well.
#1 WWE happy with Drew Gulak
Former Cruiserweight Champion Drew Gulak has left WWE recently after his contract with the company expired and he chose not to re-sign. While Gulak had been getting a major push on SmackDown thanks to his team with Daniel Bryan, it came as a bit of a surprise that he did not choose to continue with WWE.
However, as per Tom Colohue, WWE are very pleased with the manner in which Gulak conducted himself prior to his departure and will be looking to get him back to the company. Unlike other Superstars, Gulak did not leak the news of his contract nearing an end so as to drive up his price:
They are very happy that news of his contract ending didn't get leaked until after it happened to anyone as is the case with almost everyone else. Almost everyone when the contract is coming to an end will leak that information to someone in media because that gives them a greater leveraging position because then you start hearing stories of AEW being interested, or New Japan being interested and it drives up their price.
He further states that since Drew Gulak did not do any such thing, there is a lot of respect for him and they are hoping to reach a deal with him to bring him back.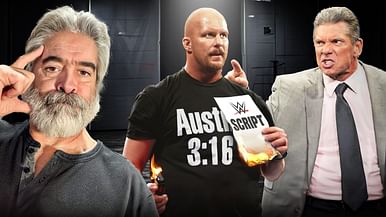 How Stone Cold was born in 2 minutes
Edited by Akhilesh Tirumala