RCB's Virat Kohli receives unofficial warning for breaking protocol during rain-washed DD match
15.03K //
18 May 2015, 22:53 IST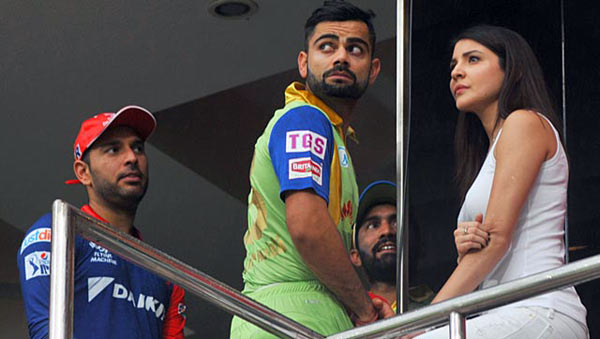 The Board of Control for Cricket (BCCI) in India has confirmed that Royal Challengers Bangalore skipper Virat Kohli has been warned for speaking with girlfriend Anushka Sharma during an IPL match against Delhi Daredevils earlier this week. IPL Chairman Rajeev Shukla confirmed that he had an unofficial talk with the player on the issue, and that the BCCI may formally warn him of the consequences of breaching anti-corruption protocols.
"We shouldn't blow the thing out of proportion but I have spoken to him and told him he shouldn't speak to anyone when technically the match is still on. At the Chinnaswamy Stadium, there is only a partition between the VIP enclosure and the players area and hence he may have spoken. If the ACSU officials inform us we will definitely warn him but I have already informally spoken to him and told him not to do this," said IPL chairman Rajeev Shukla.
Anushka was sitting in the VIP enclosure adjacent to the players' dugout during the rain-abandoned IPL match against Delhi Daredevils at the Chinnaswamy Stadium, and Royal Challengers Bangalore captain Virat Kohli stepped out of the dressing room to meet his girlfriend during a rain-break – an act not permitted by the Anti-Corruption and Security Unit (ACSU) of the International Cricket Council (ICC).
The ACSU monitors players and their activities on and off the ground during the IPL. The visual of the India captain having the unscheduled rendezvous was shown on the giant screen in the stadium as well by the host broadcaster.
Virat made a mistake: Jones
Kohli's indiscretion was criticised by former Australian cricketer Dean Jones.
"The biggest cancer hitting cricket is illegal gambling. We try to stop communication between players and they are well aware of this. Virat made a mistake stepping out of the dressing room," said Jones.
"All that Virat had to do was say 'Sorry darling, I want to see you but there is a rain delay and I have to stay within the confines of the dressing room,", Jones said, adding: 'How many times do we have to educate the players that they have to protect the integrity of the game, that is their role. Players are the trustees of the game."