SATIRE: Ganguly and Azhar to take part in IPL6
8.20K //
08 Nov 2012, 23:48 IST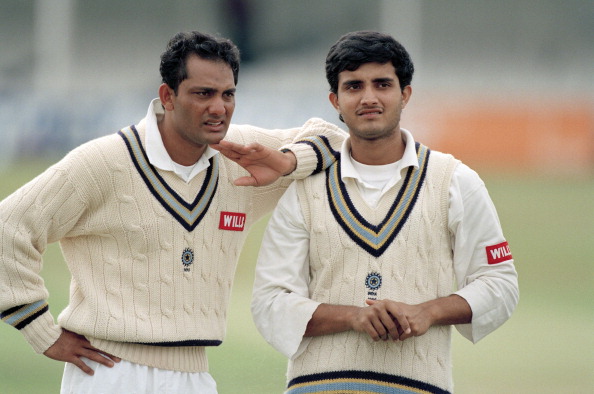 Sourav Ganguly called in for a press conference moments ago to, as he claims, set the records straight. The press conference was held at the Eden Gardens and reporters were stunned to hear what Dada had to tell. 'Nobody will even talk about Shahid Afridi from today', said a Bharath TV reporter while walking out of the venue.
Earlier today, the Andhra Pradesh high court lifted the life ban imposed on former Indian captain Mohammad Azharuddin due to lack of evidence. This gives the 49 year old Azhar a chance to make a stunning comeback to cricket, one which will relieve Sachin Tendulkar from being bombarded with retirement questions.
Azhar, in a special interview said that he has been hitting the gym 5 hours a day to stay fit and claims to run faster than a few Indian cricketers. Deep investigation revealed that he was referring to Ravichandran Ashwin and Munaf Patel. Some people believe Azhar was the man who invented the helicopter shot and he claims to have practised that to outdo MS Dhoni.
After the Deccan Chargers were terminated, Sun TV won the bid and bought the franchise in the nick of time. Reports suggested that the new owners are looking for stake holders and co-owners, which led Azhar to quickly approach Mannapuram Gold Loan to arrange for funds. "If I manage to convince the Sun Network and become a co-owner, I will be the captain, mentor, coach and the owner of the team", said Azhar, taking a dig at Sourav Ganguly and Shane Warne.
Sourav Ganguly, who loves to believe that there wasn't and there won't be a better captain than him, announced that if Azhar does come back to playing the IPL, he will come out of retirement too. "I've forgiven Shah Rukh and he will be given a chance to correct his mistakes by picking me for the next IPL, but Shah Rukh's luck depends on whether Azhar is coming back', said Ganguly at the press conference moments before the reporters burst into laughter.
Reactions have been flowing in from the cricketing fraternity at this announcement Ganguly made. Indian captain MS Dhoni updated his Facebook status to, 'Well, of course. B*%#$ Please!' Kolkata Knight Riders captain Gautam Gambhir, already frustrated at Kohli stealing his vice captaincy, decided to retire from all forms of cricket, to avoid another embarrassment by losing his IPL captaincy to Ganguly.
Shah Rukh Khan, offended by Ganguly's comments said, 'You might be the prince. I'm the King. I won't look back. Jab Tak Hai Jaan, Jab Tak Hai Jaan'. Shahid Afridi and Sachin Tendulkar finally became friends on Facebook while Virat Kohli's BBM status said, "When MCBCs are not enough". Greg Chappel, former India coach reportedly sent a text message to Shah Rukh, asking him to sign him again as KKR's coach to avoid further problems.
Whether or not Azhar will make a comeback, only time will tell but, the attitude from senior sportsmen like Ganguly and Azhar raises a concern about the future of Indian cricket.
Disclaimer: This article is a work of fiction and all the quotes/facts mentioned are imagined by the author and are not real.