Sree Kanteerava Stadium, Bengaluru
One of the younger stadiums on this list, the SreeKanteerava Stadium was built in 1997 but since has gone on to cement itself as one of India's most iconic football grounds. Home to Bengaluru FC, the stadium can hold up to 24,000 spectators.
Jawaharlal Nehru Stadium, Chennai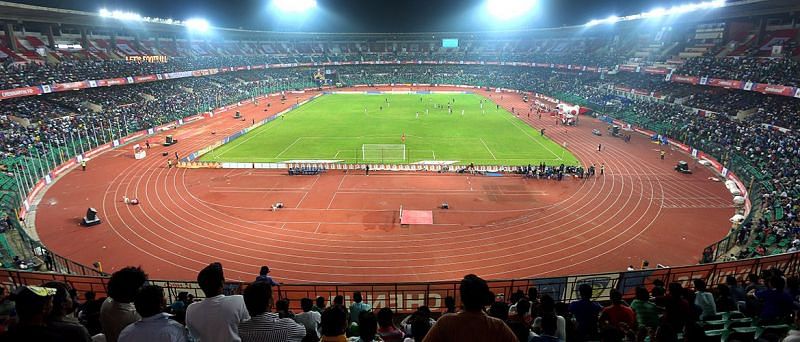 The Government of Tamil Nadu played a crucial role in building the Jawaharlal Nehru Stadium in 1993. With an impressive capacity of 40,000, the entire arena was built in 234 days with state of the art facilities. Formerly home to Chennai City, Chennaiyin FC currently play on this ground.
Fatorda Stadium, Goa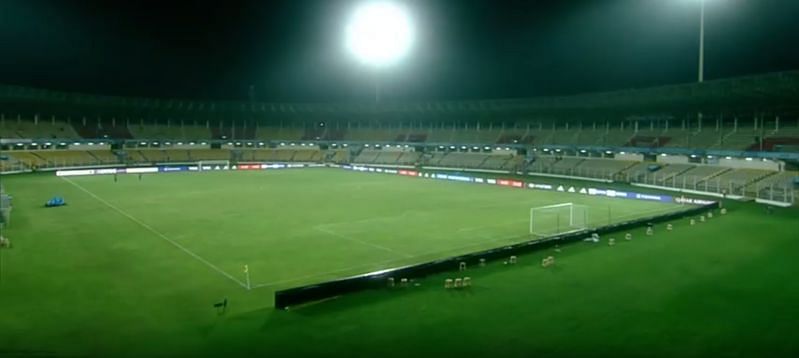 Initially built as a football only stadium way back in 1989, the Fatorda Stadium was renovated recently in 2014 thus elevating itself as one of India's premier football grounds which has also hosted cricket matches from time to time. All major Goan clubs have at some time treated this ground as their home.
Shree Shiv Chhatrapati Sports Complex, Pune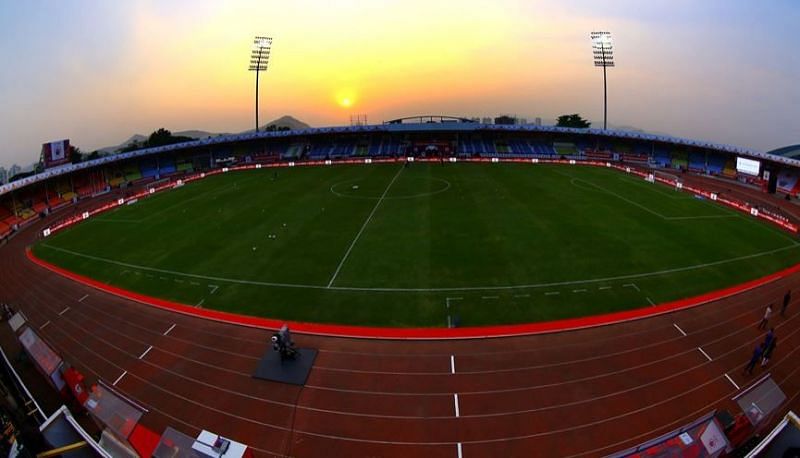 One of the most intimate grounds in the country, the Shree Shiv Chhatrapati Sports Complex can hold 12,000 people on a good day. The stands being extremely close to the ground, creates a intimidating atmosphere. Since it was built in 1992, the stadium has gone through multiple renovations and is now home to FC Pune City.
JRD Tata Sports Complex, Jamshedpur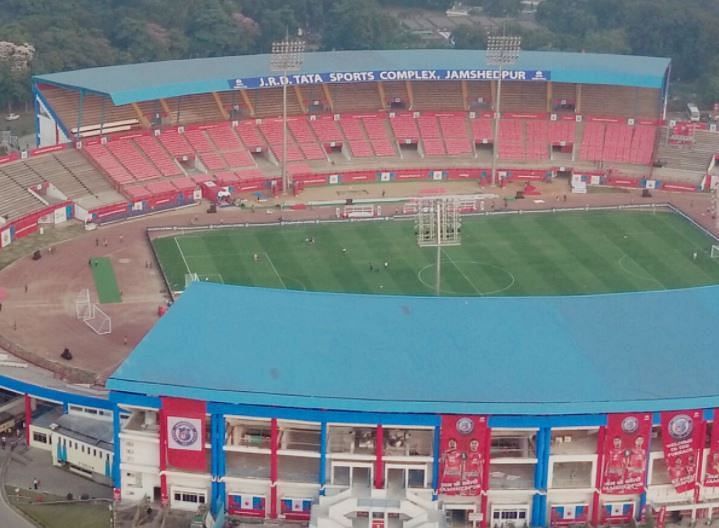 A multi-purpose stadium, this complex is the largest in the city and can hold up to 24,000 spectators. ISL outfit, Jamshedpur FC currently host their home games here. It also has a running track around the ground.
Jawaharlal Nehru Stadium, Kochi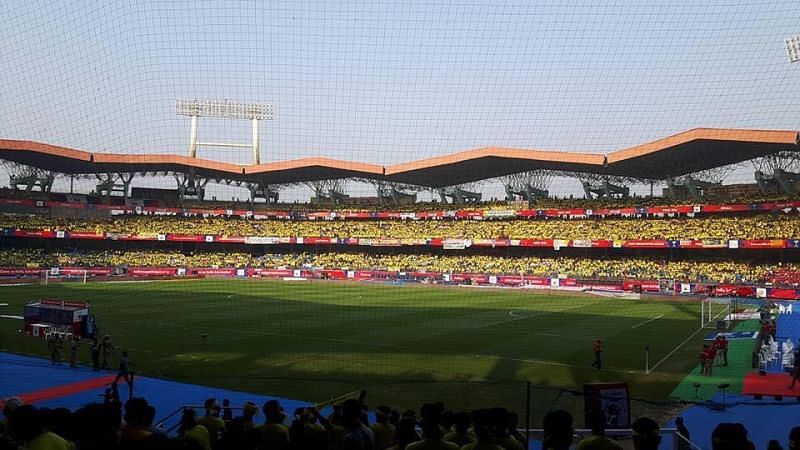 The nosiest stadium in India is also one of the largest, with a capacity of close to 40,000 spectators on a good day. Established way back in 1996, it was renovated in 2008 and is now home to Kerala Blasters FC.
Mumbai Football Arena, Mumbai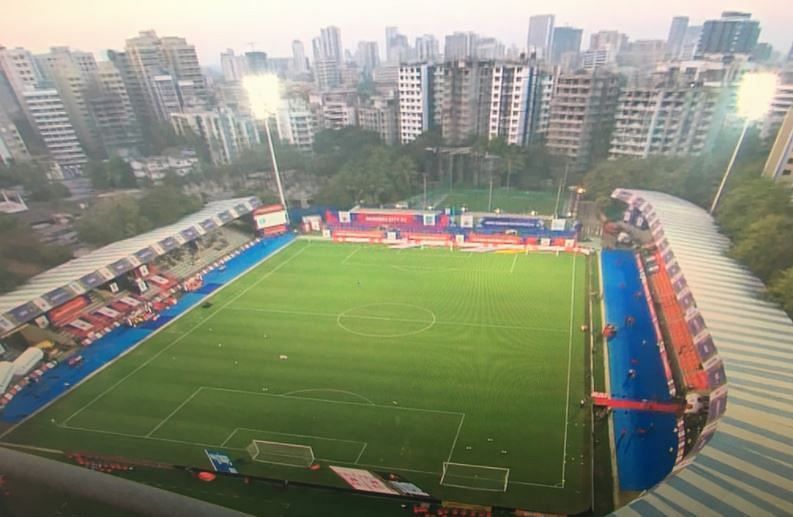 Regularly used by the Indian national team for official matches and training sessions, this ground situated in the area of Andheri is among the best built stadiums in the country. The flat greens look pristine as the officials adhere to world class ground maintenance practices.
Jawaharlal Nehru Stadium, Delhi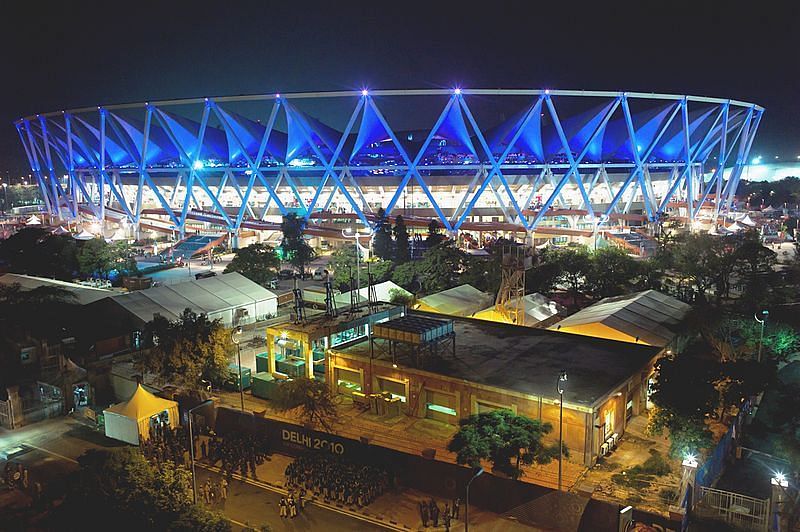 Having gone under renovation as recently as 2010 for the Commonwealth Games, this ground is now home to Delhi Dynamos. It also hosted some of the U17 FIFA World Cup matches, a testament to the world class facilities within it. It can hold up to 60,000 people.
Salt Lake Stadium, Kolkata
The country's most iconic stadiums is also among the oldest and largest arenas in India. At one point, it was the world's second largest stadium. Currently home to ISL club, ATK, it can hold up to 85,000 people.
Indira Gandhi Athletic Stadium, Guwahati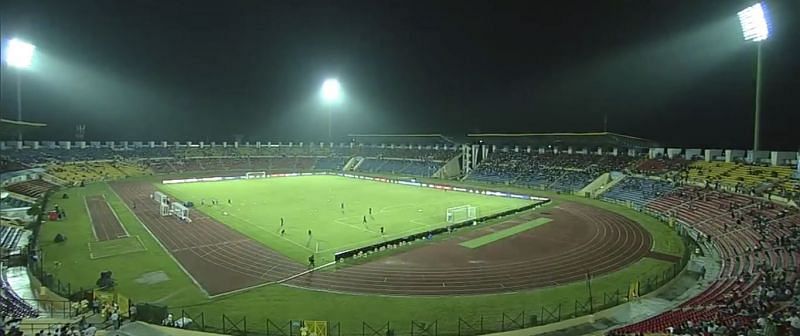 This ground has been used for some top level tournaments like the FIFA U17 World Cup, South Asian Games and World Cup Qualifiers. Established only in 2007, it is among the younger stadiums in the country and can hold close to 24,000 people.
Guru Nanak Stadium, Ludhiana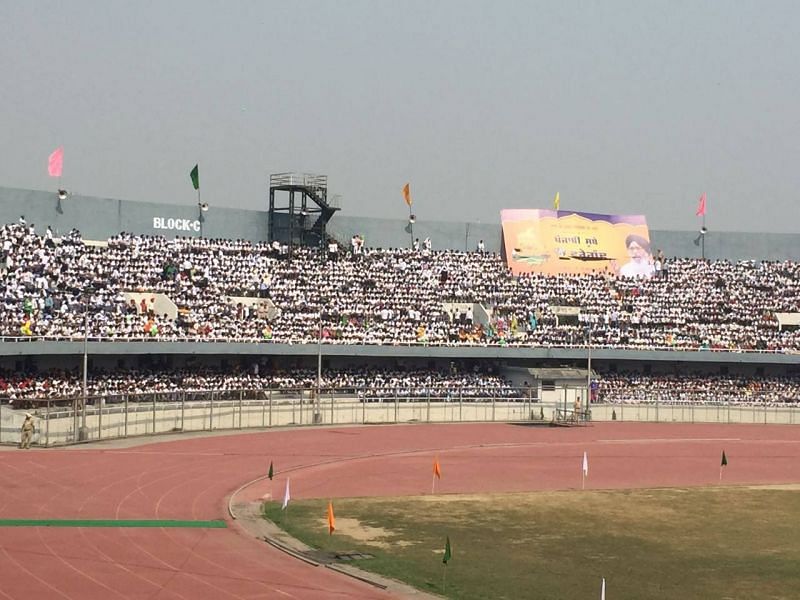 Home to the I-League champions of 2017-18, Minerva Punjab FC – this ground hosted the opening and closing ceremony of the 2001 National Games. With a capacity of 15,000, this arena has one of the best maintained grounds in the country.
EMS Corporation Stadium, Kozhikode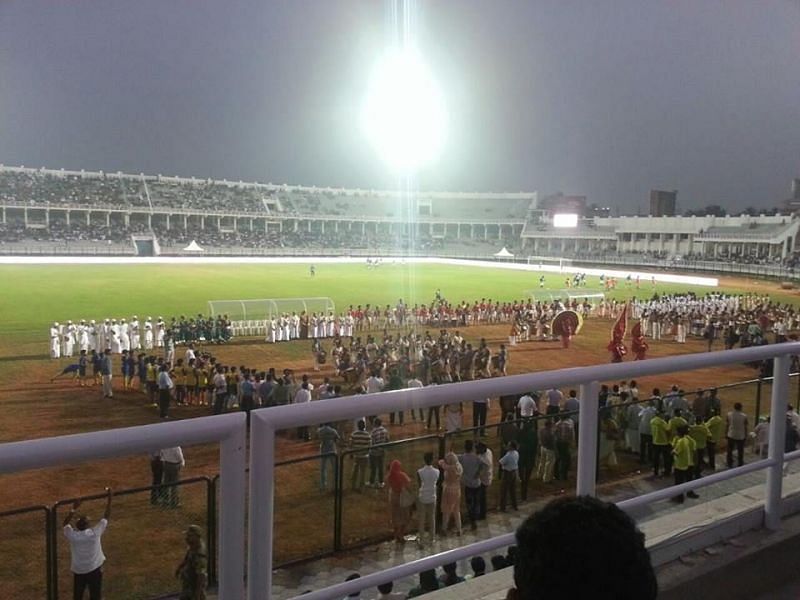 Built way back in 1977, this stadium can accommodate an impressive 50,000 people. Currently home to I-league outfit, Gokulam Kerala FC, various other football and cricket clubs have hosted their home games here.
Mohun Bagan Ground, Kolkata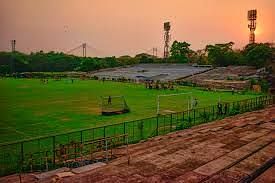 Situated close to Eden Gardens, this footballing ground is owned by Kolkata giants, Mohun Bagan and was established in 1963. Previously named as Mohun Bagan Villa, the arena can hold up to 22,000 spectators.
Rajiv Gandhi Stadium, Aizawl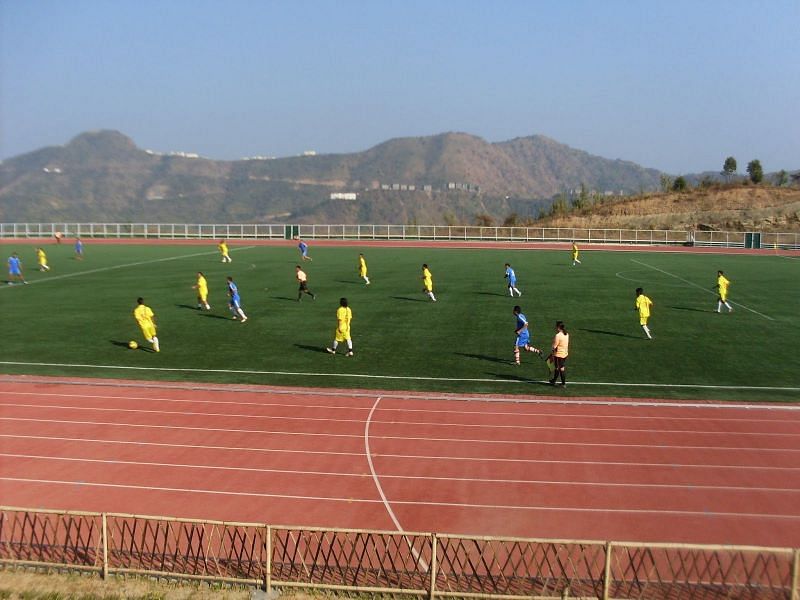 A ground with a view, this picturesque stadium was established only in 2010 but has since gone to to achieve iconic status due to its home clubs achievements. With a seating capacity of 20,000 people, the ground is covered by AstroTurf.
Malappuram District Sports Complex & Football Academy, Manjeri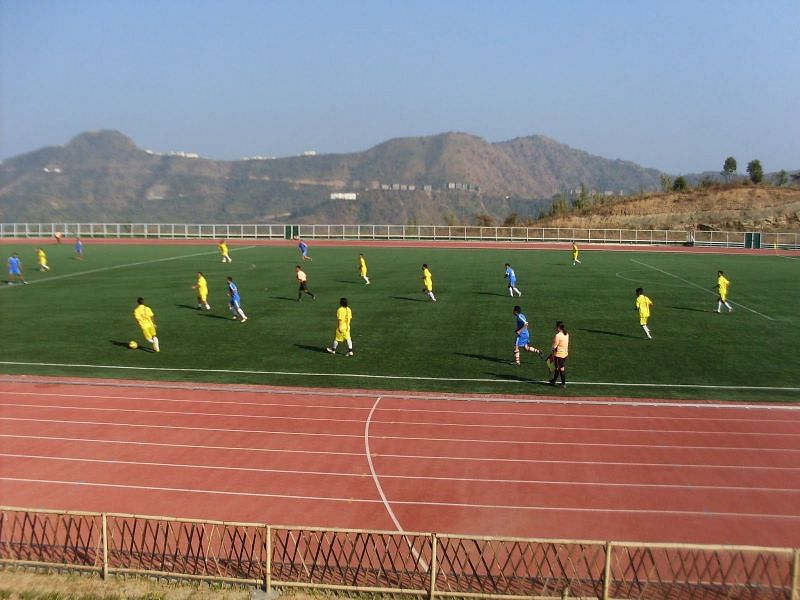 Sporadically used by Gokulam Kerala F.C, this ground can hold up to 30,000 people and is an extremely well maintained ground despite the fact that currently no premier football club hosts it's matches here.
KhumanLampak Main Stadium, Imphal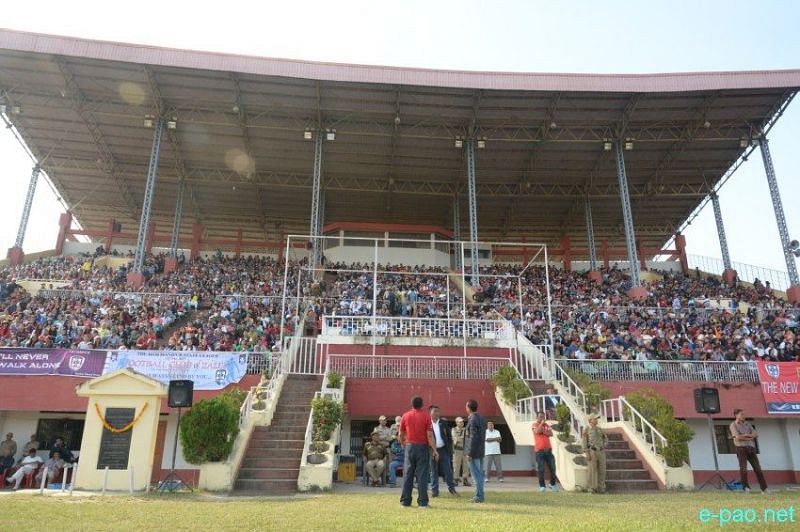 Home to Neroca FC, the stadium's maximum attendance came recently when more than 35,000 spectators attended the match between Neroca and Indian Arrows on 5th January 2018. Despite being a one tier stadium, it has been intelligently built to accommodate impressive numbers.
Tilak Maidan Stadium, Goa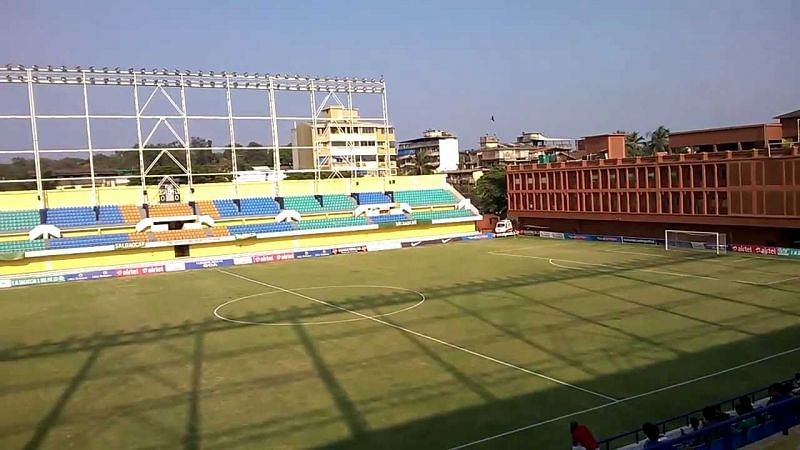 Among the smallest stadiums in the country, the Tilak Madian has been home to several major Goan football clubs - Churchill Brothers S.C., Dempo S.C., Salgaocar S.C., Sporting Clube de Goa and FC Goa (training). It can hold 6,000 people.
Barasat Stadium, Kolkata, West Bengal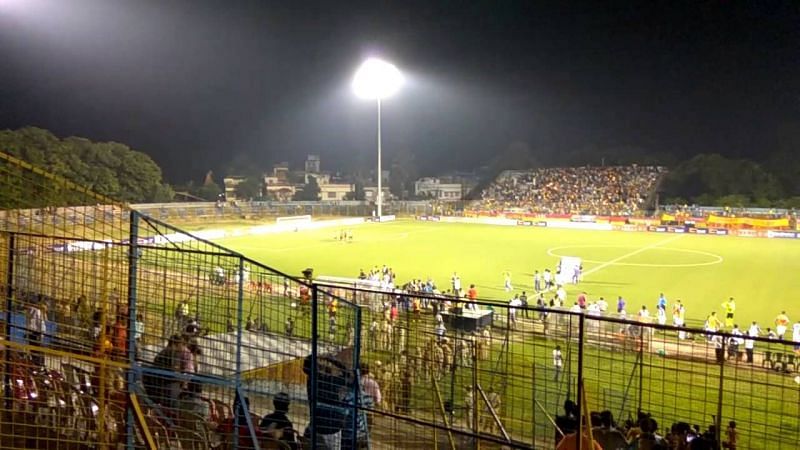 This is a widely used arena, where a number of tournaments, right from those at the junior levels to the I-League are hosted. Mainly used for the Calcutta Football League, top division giants like East Bengal and Mohun Bagan have also played a number of matches here. One drawback of the Barasat Stadium, though, is that it has artificial grass. However, the West Bengal Government has unveiled plans to further develop the Barasat Stadium into a multi-sport arena.