Satire: Martin Odegaard's Open Letter to other clubs after joining Real Madrid
14.11K //
23 Jan 2015, 04:23 IST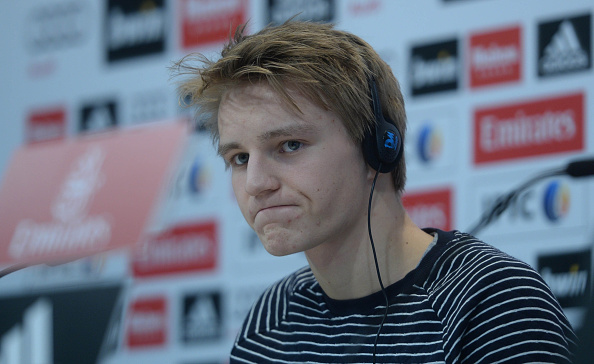 Do I not have the best selfie face? I do. Today has been the best day of my life. After using the training facilities of many top European Clubs for free negotiating with many top European Clubs, I have finally joined Real Madrid. My joy knows no bounds. I feel like Lionel Messi after every contract renewal. I feel like Cristiano Ronaldo after the referee whistles for a penalty. I feel like Xavi Hernandez after seeing a nicely mown grass field.
Well, I guess you know how I feel.
Moving on. I am going to get some facts straight here. Some people are spreading lies about my motivation to join Real Madrid. Let me tell you all that I didn't join Real Madrid because they offered my daddy a role in their academy. I didn't join Real Madrid because they have given me a star's treatment. And I certainly haven't joined Real Madrid because they are paying me 80,000 pounds-per-week (bet Cristiano himself didn't earn that much at 16 – I am already a bigger star than him; ha!).
I joined Real because they are the club of my heart. I can tear my chest open to show you the crest of Real Madrid which resides at my heart, but I can't do so because the club won't allow me to.
Before joining Los Blancos (see, I am a quick learner, already using Spanish words), I rejected many clubs. I hadn't stated the reasons to reject them, but now I will use this open letter to reveal them.
Ajax – For obvious reasons. They couldn't pay me what Real are paying now, though I reiterate that I haven't joined Real for the money they offered.
Arsenal – I was suspicious and scared of Arsene Wenger's over-fondness for teenage kids. Besides, they also couldn't offer me what Real did. Also, I don't want my trophy cabinet to be sealed before it has even been opened.
Atletico Madrid – I wanted to join a Football team, not WWE.
Barcelona – I almost joined Barca, but they first wanted me to enroll at Yale School of Drama to get a degree on theatrics. I obviously refused. Also, I was told that Luis Suarez loves Norwegian food – and I want to become an elite Football player, not someone's tasty meal.
Bayern Munich – They were the Club that came closest to signing me after Real Madrid. But I chose not to join them because Pep Guardiola asked me whether I would like playing at the centre of defence. Kind of freaked me out. I was also freaked out with Manuel Neuer and Frank Ribery. They had this dartboard with Cristiano Ronaldo's face on it with the words 'Lucifer' printed on it. They also think that he is the leader of Illuminati and most of the evil that happens in this world are his brainchildren.
Chelsea – They offered me as much as Real Madrid, but I was told that Mourinhism is the way of life at Chelsea. So I yelled "GET A LIFE" at all Chelsea players and left their facilities (not before enjoying them for free).
Liverpool – I trolled them the most. Brendan Rodgers was so convinced that I would sign for them that he told Philippe Coutinho to buy me dinner. Which he did. And we – me and my daddy – ate a hearty meal. The bill was huge, Coutinho called me an hour before the press conference asking me to pay him back the money. HAHA! Also, Liverpool board decided to ban selfie sticks, so I decided to reject them for I am a teenager and I love selfies.
Manchester City – They offered me a lot of money, and I – along with my father – was tempted to join them. But they didn't offer my father a role with their club, like Real did.
Manchester United – The club undergoing a phase of Moyesocrity (see what I did there?!) and I didn't want to be a part of it. End of.
PSG – Again, same case like City. Plus I wanted to play in a real league, not a Sunday Pub League like Ligue 1 (at your face, Ibrahimovic! Let's see you Kung fu Kick me over the internet like you did when I said this at your face – see how brave I am, I am mocking you over the internet).
Southampton – LOL.
Tottenham Hotspur – Well, because they are Tottenham Hotspurs. And they have banned selfie sticks, too.
So these are the reasons why I didn't join those aforementioned Clubs. Now I am going to state the reasons as to why I joined Real Madrid…
They offered me a lot of money (which is not a big reason to join).
They gave my daddy a job (which, again, is not a big reason).
I was looking forward to take selfies with Karim Benzema.
I wanted to see how Cristiano Ronaldo uses hairgel.
I wanted to learn sprinting from Gareth Bale, but he seems to have lost pace because of the weight of his hair.
I like Spanish food.
They offered me a lot of money (did I mention that already?).
These are some of the reasons, from of the top of my head, for joining Real Madrid. Oh, I almost forgot, I joined them also because they are best club in the world and I dreamed of playing for them since I was a child (duh!).
I was welcomed very warmly by almost every Real player. At first, I met Cristiano. I was consoling him over his break-up with Irina Shayk, but he cut me off abruptly and told me to move on. The irony was hilarious.
Then I met Sergio Ramos. He is a cool guy with weird tattoo and fashion sense. He was so awkward that he almost convinced me that a fluorescent green t-shirt with a brown jacket and pink jeans is an amazing combination. He also has an obsession with horses and gave me tips on how to get yellow cards. Apparently, his hobby is to collect yellow cards. He has a cabinet full of them.
Then I met Alvaro Arbeloa and he went all Leonidas on me. He yelled "THIS IS MADRID" at me and lifted his leg to kick me in the chest, only for Casillas to intervene and save me. They then shared hostile looks and went on their ways. It was weird. Seems like they don't get along very well.
Finally, I met Isco and I must say that I am a bit scared of him. He has an obscene habit of fondling people's ass and grabbed a handful of mine too.
Overall, it was a great day. Enjoyed every bit of it. Until next time: HALA MADRID!
Disclaimer – This is a work of pure fiction and everything written here is a work of (wicked) imagination. Any resemblance (which I doubt there is any) is purely coincidental.
This article is a satire and is only meant for humour.