Rockstar Games has dropped the latest weekly update for Grand Theft Auto (GTA) Online, wherein players will be paid double money and RP for completing Flight School challenges. Players can get a taste of maneuvering aircraft like P-996 LAZER, Buzzard, Milijet, and more via the Flight School. The missions can be started by visiting the Los Santos International Airport (LSIA), with the bonus payouts lasting a week, starting today.
Flying is essential in the game, as several missions involve planes and helicopters. While even beginners should not find controlling various in-game aircraft too tricky, going through the LSIA Flight School course will enhance this skill even further.
---
Complete GTA Online Flight School missions to get double money and RP through June 7, 2023
Players will be rewarded twice the regular amount of money and RP for completing a Flight School mission through June 7, 2023. The Flight School in Grand Theft Auto Online is quite similar to the Flight School missions in GTA San Andreas.
Once players reach the vicinity of the LSIA, they will have to reach this exact location to participate in Flight School lessons: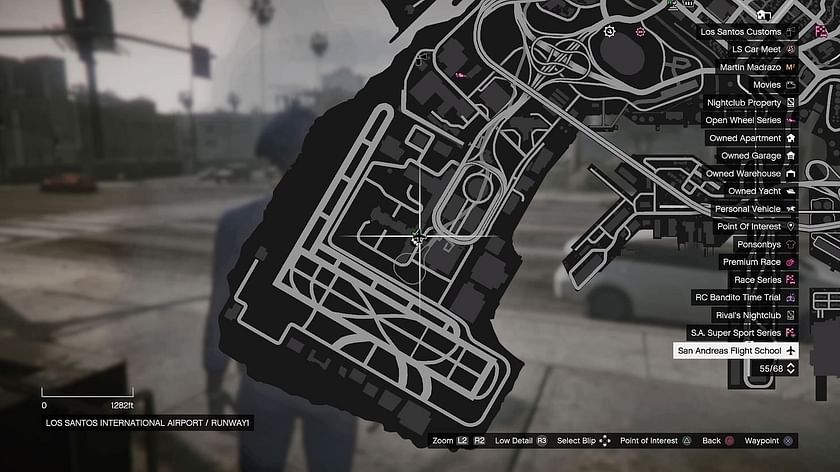 There are ten Flight School missions in GTA Online, each involving a unique challenge that players must overcome. They will be ranked Gold, Silver, or Bronze based on their performance which will directly impact the resulting payout.
However, players can repeat these lessons several times until they obtain the desired rank. Here are the names of all Flight School Missions in GTA Online:
The Outside Loop - Execute an Outside Loop.
Engine Failure - Safely land a plane with a failed engine.
Chase Parachute - Grab a parachute while free-falling and land safely.
City Landing - Safely land an aircraft under adverse weather.
Moving Landing - Land a helicopter on a moving trailer.
Formation Flight - Maintain formation while flying.
Shooting Range - Shoot targets while controlling the Buzzard.
Ground Level - Fly low and pass through certain checkpoints.
Collect Flags - Pass through 30 checkpoints.
Follow Leader - Follow your instructor in a P-996 LAZER.
---
Since beginners usually don't have much in-game money, taking Flight School lessons is a great way to experience the best planes in GTA Online, absolutely free of cost. The story mode also includes Flight School lessons, but they are a little different from the ones in the online mode.
Poll : Have you ever completed the Flight School missions before?
17 votes