GTA Online Motor and Arena Wars game modes are offering 2x bonuses for everything this week. This means players who wish to get more cash, RP, and Arena Points can take advantage of the Arena Wars offer. By comparison, Motor Wars is just an Adversary Mode that provides bonus money and RP this week.
The bonuses last from January 26, 2023, to February 1, 2023. Meanwhile, Taxi Work also offers 2x the rewards this week, along with a slew of possible items that players can earn by February 8, 2023. Since some players might be more interested in the aforementioned bonuses, let's learn more about the modes.
---
GTA Online Motor and Arena Wars offer 2x bonuses from January 26 to February 1
Players must purchase an Arena Workshop to utilize the Arena War content. Thankfully, along with upgrades, it is available for 40% off this week, while purchasing the Arena Workshop would only cost GTA Online players $597,000. Converting any vehicles for this game mode will also have a discount of 30%.
After buying what you need, it's time to begin the Arena War mode.
---
How to get started with Arena War in GTA Online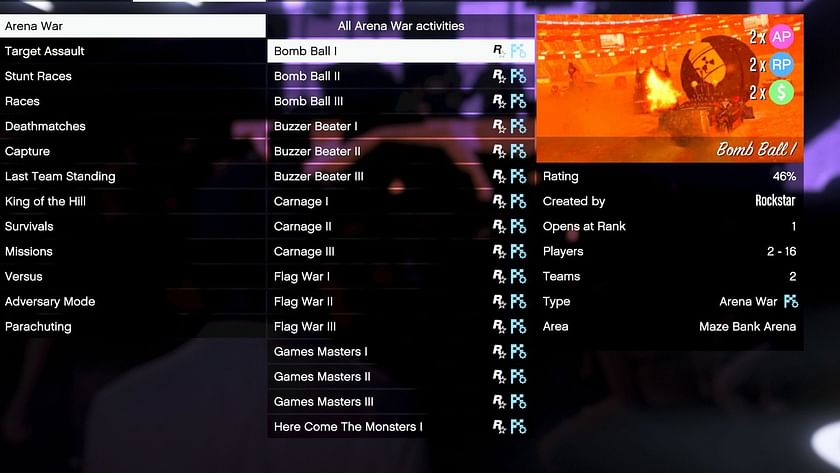 Here is a simple step-by-step guide on how you can take part in Arena War content anywhere in GTA Online:
Pause the game.
Go to 'Online.'
Select 'Jobs.'
Select 'Play Job.'
Select 'Rockstar Created.'
Select 'Arena War' and any of the activities inside it.
All jobs in this category give you 2x Arena Points, RP, and money. Pick whichever you wish to do, but remember that these activities require other players to join you. Filling up the lobby shouldn't be difficult this week, although some players may wish to Quick Join via their phone should they not wish to host.
This weekly update is the best chance for players to farm Arena Points, so take advantage of it while it's still around.
---
How to get started with Motor Wars in GTA Online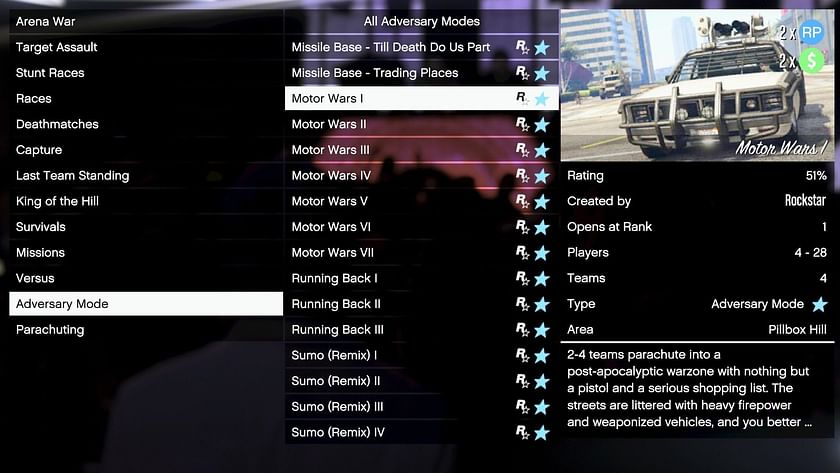 Players can access Motor Wars just like in the previous section, except that this content is under Adversary Mode. Only Motor Wars I through VII counts, and there must be at least four people in these jobs to get started. Despite a similarly-sounding name, Motor Wars doesn't give you Arena Points or anything related to that business.
Nonetheless, it can be a fun way for players to earn extra cash and RP while taking on team-based Last Man Standing bouts. Besides these 2x bonuses, the weekly update also includes the following content:
The Hard Mode Event for First Dose Missions
Taxi Work Rewards
The debut of the Issi Rally
New Gun Van offers, Podium Vehicle, and other expected weekly changes like new discounts
It could be months until GTA Online players get these specific 2x bonuses again, so it's best to utilize them while they're still around.
Poll : Do you wish Rockstar Games would buff Arena War to be more lucrative to do?
2 votes
Edited by Dinesh Renthlei