While the gaming community is eagerly waiting to meet Jason and Lucia, the two rumored protagonists in GTA 6, a recent leak about a new protagonist has taken the community by storm. A fan account on Twitter named GTA6Videos shared a short clip where a new male protagonist was seen in a pre-alpha version of the game. The video has now been deleted by the user, but it managed to gather over 60k views.
While Rockstar Games is yet to confirm the previously leaked protagonists, the third one has given fans new hope, as the game was anticipated to be one of the most ambitious and diverse projects of the iconic gaming studio.
Note: The leaked data cannot be shown here due to legal restrictions.
---
Rockstar Games is rumored to include a third protagonist in GTA 6 after a recent leak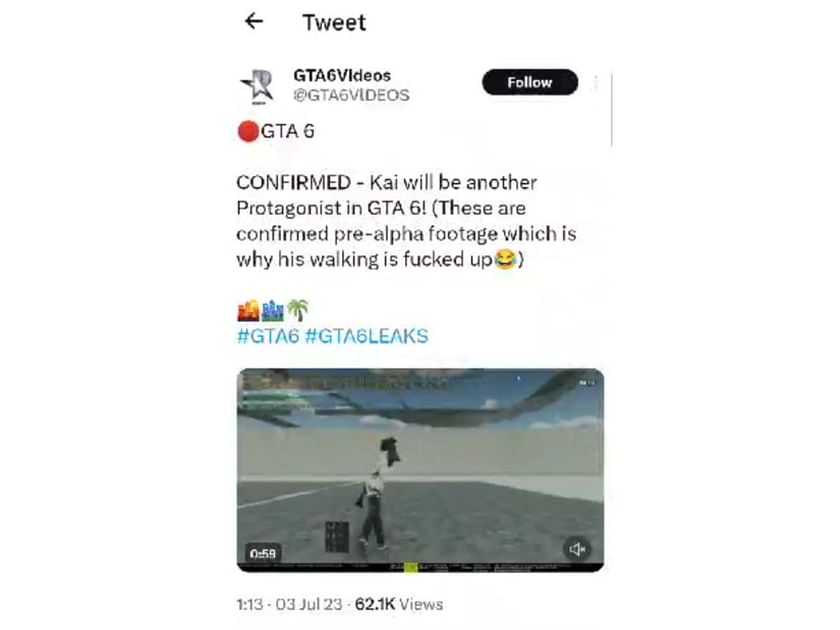 The Twitter user shared the Grand Theft Auto 6 leak video on July 3, 2023, and stated that the new protagonist would be called Kai. While his ethnicity is currently unknown, the character was seen wearing a white t-shirt and grey trousers.
Similar to the other protagonist models, Kai was also carrying two guns and was in combat mode. He was seen crouching, shooting, throwing objects, and performing other actions which are common in hostile situations. However, his character model was very buggy and barely symmetrical.
According to the Twitter user, the GTA 6 leaked footage was from a pre-alpha stage, because of which the character model is yet to be fully fleshed out.
While the community is waiting to learn more about Jason and Lucia from the September 2022 Grand Theft Auto 6 leaks, Kai's inclusion came out of left field for many. None of the insiders, who previously leaked the other protagonists' information, have mentioned Kai in their reports either.
However, the entire Grand Theft Auto fanbase is now waiting to see if Rockstar Games confirms all three protagonists, especially Kai, after the GTA 6 announcement.
The upcoming game is expected to include an ever-changing dynamic world with multiple locations. While the gaming community was excited to explore the Grand Theft Auto 6 map with Jason and Lucia, many are now looking forward to what Kai has to offer in the game.
Poll : Do you think Rockstar will add more protagonists in GTA 6?
131 votes
Edited by Siddharth Satish