AB de Villiers - An insight into why he is a true legend of modern sport
"I was eight years old when I saw Jonty's world famous run out against Pakistan in the 1992 World Cup. It really made an impression on me. I remember thinking: this is a cool game! I started dreaming of following in Jonty's footsteps."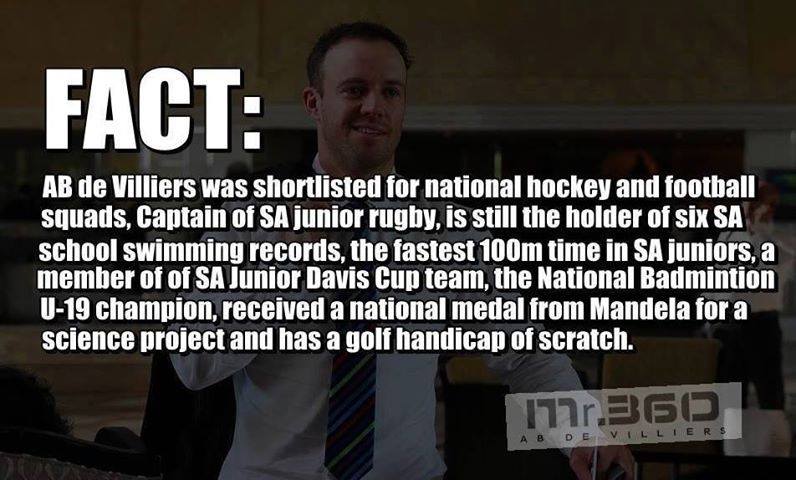 AB De Villiers: A true all-rounder!
Today he is considered the best fielder in the South African side since Jonty. AB de Villiers did not become a champion overnight. His is a very inspiring story. He is one of the most able batsmen in world cricket (ranked 1 in Test cricket and 5 in ODI cricket), and he can boast of probably the fastest reflexes on the field among all cricketers of the present time.
But he is as humble a person as you will ever find. Few people know that was an extremely talented sportsperson when he was young, in numerous sports other than cricket as well. He has the image of performing better under pressure, which can be traced back to the childhood atmosphere that he had that rendered him thus.
Early Days
Born in Pretoria, he was exposed to a competitive environment of sport right from the age he started playing. This was provided by the people he played with- his two older brothers Jan and Wessels, and by Martin van Jaarsveld, a friend who later represented South Africa internationally as well.
These people were in no mood to give him any freebies. Whatever he achieved at that age in any sport, be it in cricket, rugby or tennis, it had to be got through cut-throat competition. This was the foundation for the de Villiers of today who plays so well under pressure.
He recalls, "I had to carry the water and, after a long day, they would finally give me my chance. I was a little boy and they were all in matric. They would try to intimidate me. The bat was actually too heavy for me, and I would rest it on the dustbin while they were walking back to their mark," he says. "They battled to get me out and they would get so frustrated that they'd bowl a couple of beamers at me to see what I would do. Saturday games at our house in Bela Bela were very competitive. My brothers were merciless. They were monsters. There were always a lot of tears—usually mine."
Sport ran in his family. Both his father and mother played, so did his brothers. So it was only natural that he did something in sports too. He recalls having played something almost every day of his life, right from his childhood days.
First Love
It wasn't cricket. That's right. It was tennis that he first took an immense liking to before he was attracted to team sports like cricket and rugby to leave tennis behind.
He participated in numerous U-9 tournaments and even defeated Izak ven der Merwe in his first ever competitive game, a player who would go on to represent South Africa in tennis later. AB played tennis till the age of 13 before he gave it up for want of time and his better liking for other sports.
High School
This was a defining moment in his life when he got into the famous Afrikaanse Hoer Seunskool, a premier sporting institution in South Africa, at the age of 13. He didn't have a favourite sport yet, and decided that he might consider entering professional cricket from the moment he was selected into the South African Colt team when he was 16.
Jacques Rudolph and Faf du Plessis were in the same school as well, which boasts of having produced some great sportspersons over the years. Here in this school he found an ideal environment for nurturing his talents, and the discipline enforced by his coaches and mentors went a long way in shaping his personality as a player. He was even coached by former SA test wicket-keeper Denis Lindsay who taught him all professional about wicket-keeping.
He was part of the U-14 cricket team at school. He tried his hand at golf and got a scratch handicap in it, too. He participated in rugby as well, which was the most followed sport at his school. He had a natural talent for anything that was a sport. He once had a flair for hockey, and made it to the U-16 side of the school that did really well during the time he was a member.
He returned to play rugby when he stopped with hockey, and it took him very less time and some good luck to feature in the top rugby team of his school, the 1st XV of the Affies. He performed extraordinarily well and was selected for the Blue Balls U-18 side, which had some big names that would later represent South African rugby.
Other than that, he created swimming records in school and pursued badminton and played at the U-19 level also. Basically any sport that he played, he excelled. He recalls that he, along with his brothers, used to run up and down a hill near his house when there was nothing else to play. These early activities were what made him so naturally good for any sport that he attempted to play in school.