Top 3 IPL all-round performances that don't fade away
10.20K //
18 May 2015, 14:20 IST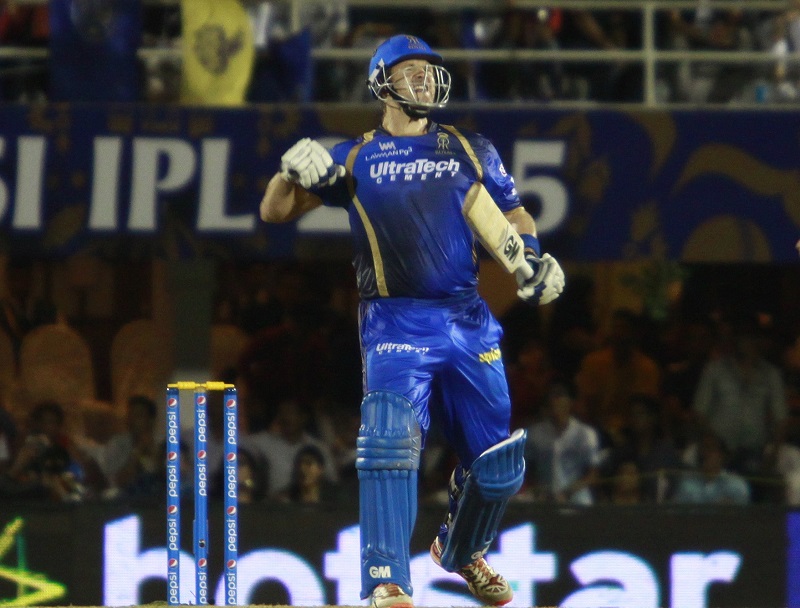 In a crucial must-win match this weekend, Shane Watson showed why he is still one of the most respected all-rounders in the world. The Rajasthan Royals opener smacked an unbeaten century to make sure his team had enough ammunition to deal with the firepower of Kolkata Knight Riders. Then he came back with the ball to pick two crucial wickets to help the Royals defend their total, albeit by the skin of their teeth.
Over the years, the IPL has seen some fabulous all-round performances where players came to their side's rescue with both bat and ball. A genuine all-round show is one of those things that clearly demonstrates that it is that player's day – a day on which he can do no wrong. These are the performances that stay in memory and don't fade away, not unlike the Axe Signature range.
How do you define a genuine all-round performance? A half-century and a 3-wicket haul in the same match could be considered a standard barometer. Interestingly, Yuvraj Singh leads the list of players who have achieved this feat, having done it three times.
Here, we take a look at three memorable all-round performances from players across all eight editions of the IPL.
Kieron Pollard, Mumbai Indians vs Rajasthan Royals, 2012
Pollard doesn't usually bowl his full quota of four overs. He doesn't always get to bat much either, unless there is a crisis – he is used as the ultimate finisher in the Mumbai Indians set-up.
But against Rajasthan Royals in 2012, he walked in with the score at 68 for three after 8.2 overs – not quite a crisis, but not a position of strength either. Pollard added 94 with Ambati Rayudu, and finished with a 33-ball 64 that was studded with six fours and four sixes. That innigs powered Mumbai Indians to an imposing 197 in their 20 overs, which meant half the job was done already.
Royals made a fist of the chase though, reaching 89 for two in 11 overs. It was then that Pollard grabbed the limelight again, taking the important wicket of Ajinkya Rahane to break an 82-run partnership. He went on to snap up two in two balls in the 18th over, and one more a couple of balls later, to register figures of 4-44 and seal the deal for the Mumbai Indians.
Yuvraj Singh, Royal Challengers Bangalore vs Rajasthan Royals, 2014
As a player, Yuvraj Singh could do no wrong in this unbelievable game. Yet somehow, he still ended up on the losing side.
Yuvraj walked in with his team in a spot of bother at 40 for three after 8.1 overs. He proceeded to smack an unbeaten 83 off just 38 balls with seven fours and seven sixes – easily one of the greatest IPL innings ever. He added 132 with AB de Villiers, who scored 58. Very rarely does someone overshadow De Villiers, but that is exactly what Yuvraj did in that innings. He brought up his half-century in just 24 balls – with a six – and continued timing them with his characteristic huge back-lift. His exploits meant RCB posted a massive 190 in 20 overs.
With the ball, Yuvraj threatened to take the game away from the Royals. Of the five wickets to fall he picked four, including those of Karun Nair, Sanju Samson and Shane Watson. His figures of 4-35 could have won him the Man of the Match any other day, just for bowling alone. However, it was not to be. Steve Smith and James Faulkner managed the ultimate heist, Faulkner smacking 41 in just 17 balls and Smith hitting 48 in 21 to take Royals home with seven balls to spare.
The Yuvraj performance though was superlative and will remain in memory for a while!
Yusuf Pathan, Rajasthan Royals vs Chennai Super Kings, 2008
In terms of significance of the game, it cannot get bigger than this – the first ever IPL final. And Yusuf Pathan turned up for his team big time with both bat and ball, producing one hell of an unforgettable performance.
Batting first, CSK were going well but Pathan, bowling within the Power-play overs, got the first breakthrough – that of Vidyut Sivaramakrishnan. He followed that up with the second opener, Parthiv Patel, who was playing a fine innings for his team. Pathan also took the third wicket to fall for CSK, that of Albie Morkel, to make it 95 for three in the 13th over. He registered figures of 3-22 in his four overs, the lowest economy rate in that game on either side, and by a distance.
With the bat, Pathan walked in with the score at 42 for three in 6.4 overs, his team staring down the barrel. He went on to smash a thrilling half-century, scoring 56 in just 39 balls with three fours and four sixes. His was the seventh wicket to fall, after adding 65 with Shane Watson and another 32 with Mohammad Kaif.
By the time Pathan was run out, he had taken his team to 143, needing 21 off 14 balls, and his skipper Shane Warne eventually saw the team through for an unforgettable victory.