Yuvraj Singh - the twilight's sun.
669 //
02 Jul 2018, 21:10 IST
The first human to launch all six deliveries in an over into the stands in a T20 match. Ravi Shastri had done it in first class, Herschelle Gibbs had done it earlier in the same year in ODIs against a hapless Netherlands, but against a world-class side, against a searing young pacer, one could scarcely imagine it being done. But he is Yuvraj Singh- he did the unthinkable, at the world's biggest stage, stampeding his way through a shell-shocked England to the fastest half-century in international cricket - a record that stands till date
Fast forward to 2011; he played the kingmaker's role when India reclaimed the coveted World Cup trophy after 28 years, scoring 362 runs and picking up 15 wickets. Yuvraj had done it all, with still years of cricket ahead of him, but it was then that the tragedy struck.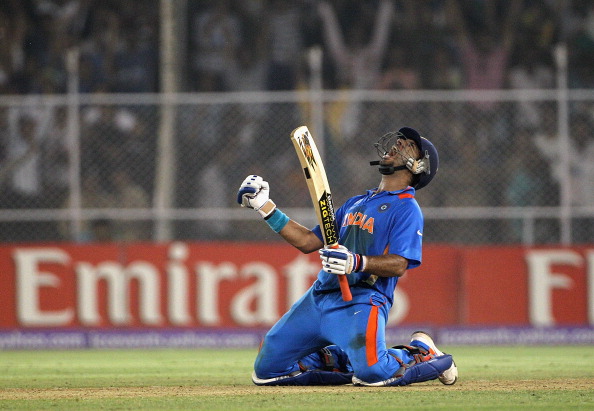 The fighter that he is, he came back after a gruesome battle with cancer in spite of several pundits predicting the curtains on his career. Grinding his way in the domestic circuit, it wasn't long before he got his deserved international comeback call-up. However, once he donned the Blue again, something seemed different: he was lacking something that characterized him. The talent was there and so was the hunger. But on the big stage, something always pulled him back- a lack of confidence? A fear of failure? Nobody knows.
The most blatant exposition of this was the 2014 T20 World Cup Finals. It was cruel- the same tournament where he became the most sought-after T20 player seven years ago marked probably the darkest point of his career. Labouring to just 11 from 21 balls, his slow batting was lambasted for India's below-par total, which was overhauled by the Island nation without breaking a sweat. The tournament juggernauts surrendered meekly and the blame was shifted to Yuvraj; fans conveniently forgetting what he had done just three years back.
He was thrown into oblivion yet again, left to be forgotten. Yet, he was far from done. Starting from the bottom yet again, he still had to get a flick of luck in the form of India's no.4 conundrum to get his big break. Yuvraj was 35 when he earned the call-up to England's tour of India ODI series in 2017. What a comeback it was! Returning to the ODI colors after more than three years to belt his highest individual score looked straight out of a fairy tale. The qualms that existed in his previous stint had vaporized, the maturity of age was showcased and his fans were galvanized yet again. A straight call-up to Champions Trophy ensued and the fans were over cloud nine after his first match knock against their arch-rivals. No one seemed to care that it came against a disorganised Pakistan bowling. He was living dangerously- there were mistimed hits and loose shots- sure eviction tickets but for the shattered morale of the rivals. The subsequent matches proved that and in no time, Yuvraj was back to the same point where he was in 2014- unsettled, and unsure of what to do once in the middle.
The Final was the last nail in the coffin- he was needed to steer the party with his experience but he wasn't timing even his pull shots well and finally got trapped in front, moving too much across the stumps.
Team India was shocked and in came the Yo-Yo tests: the new benchmark for physical fitness. In another revelation that age was catching up with him, Yuvraj miserably failed to clear it. The young live-wire in the field was gone, the breathtaking dives were nowhere to be seen, and regulation catches were gobbled up with difficulty. However, all this time, his batting talent was never in question. In the limited opportunities where he stepped into the groove, the spectators were treated with a more mature and a vintage Yuvraj. As a result, his value in IPL auctions too never came down. Even while he was in exile from team India, his services were valued at crores and his presence ensured a packed stadium.
But amidst his frantic attempts to clear the test, Yuvraj missed the lion's share of the domestic season - something that had been keeping him under the selector's radars for long. After his repeated attempts finally met with success last December, there was little time to prove himself to the IPL auctioneers. If not for Preity Zinda's shopping spree, it would not have been a surprise if he had gone unsold, as he was sold for his base price with no other bidders. The clear indication that no franchise was interested in him was an eerie foreshadowing of what was to pan out that season.
Yuvraj never performed in the IPL by his own standards. At 36, his fielding prowess had vanished, his magic arm was seldom rolled, and his batting was under scrutiny more than ever. Kings XI fans had rejoiced to see the local warrior home and most of them expected him to retire after a final flourish. The glittering career was completing a full circle. Neither happened, in a campaign which was abysmal by all standards. Yuvraj scored a meagre 64 runs at just 12.80, striking at less than 100. The worst point was in the match against Mumbai when he came in with 20 required of 9. He struggled to get bat on ball and just got 1 of 3 when a completely mistimed hit ended his misery. Yuvraj was dropped thereafter, for the rest of the season.
India's no.4 conundrum is still unsolved but there are a lot of candidates for the spot- KL Rahul, Ajinkya Rahane, Manish Pandey and as of now, Suresh Raina too, are eligible candidates who, apart from having age on their sides, are also better fielders. Adding to that, Raina can still contribute a few overs and KL Rahul can keep wickets, which surely pushes them far ahead in the race. With a waning set of skills and little left to achieve in the international scene, maybe it is time for the warrior prince to graciously step down from competitive cricket.